Jared previews the 2023 Darley Alcibiades Stakes (G1) from Keeneland, then gives his top picks & long shots from this "Win & You're In" for the Breeders' Cup Juvenile Fillies.
Can the John Ortiz-trained Brightwork stay perfect as she makes her 5th career start following her Spinaway Stakes (G1) victory? Tell us YOUR thoughts in the Comments section!
SMASH the *Thumbs Up* ~ HIT *Subscribe* ~ RING the *Notification* bell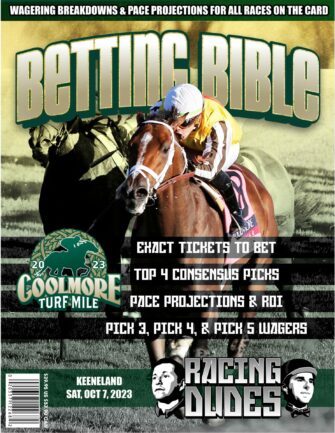 Coolmore Turf Mile Stakes 2023 Betting Bible
Get the Racing Dudes' 2023 Coolmore Turf Mile Stakes Betting Bible, featuring the EXACT race-by-race wagering plans from the two founders of RacingDudes.com!
The press release:
The post 2023 Alcibiades Stakes Preview & FREE Picks | Can Brightwork Stay Perfect In Juvenile Fillies Prep? appeared first on Racing Dudes.