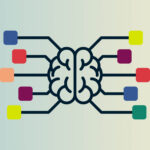 When ChatGPT burst onto the scene in November 2022, it altered the landscape of productivity. Since then, harnessing the potential of artificial intelligence (AI) in our everyday lives has become super beneficial for boosting efficiency and staying ahead of the curve. But when it comes to the endless pool of free AI tools at our disposal, ChatGPT doesn't even begin to scratch the surface.
From marketers wanting to optimize campaigns to project managers aiming to streamline workflows, there's a host of free AI tools waiting to help you work smarter, faster, and more effectively.
Jump to…
What is an AI tool?
The best free AI tools for marketing
The best free AI tools for photo editing
The best free AI tools for content creation
The best free AI tools for engineers
The best free AI tools for project management
The best free AI tools for small businesses
The best free AI tools for students
What is an AI tool?
AI tools harness the power of machine learning algorithms, natural language processing (NLP), and other AI methodologies to automate tasks, analyze data, and make predictions in various domains. Covering a wide range of topics and functions, AI tools are revolutionizing the way society approaches problem-solving and decision-making.
AI tools can serve a wide range of purposes, including data analysis, prediction and forecasting, picture and video editing, coding, chatbots, virtual assistants, writing recommendations, and more. They are designed to mimic or augment human intelligence, enabling them to efficiently and accurately handle complex or admin-intensive tasks.
Hundreds of AI tools are created and released every day. We've sifted through the most popular ones to uncover the best free AI tools that can boost productivity across industries, tailored to meet your specific needs.
The best free AI tools for marketing
1. Copy.ai for copywriting
What is Copy.ai?
Copy.ai enables business owners, marketers, and copywriters to generate high-quality text quickly. By incorporating the power of GPT (and soon GPT-4), it facilitates tasks ranging from generating engaging blog intros to crafting persuasive ad copy. Copy.ai also offers additional tools for inspiration and is compatible with multiple languages, like Chinese, Spanish, French, Japanese, and Portuguese making it a versatile platform for content generation. It also comes with a Google Chrome extension and plagiarism checks.
Great for:
Catchy email subject lines

Automated emails

Calls to action

Event copy

Landing page hero text

Meta descriptions

Social proof text

Blog ideas

Headlines

Blog outlines

Listicles
Plans:
Free plan (includes 90 copywriting tools, 10 credits per month, 25+ languages, and 100 bonus credits for your first month)

Pro plan that costs 35 USD per month or 420 USD per year

Custom team plans
2. Jasper AI for SEO-driven content
What is Jasper AI?
Jasper AI (formerly known as Jarvis AI) is a robotic writer powered by AI technology, and capable of producing quick, curated content. The content Jasper AI creates claims to be completely original. It also comes with pre-written templates for various categories. The AI writing software is particularly useful for creating SEO-friendly content that can boost a website's visibility and attract potential customers. Jasper AI claims that it can also help its users achieve higher rankings in Google search results. The user-friendly interface and support for over 25 languages makes Jasper AI accessible to a wide range of users, including social media managers, copywriters, content publishers, marketers, bloggers, students, and small business owners.
Great for:
Writing SEO copy

Capturing brand voice

Summarizing content

Converting features to benefits

Improving content

Writing video descriptions

Creating content based on keywords
Plans:
Free trial (7 days)

Creator: 49 USD per month (1 user)

Teams: 125 USD per month (3 users)

Business: Custom pricing (10+ users)
3. Looka for logos
What is Looka?
Looka is an AI-powered logo maker that streamlines the logo creation process. Users simply input their company name, select logo styles, colors, and symbols, and Looka generates custom logo designs in minutes. It has a user-friendly editor that further allows users to refine and customize their logos with options like fonts and layouts. Looka provides high-resolution logo files, brand support, and the ability to make unlimited changes.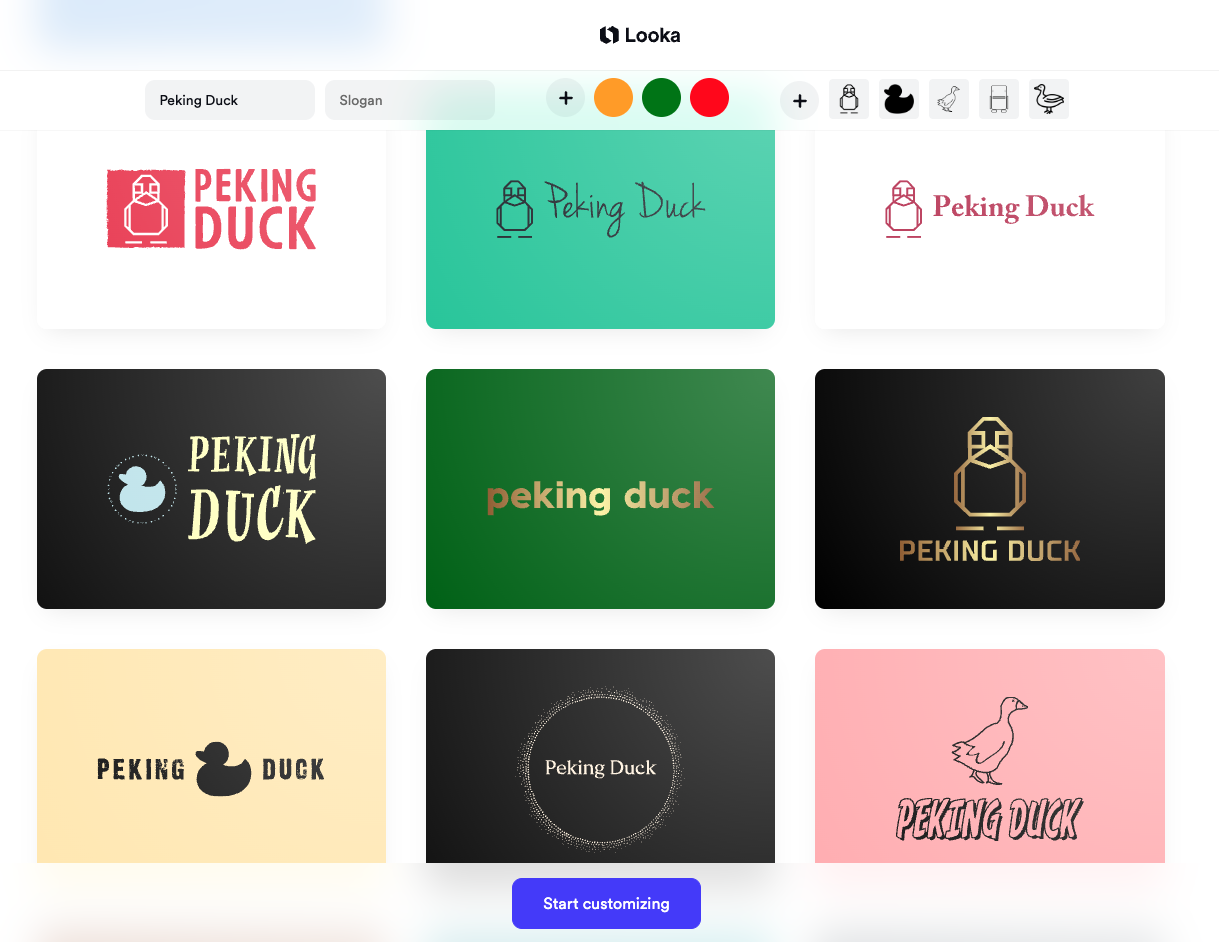 Great for:
Creating on-brand logo designs

Brand Kit for creating branded marketing materials

Branded templates for social media

Business card design templates

Consistent branding with font and color guides
Plans:
Free: Looka is free to use and create logos with. However, if you want to use a logo for commercial purposes, and own the copyright, you will need to purchase the asset's license. These start from 20 USD.
4. AdGency AI for creating ads
What is AdGency AI?
AdGency AI is an AI-powered platform that creates, manages, and optimizes ads for various types of marketing campaigns. It provides real-time data solutions, analytics dashboards, and optimization recommendations with the intention of helping maximize return on investment (ROI) by identifying areas for improvement. The platform streamlines the entire process, from automatically generating content to providing AI-based recommendations, eliminating the need for additional edits.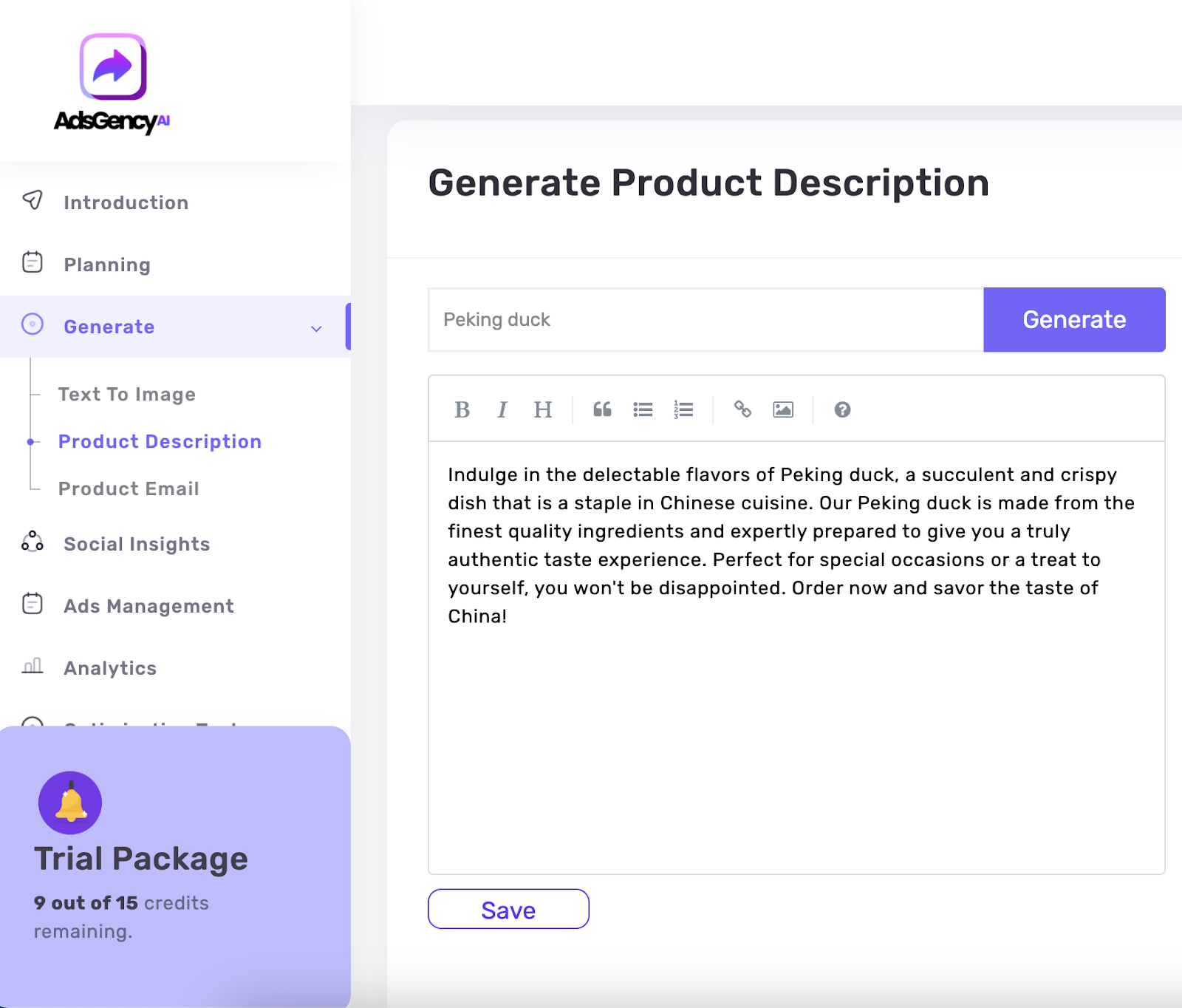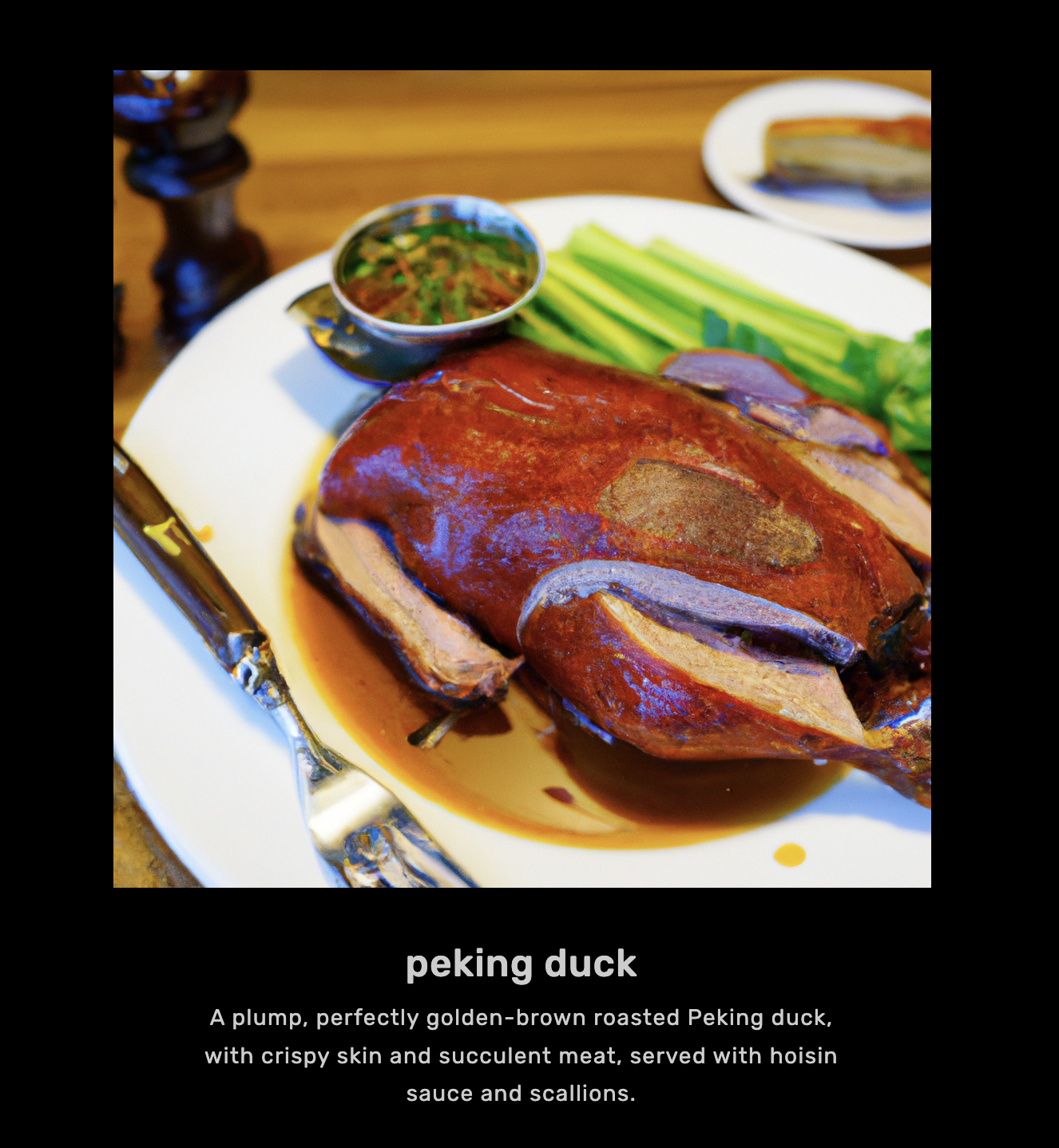 Great for:
Creating ad images based on text prompts

Generating product descriptions

Creating product emails

Real-time data monitoring on ad campaigns
Plans:
Free trial: 15 credits to generate 15 campaigns

Upgrade: Custom pricing for additional features like social insights, ads management, analytics, and optimization tools
5. Microsoft Designer for social media posts
What is Microsoft Designer?
Microsoft Designer has emerged as a strong contender to Canva, offering a range of powerful design features and capabilities. With its user-friendly interface and AI-driven functionalities, Microsoft Designer provides an alternative option for creating click-worthy social media posts. It enables users to generate high-quality designs based on simple prompts and offers a vast collection of professional images. Moreover, users can personalize their designs by uploading their own images.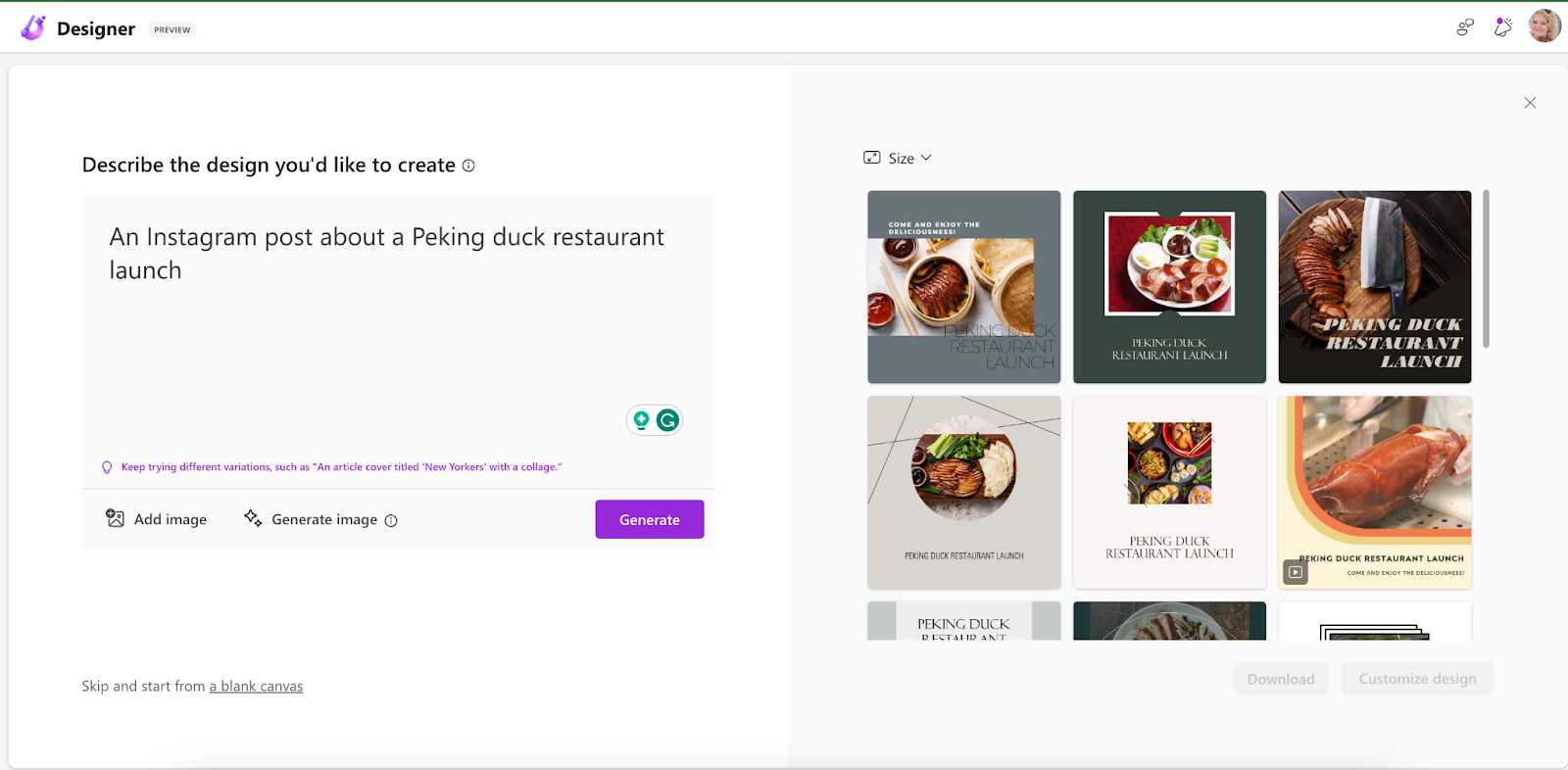 Great for:
Quickly creating appealing social media posts and campaigns

One-of-a-kind images and accompanying text

AI-generated design and copy suggestions

Creating captions and hashtags for social media posts
Plans:
Free with a Microsoft account
The best free AI tools for photo editing
1. PicWish for removing backgrounds
What is PicWish?
PicWish is an AI-powered image processing tool that specializes in background removal from images. It offers a range of features to simplify and automate tasks that would otherwise require manual retouching or graphic design skills. With PicWish, you can remove backgrounds in bulk or on individual images, remove unwanted objects, unblur mutilated photos, create ID photos, add shadows, set white or transparent backgrounds, and resize the canvas.
Great for:
Removing the background of pictures

Enhancing faces

Retouching photos

Compressing images

Cropping and enlarging images
Plans:
Free: Save images online

Pay As You Go: Starts from 14.99 USD for 300 credits to download 300 edited images

Monthly subscription: 4.99 USD per month, includes 50 credits per month
2. Deep Nostalgia for bringing old photos to life
What is DeepNostalgia?
Deep Nostalgia is an AI-powered service offered by DNA-testing company MyHeritage that restores and animates still photos, bringing them to life. Users can sign up for a free account, upload a photo, and the service automatically enhances and animates the image, creating a GIF. The service doesn't share uploaded photos with third parties, and users retain the rights to the generated video clips.
Image credit: MyHeritage
Great for:
Creating realistic video clips of static images

Restoring old and grainy photos
Plans:
Free — Signup to MyHeritage required
3. Cleanup.pictures for removing unwanted objects
What is Cleanup.pictures?
Cleanup.pictures is an advanced image editing tool that utilizes AI for inpainting, a retouch technology used to remove unwanted objects from photos—including texts, watermarks, and even people. The platform also provides a library of pre-existing images that can be used to streamline the editing process.
Great for:
Removing unwanted objects and people from a photo

Removing text, a logo, or a watermark from an image

Getting rid of unwanted blemishes or wrinkles on profile pictures

Removing the background of images
Plans:
Free but pictures are limited to a 720p resolution

Pro: Starting from 3 USD (comes with a free trial)

ClipDrop Pro: Starting from 7 USD (Comes with free trial)
4. Gigapixel AI for image upscaling
What is Gigapixel AI?
Gigapixel AI is an image upscaling software that utilizes advanced neural networks to increase picture resolution. With extensive training in millions of images, Gigapixel AI can upscale images of different subjects and types while preserving photorealistic details. One of the notable features of Gigapixel AI is the Face Recovery AI, which specifically focuses on enhancing the details and textures of low-resolution faces—providing impressive results even when upscaling by 600%.
Great for:
Resizing photos for print while maintaining good image quality

Zooming in further to macro photos

Enlarging details in lower megapixel images so you can see them clearly
Plans:
Endless free trial but images have watermarks

Buy once-off for 99.99 USD
5. Generated Photos for unique model stock images
What is Generated Photos?
Generated Photos is an online platform that allows users to create customized AI-generated images of models. It hosts a library of 100,000 images of AI-generated faces and is owned by Icons8—a company that makes stock icons and illustrations. Generated Photos' users can adjust various aspects of the image, such as eye color, emotion, age, and head pose, resulting in the creation of unique and diverse virtual image subjects. Since the generated images depict fictional people, users won't need to sign a model release to use the pictures.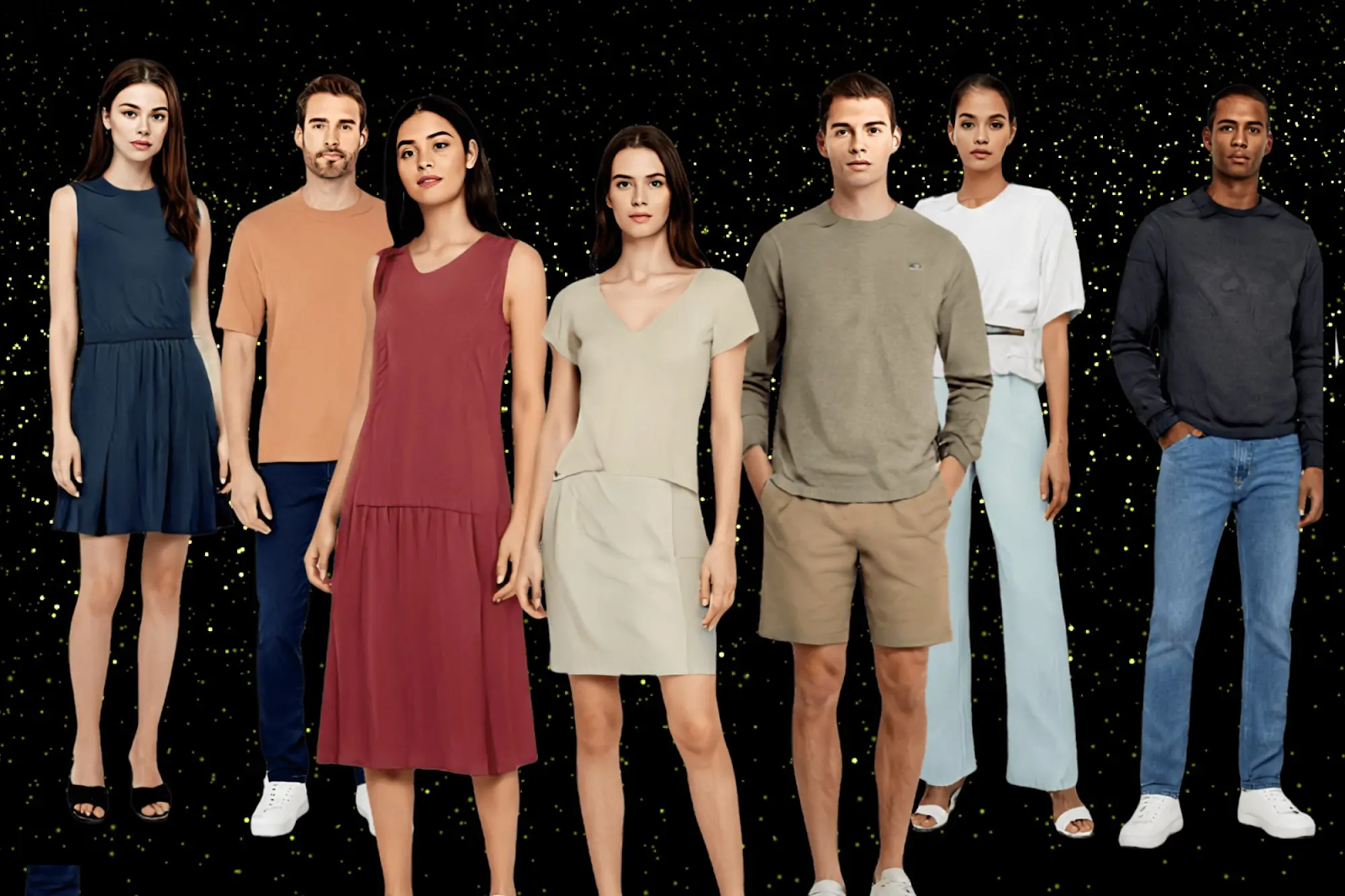 Image caption: @generated_media; Twitter
Great for:
Creating virtual avatars and characters for applications such as video games, virtual reality experiences, and animations

Designers who need to modify characteristics such as eye color, emotion, age, and head pose allows designers to create unique visuals

Creating unique visuals for marketing campaigns, without having to rely on stock images
Plans:
Free trial for images for personal, non-commercial uses

19.99 USD per month: 15 high-res photos, plus commercial use license

Bulk download: 1-9 USD per photo
The best free AI tools for content creation
1. ChatGPT for writing
What is ChatGPT?
ChatGPT is still hands down the best free AI tool for content writers. With its conversational AI language model, ChatGPT adapts seamlessly to various contexts, making it an invaluable asset for brainstorming ideas, generating and optimizing writing, and engaging in conversations. Its free functionalities also offer impressive results, which help cater to individuals and small businesses looking to save money on copywriting solutions. While ChatGPT does have its limitations, such as occasional factual inaccuracies, it can still effectively help writers with their grammar, spelling, tone, and topic ideas.
Read more: How to use ChatGPT to improve your writing
Great for:
Enhancing existing copy

Generating ideas

Improving your vocabulary

Refining your writing style

Learning about writing techniques

Checking grammar and spelling
Plans:
Free – Includes all features at a standard response speed and regular model updates

ChatGPT Plus: 20 USD per month – Faster response speed and priority access to new features
Honorary mention
Writer.com:

Writer.com

is another AI-powered writing platform that uses natural language processing and machine learning to help you create high-quality content. It's a more user-friendly AI tool than ChatGPT and has a simpler interface. It's also slightly more accurate, making it better equipped to handle more complex tasks. However, unlike ChatGPT, Writer.com only offers a 14-day free trial. Its pricing starts from 18 USD per month.
2. Lumen5 for making videos
What is Lumen5?
Lumen5 is a video creation platform that utilizes AI and machine learning algorithms to automatically analyze text inputs and generate corresponding video content. By extracting key information, such as keywords, themes, and sentiment, Lumen5 enables users to effortlessly create dynamic videos by selecting appropriate visuals, adding background music, and incorporating relevant text overlays. While the editing options are somewhat limited, the platform's simplicity and intelligent text analyzer make it a compelling option for creating videos quickly.
Great for:
Creating videos quickly and efficiently without extensive editing skills

Converting text into engaging video content

Enhancing content marketing strategies by adding moving images to blog posts or articles

Customizing videos with themes, text editing, background image selection, and music choices

Supporting exporting and sharing videos across multiple platforms
Plans:
Free: Publish three videos per month, with a watermark, 720p resolution

Basic: 29 USD per month, unlimited videos, 720p resolution

Starter: 79 USD per month, unlimited videos, 1 saved template, 1 instant video, 1080p resolution

Professional: 180 USD per month, unlimited videos, 3 saved templates, 10 instant videos, 1080p resolution

Enterprise: Custom pricing
Honorary mention
Gen-1 by Runway:

Gen-1

is an AI tool developed by the artificial intelligence research company that allows users to turn any video into a fully stylized and animated render. The versatile tool offers multiple modes to create and customize short videos ranging from 1 to 3 seconds. It also has the ability to apply the composition and style of an image or text prompt to the original video. It's available to all

Runway

users, even those on the free plan who are allowed to create three videos.
3. Deep Dream Generator for creating art
What is Deep Dream Generator?
Created by Google engineers, Deep Dream Generator is software that utilizes an algorithm called pareidolia to create psychedelic images with a dream-like appearance. Users can either generate images by uploading an existing photo or with a text prompt. The software leverages the capabilities of deep neural networks (a type of artificial intelligence) to transform images into abstract and surreal visuals, providing unique insights and perspectives on dreams.
Great for:
Creating original and visually captivating artwork with a dream-like and surreal aesthetic

Exploring and experimenting with the artistic possibilities of AI-generated images

Offering an alternative and innovative approach to traditional art techniques
Plans:
Free Account: Allows users to create and process a set number of AI art with image resolution restrictions

Advanced Plan: 19 USD per month

Professional Plan: 39 USD

Ultra Plan: 99 USD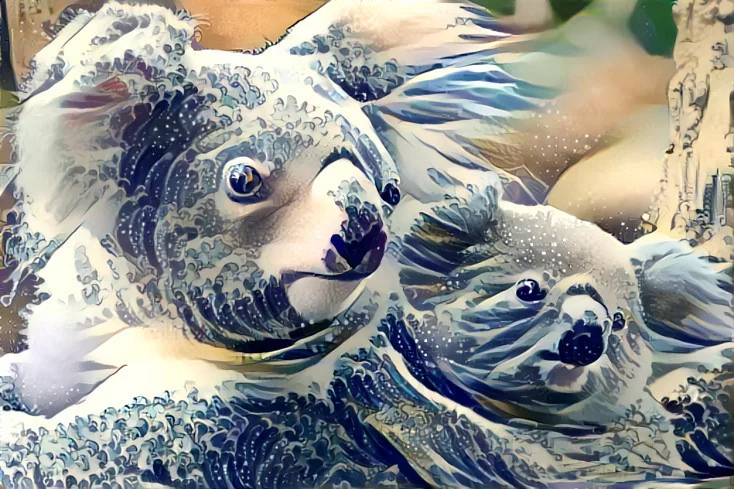 Image credit: Deep Dream Generator
Honorary mention
DALL·E

: Created by OpenAI—the same company behind ChatGPT—

DALL·E 2

is a text-to-image AI system, specifically a CLIP system (Connecting Text to Images). DALL·E 2 can create artworks based on a single subject and embed them into complex scenes while applying various artistic transformations. DALL·E 2 can also apply specific artistic styles to generated images, such as impressionism, pop art, or the style of Rembrandt. Unlike ChatGPT, DALL·E 2 isn't free. It requires users to purchase at least 115 image credits for 15 USD to get started.
Read more: AI-generated art: What is it, and how does it work?
4. LALAL.AI for making music
What is LALAL.AI?
LALAL.AI is an AI-powered music separation and vocal remover service that provides musicians, producers, and audio engineers with the ability to extract individual tracks from mixed songs quickly and accurately. Using advanced machine learning algorithms, users can effortlessly remove vocals, drums, bass, piano, electric guitar, acoustic guitar, and synthesizer tracks from songs while maintaining the quality of the remaining audio.
Great for:
Extracting individual tracks from mixed songs for remixing, sampling, or mastering purposes.

Removing vocals from songs to sing along with the instrumental track

Isolating specific elements of a song for remixing

Podcasters and radio hosts who need to remove background music or vocals from an audio recording for voice-overs
Plans:
Free: Limits you to ten minutes of audio

Lite (15 USD once-off): allows you to process 90 minutes

Pro pack (15 USD once-off): allows you to process 300 minutes

Plus pack (15 USD once-off): allows you to process 550 minutes
Honorary mention
Soundraw:

Essentially,

Soundraw

creates AI-generated, royalty-free music. Users can create professional-sounding compositions by simply selecting a genre, instruments, and tempo. The AI then analyzes these inputs and creates melodies that fit the chosen parameters, which can then be further customized. Soundraw has a basic plan that's free and allows users to create compositions with limited features.
5. Podcastle for creating podcasts
What is Podcastle?
Originally starting as a Chrome extension that transformed online articles into podcasts, Podcastle is an AI-powered recording tool designed for professional and amateur podcasters, and marketers. The versatile audio tool enables users to record, edit, conduct interviews, and enhance audio all in one place. It stands out from other recorders due to its feature-rich free version, which offers unlimited access to recording and editing features.
Great for:
Recording podcasts

Transcribing audio into text

Removing background noise

Video editing
Plans:
Free: Includes full recording and editing tools and 3 hours of video recording

Storyteller: 11.99 USD per month. Includes premium editing tools, music and sound effects, 10 hours of transcription, noise cancelation, and lossless downloads.

Podcastle Pro: 23.99 USD per month. Includes 25 hours of transcription, and early access to new features.
The best free AI tools for engineers
1. Jit.codes for coding
What is Jit.codes?
JIT.codes harnesses the power of AI to transform text into code. It's perfect for developers and designers who want to quickly generate HTML, CSS, and JavaScript code based on their input. It's also completely free to use. JIT.codes takes advantage of machine learning and the OpenAI API key, which is stored on your browser without being shared with any external sources.
Great for:
Developers, designers, and anyone needing to create code quickly and efficiently

Converting text into HTML, CSS, and JavaScript code

Building CSS frameworks (coming soon)
Plans:
Free
2. Promptmetheus for improving AI model performance
What is Promptmetheus?
Promptmetheus empowers users to create powerful one-shot prompts and AIPI endpoints for their applications, automated workflows, and other use cases. By leveraging the capabilities of ChatGPT and other Large Language Models, Promptmetheus brings the power of these models to users' products and services, allowing for predictable transformations of input to output. In simpler terms, the platform allows engineers to create and test special instructions for AI systems, making them more effective and accurate. This allows them to experiment with different ways of giving instructions to AI, compare their performance, and fine-tune them to achieve better results.
Great for:
Fine-tuning AI models

Automating repetitive engineering tasks

Improving engineering workflows

Assisting in data analysis
Plans:
Free
3. Permar for creating optimized landing pages
What is Permar?
By leveraging its AI capabilities and utilizing data from thousands of websites, Permar can create optimized landing pages in seconds, promising significant improvements in conversion rates and return on investment. The platform can also reduce operational workload through automated A/B testing and data-driven recommendations. Basically, Permar helps businesses to generate converting landing pages and product descriptions efficiently, without the need for hiring developers.
Great for:
Creating converting landing pages quickly and efficiently

Automating the A/B testing process

Data-driven recommendations for landing page optimization

Saving money on developers
Plans:
Free
4. Visily for wireframes
What is Visily?
Created by a team in Vietnam, Visily aims to help those without design skills quickly produce professional-looking wireframes and mockups. The wireframe and user interface design software has a vast library of pre-built themes and templates, which provide a great starting point for users to customize their designs. Additionally, the inclusion of AI-powered tools, such as the sketch-to-mockup AI and the intelligent assistant, adds a layer of convenience by generating unique design themes based on screenshots or keywords.
Great for:
Rapid wireframing, allowing users to quickly create app mockups and prototypes

Collaboration, enabling teams to work together effectively on app design projects

Generating personalized mockups and design themes based on screenshots or keywords
Plans:
Free
5. Motion AI for building chatbot software
What is Motion AI?
Recently acquired by HubSpot, Motion AI is a chatbot and AI platform that allows users to create and deploy chatbots for various purposes. It provides a user-friendly interface and a drag-and-drop builder that enables individuals and businesses to design interactive chatbots without coding knowledge. The platform now forms part of Hubspot's free CRM offering and comes with a range of features to enhance the capabilities of chatbots. For example, users can create conversational flows, define responses to user inputs, integrate with third-party platforms and APIs, and deploy chatbots across multiple messaging platforms, such as Facebook Messenger, Slack, and websites.
Great for:
No-code chatbot development for users with limited technical skills

Creating interactive conversational flows to guide chatbot responses and conversations

Integration with third-party platforms and APIs for enhanced functionality

Utilizing natural language processing (NLP) capabilities for improved user input understanding
Plans:
Free — Signup to HubSpot required
The best free AI tools for project management
1. Slides AI for creating presentations
What is Slides AI?
Slides AI is a tool that helps users create presentations by leveraging artificial intelligence to generate slides automatically. By inputting or copying text into the tool, users can quickly create professional presentations in seconds. With options to customize the appearance using pre-designed presets or creating unique styles, SlidesAI is compatible with Google Slide Presentations and supports multiple languages. It also has a Chrome plugin. SlidesAI also has plans for integration with Microsoft PowerPoint.
Great for:
Creating presentations quickly and efficiently

Customizing presentation styles

Creating presentations in various languages, including English, Spanish, and Italian
Plans:
Free: 3 presentations per month

Pro (10 USD per month): 10 presentations per month

Premium (20 USD per month): Unlimited presentations
2. GPT for Work for Google Sheets and Docs efficiency
What is GPT for Work?
GPT for Work, created by Talarian, a software company, integrates Google Sheets and Google Docs with ChatGPT and GPT-3 models. Its GPT for Sheets offering uses the GPT_FILL function, which can clean and standardize data by replicating a given format throughout a data set. It also helps generate product tags, create marketing content, and produce high-quality product descriptions directly within Google Sheets. It also offers a GPT for Docs function that focuses on text generation and automation within Google Docs. Essentially, GPT for Work aims to streamline and enhance various text-related tasks, making them easier and more efficient for users.
Great for:
Cleaning and standardizing any list of data

Generating product tags quickly

Creating ad copy, taglines, and titles

Writing an outline for projects and speeches

Recapping a meeting and summarizing notes

Rewriting emails and documents in grammatically-correct English
Plans:
Free plugin (OpenAI sign-in required)
3. Glasp for research
What is Glasp?
Coined a researcher's dream, Glasp leverages AI technology to provide a social web highlighting experience that enables users to seamlessly capture and organize quotes and ideas from the web. With the Glasp Chrome extension, users can highlight text and leave notes on webpages, ensuring that the collected content is easily accessible across all devices. The platform organizes these highlights into collections, allowing users to revisit and reference them at any time. Glasp also offers features such as tagging, searching, and sharing highlights on various platforms.
Great for:
Capturing and organizing quotes and ideas from the web

Seamless highlighting and note-taking on webpages

Facilitating social learning and connecting with like-minded individuals

Expanding knowledge through insightful content shared by others
Plans:
Free Chrome extension
4. Fireflies AI for taking notes
What is Fireflies AI?
Fireflies AI is an advanced meeting assistant powered by artificial intelligence that aims to streamline and enhance business meetings. It offers features like recording, transcribing, and searching voice conversations, as well as summarizing meeting details and generating insights through Conversation Intelligence. With integrations to popular web-conferencing platforms and business applications, Fireflies enables seamless syncing of meeting data and collaboration with team members.
Great for:
Streamlining and optimizing business meetings

Recording and transcribing meetings

Providing AI-generated summaries, meeting notes, and action items

Syncing meeting data with CRM and collaboration tools

Analyzing conversation intelligence to identify trends and improve performance
Plans:
Free: Limited features

Pro: 10 USD per seat per month

Business: 19 USD per seat per month

Enterprise: Custom pricing
5. AskYourPDF for extracting information
What is Ask Your PDF?
AskYourPDF is an AI-powered chat system and plugin that enhances a user's interaction with PDF documents, allowing them to navigate, comprehend, and extract valuable insights from PDFs more efficiently. Users can upload a PDF to the platform or provide a URL link to a PDF, which the plugin then downloads and stores in a vector database. This database allows the plugin to search through the stored PDFs and locate answers to user queries or retrieve specific information. It is particularly useful when users have questions related to content within PDF documents. It then provides answers by highlighting the page number where the relevant information was found, making it easier for users to locate the specific details they need.
Great for:
Efficient PDF navigation

Insightful content extraction

Precise information retrieval
Plans:
Free
The best free AI tools for small businesses
1. Akkio for analyzing data
What is Akkio?
Akkio is a no-code machine learning business analytics and forecasting platform that offers an accessible and scalable solution for real-time decision making. It enables businesses to make data-driven choices by leveraging existing data without requiring coding or data science expertise. Akkio has an enhanced lead scoring feature which can help improve lead qualification and prioritize marketing efforts. The platform also provides revenue forecasting, predictions for pricing and market growth, and the ability to identify potential customer churn. Akkio facilitates rapid business judgments through free-form writing and enables easy sharing of forecasts with colleagues.
Great for:
Real-time decision making

Data-driven choices

Improved lead scoring and prioritization of marketing efforts

Revenue forecasting

Predictions for pricing and market growth

Identifying potential customer churn
Plans:
Free plan (Limited features)

Starter: 50 USD per month

Professional: 1,500 USD per month

Enterprise: 3,000 USD per month
Read more: Cybersecurity tips for small businesses
2. FinchatAI for managing finance
What is FinchatAI?
FinchatAI is an engaging chatbot developed by Finchat Technologies that aims to improve people's financial literacy and understanding of personal and business finance. It offers educational resources and personalized guidance to help individuals and small companies set and achieve their financial goals. With a team of programmers and financial experts, FinchatAI delivers user-friendly and conversational financial information, making financial education more accessible to the general public.
Great for:
Building a budget and managing cash flow

Understanding financing options and helping with the application process

Providing guidance on tax planning and preparation

Offering educational resources to improve financial literacy and decision-making

Helping with investment and retirement planning for business owners and employees
Plans:
Free
3. AI Intern for optimizing operations
What is AI Intern?
AI Intern is a virtual assistant that's seamlessly integrated within Slack, and designed to cater specifically to the needs of small businesses. Powered by artificial intelligence, it serves as a versatile support system across a wide range of tasks, allowing small business owners to save time, reduce stress, and increase productivity. From generating content for webpages, emails, and social media posts, to providing coding assistance in various languages, streamlining HR processes, and offering help in writing financial documents and agreements—AI Intern provides quick and efficient solutions, helping small business owners streamline operations and focus on growth.
Great for:
Generating content for articles, blogs, emails, and social media posts

Coding tasks and providing solutions in multiple programming languages

Generating job descriptions, employee handbooks, and training materials

Writing technical documentation, such as APIs, user manuals, and release notes

Providing translation services for written content

Streamlining workflow and brainstorming ideas

Assisting with research and quickly responding to a wide range of questions
Plans:
Free with a Slack account
4. Cheat Layer for automating business tasks
What is Cheat Layer?
Cheat Layer is a platform that leverages the power of GPT-4 to automate business tasks and save time. Its No-Code interface allows small businesses to automate processes without requiring extensive coding knowledge. By turning automations into fully functional, branded Chrome extensions, businesses can even generate additional revenue by reselling them to clients. Cheat Layer's custom-trained GPT-4 models act as personal AI software engineers, providing cheat codes and automations for end-to-end processes. This allows small businesses to streamline their operations, improve efficiency, and reduce manual workload.
Great for:
Automating business tasks on websites

Saving time and reducing manual workload

No-Code automation for small businesses

Webhook triggers for automation workflows

Browser automation specifically for Chrome
Plans:
Free plan (Limited features)

Workflow automation: 39 USD per month

Enterprise: Custom pricing
5. Krisp for online meetings
What is Krisp?
Krisp is a noise-cancellation desktop app that significantly improves the quality of conference calls and online meetings. Acting as an intermediary between your device and online communication tools, Krisp eliminates background noise, ensuring clear calls and enhanced audio experiences. It works in both directions, cancelling noise from your microphone and from your speakers or headphones. Additionally, Krisp's AI engine can be trained to focus specifically on your voice, cutting out other voices and eliminating acoustic and room echoes.
Great for:
Eliminating background noise during online calls

Improving audio quality during online meetings

Suppressing noise in call centers and noisy environments

Blocking acoustic and room echoes

Customizing noise cancellation to focus on your voice specifically
Plans:
Free forever (Limited features)

Pro: 8 USD per month/per seat

Enterprise: Custom pricing
The best free AI tools for students
1. The Socratic app for learning
What is the Socratic app?
The Socratic app, developed by Google, is a free AI-powered educational tool designed for high school and university students. It allows users to ask questions about their schoolwork and receive curated search results, detailed explanations, and relevant resources from trusted websites. By promoting critical thinking and providing instant support in various subjects, the app helps students deepen their understanding, review concepts, and check their work.
Great for:
Providing curated search results, explanations, and resources

Reviewing and reinforcing concepts

Checking the accuracy of answers

Narrowing down overwhelming search results

Accommodating different learning preferences

Offering instant support in various subjects
Plans:
Free
Read more: How to use technology in the classroom
2. Poe for problem-solving
What is Poe?
Created by the question-and-answer website Quora, Poe is an AI chatbot app that can be a valuable tool for students. With its user-friendly interface, Poe allows students to ask questions and receive answers from a variety of AI chatbots, including ChatGPT and directly from GPT-4. This means that students can seek assistance on a wide range of subjects and topics, gaining instant access to information and support. Whether they need help with problem-solving or understanding complex concepts, Poe's AI models can provide guidance and explanations. Additionally, the app's social components enable students to connect with others, follow profiles of interest, and share model output, fostering a collaborative and learning-focused community.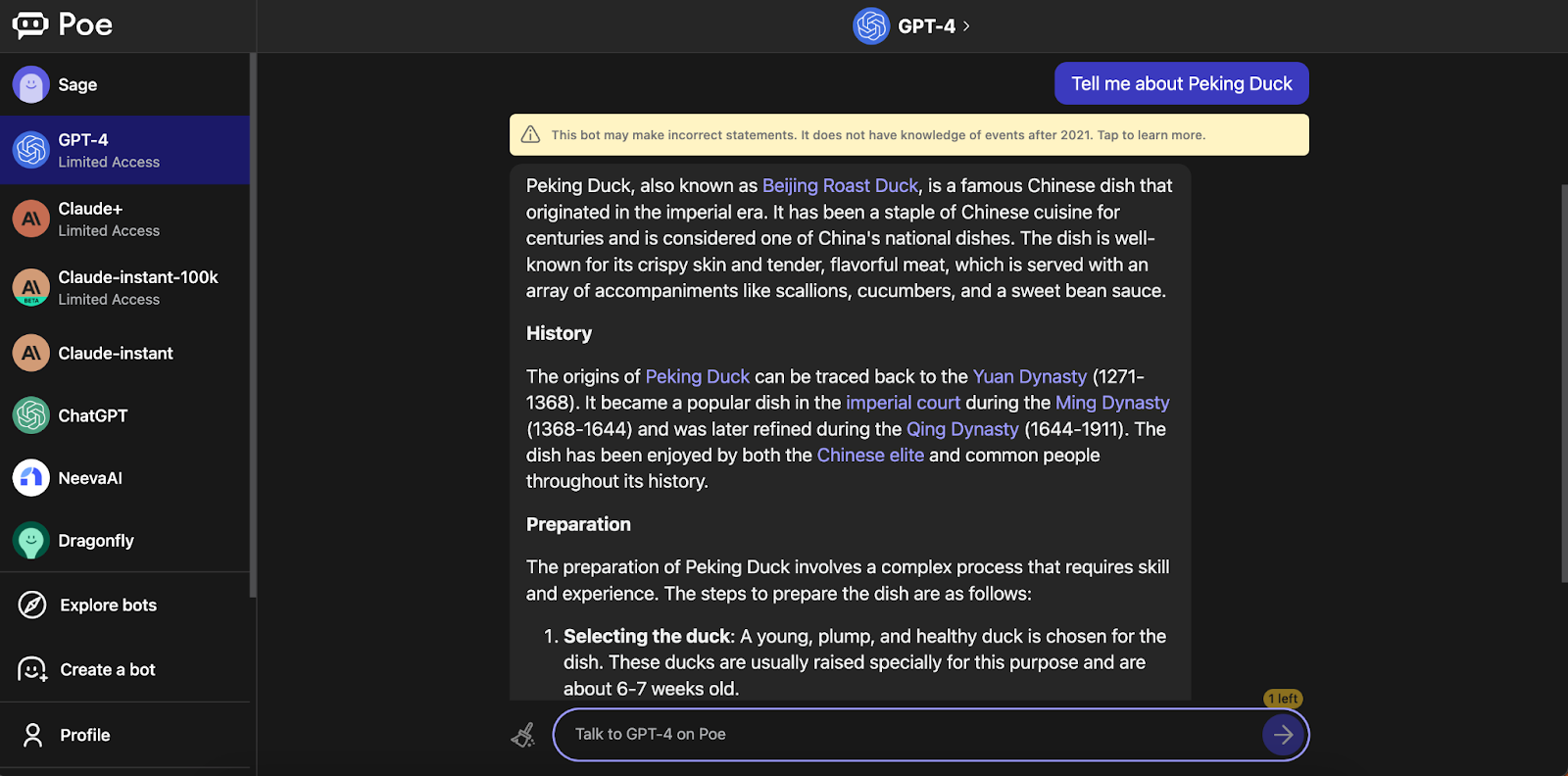 Great for:
Academic support and guidance

Access to a variety of AI chatbots for answering questions

Assistance with writing, problem-solving, and understanding complex topics

Social features for connecting with peers

Exploring a wide range of subjects and expanding knowledge
Plans:
Free 7-day trial

Monthly: 19.99 USD

Yearly: 199.99 USD
3. YourChat for swift search engine results
What is YourChat?
YourChat is an innovative, AI search engine. It's available on the web or via Telegram (WhatsApp coming soon) and enables users to easily access information by entering their search queries—eliminating the need to sift through multiple search results. The AI-powered chatbot swiftly retrieves the best results, saving time and improving productivity. It also adds emojis to answers, as well as phrases them in an easily-digestible format. The platform's compliance with GDPR ensures data protection, while its ad-free environment promotes an uninterrupted learning experience.
Great for:
Quickly getting the answers you need

Serving as a companion for daily conversations

Providing answers in an easy-to-understand format
Plans:
Free
Read more: What's the difference between web browser and search engine?
4. Student Mate for managing homework and meeting deadlines
What is Student Mate?
StudentMate is an AI-powered assistant that aids students in effectively managing their homework assignments. It automates assignment management by retrieving tasks from teachers' Google Slide agendas, eliminating the need for manual input. The tool also provides high-priority email reminders for upcoming deadlines and seamlessly integrates with Blackboard, enabling students to access all their classes and assignments in one centralized location.
Great for:
Organizing and keeping track of homework assignments

Staying on top of important deadlines
Plans:
Free (Currently only works for North Allegheny Blackboard and Google Classroom)
5. ELSA Speak for improving your English
What is ELSA Speak?
ELSA Speak is a language learning app designed to assist users in preparing for exams like IELTS and TOEFL. While its primary focus is on improving pronunciation for effective communication, the app also leverages deep AI and voice recognition technology to analyze and study users' recorded voices. The app provides real-time feedback on users' spoken phrases, using visual cues to indicate the accuracy of each word. ELSA Speak also offers video lectures for test guides and other informative content.
Great for:
Improving English pronunciation

Preparing for exams like IELTS and TOEFL

Providing real-time feedback on spoken phrases with visual cues

Video lectures for test guides and information
Plans:
Free: Limited lessons

Pro (11.99 USD – 74.99 USD for monthly and annual plans): 7100+ lessons

Curated packages available for schools and organizations
The post 35+ free AI tools to boost your productivity appeared first on Home of internet privacy.