Real estate is an effective and potentially profitable way to diversify an investment portfolio. It has also been traditionally out of reach for small investors due to the large capital requirements. The best real estate investment apps have changed that and opened up new opportunities.
Here are some of the best real estate investment apps.
Quick Compare
The Best Real Estate Investment Apps
Investing in real estate is a terrific way to diversify your portfolio, earn passive income, and secure your financial future, but it's historically been out of reach for most investors. Until recently, you had to do a marathon's worth of legwork to find properties, secure financing, and find tenants, not to mention securing adequate insurance and qualified building managers.
You can still go with the old-school approach if you want, but it's no longer the only way to go. A number of apps and services have emerged in recent years that promise to democratize access to real estate investing, giving even small-time investors the chance to buy into and profit off of big properties. The question is: which ones are worth your time?

Learn more: By the way, if you're aiming to grasp real estate investing, this post lists books that can offer clarity.
What Is an Accredited Investor?

Many platforms that allow you to invest in large or risky assets are legally required to verify that you're an accredited investor before letting you do business with them. It's not all that hard to qualify as an accredited investor, but you do need to meet at least one of these criteria:

Have a pre-tax income of at least $200,000 as an individual or $300,000 as a couple
Have a net worth of at least $1 million, not including your primary residence
Hold Series 7, Series 82, and Series 65 certifications

Most people don't meet these criteria. If you do, however, you should have no problem investing with any of the following apps. And if not, there are still some opportunities here for you.
---
1. CrowdStreet

Best for Accredited Investors
CrowdStreet bills itself as the leading online commercial real estate investing platform. They act as a sort of commercial real estate matchmaking service that connects accredited investors to sponsors looking for capital.
There usually aren't that many offers available on their marketplace at any given time (though this depends heavily on the overall real estate market), but in a way, that's kind of a good thing. Since CrowdStreet makes its money by facilitating transactions, they're directly incentivized to do meaningful due diligence on every offer that comes their way. In other words, they aren't afraid to turn down offers that they don't think are good enough for their users.
Though the platform is free, easy to use, and takes a lot of the headache out of commercial real estate investing, it isn't perfect. There are two main downsides: the fairly hefty minimum investment of $25,000 and the fact that it's restricted to accredited investors.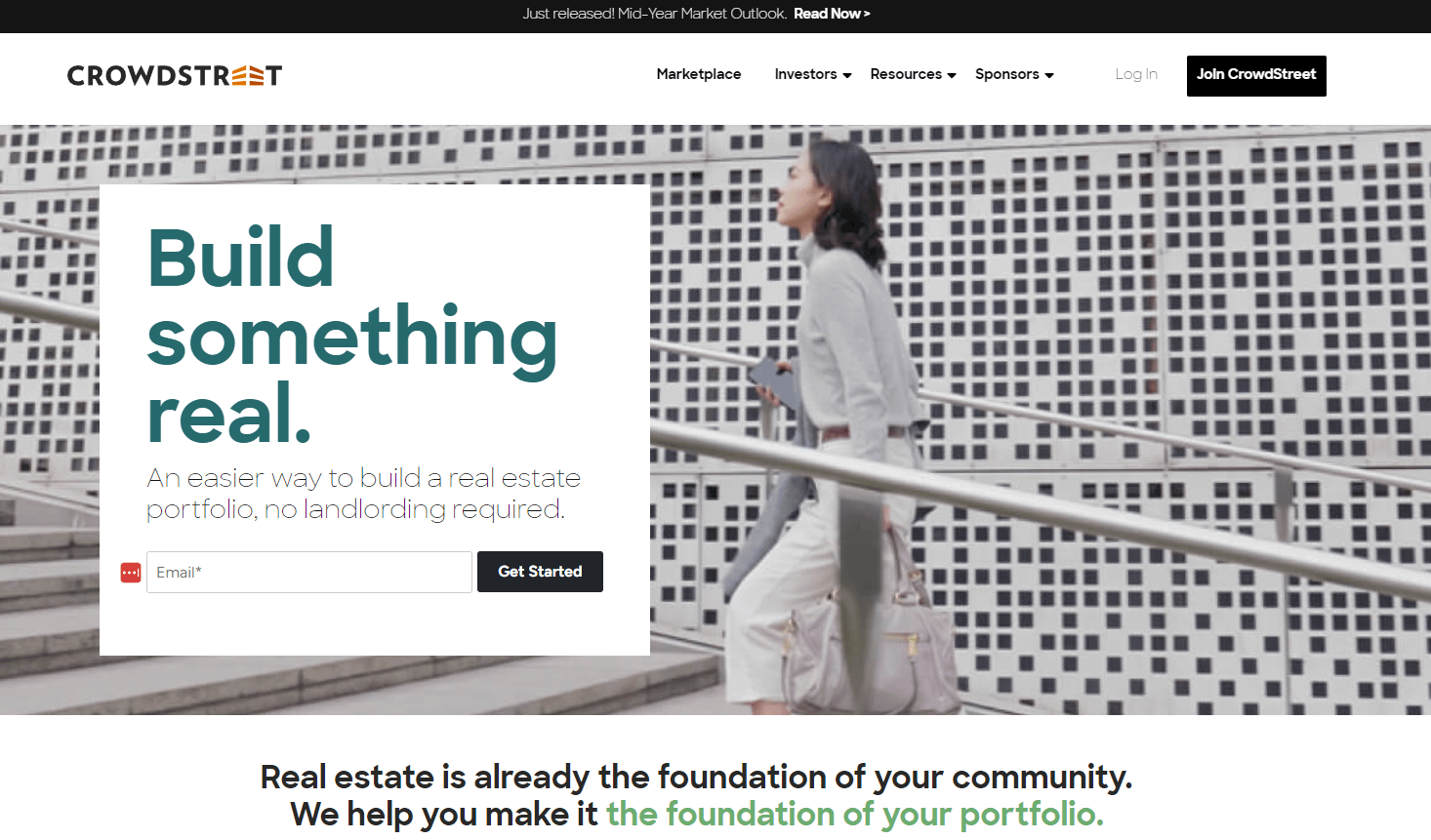 Pros:
Free to sign up and browse offerings.
Only well-vetted deals from reputable sponsors.
Occasionally offers funds and investment vehicles as well as individual deals.
CrowdStreet handles most of the back end, making investing in deals pretty painless.
Cons:
Must be accredited.
$25,000 minimum investment.
Not many deals are available at any given time.
| CrowdStreet | |
| --- | --- |
| Minimum Investment | $25,000 |
| Fees | Long-term varies by deal |
| Investment Types | Commercial real estate, rental properties, diversified funds |
| Expected Investment Length | Long-term Varies by deal |
---
2. Fundrise

Best for Smaller Investments
Fundrise is somewhere on the other side of the spectrum from CrowdStreet. You don't need to be accredited to invest with Fundrise, and you certainly don't need to invest a minimum of $25,000. Users can get started investing on Fundrise with as little as $10, though you will need a much higher account balance to access some of the more exclusive offers. This is what makes Fundrise one of the best real estate investment apps for smaller investments.
Fundrise uses a combination of technologies and innovative management systems to provide a highly versatile service at a surprisingly low cost, letting it offer its users a set of tantalizing investment opportunities without bogging them down with fees.
The main downside of Fundrise is that you're kept at arm's length from the actual assets underlying their funds. When you invest, you aren't actually buying a piece of a building or home, you're buying into a portfolio that Fundrise manages. You're giving up a bit of control in terms of picking and managing real estate investments, but that could be a good thing for investors who don't have the time or expertise to do the due diligence that Fundrise performs on your behalf.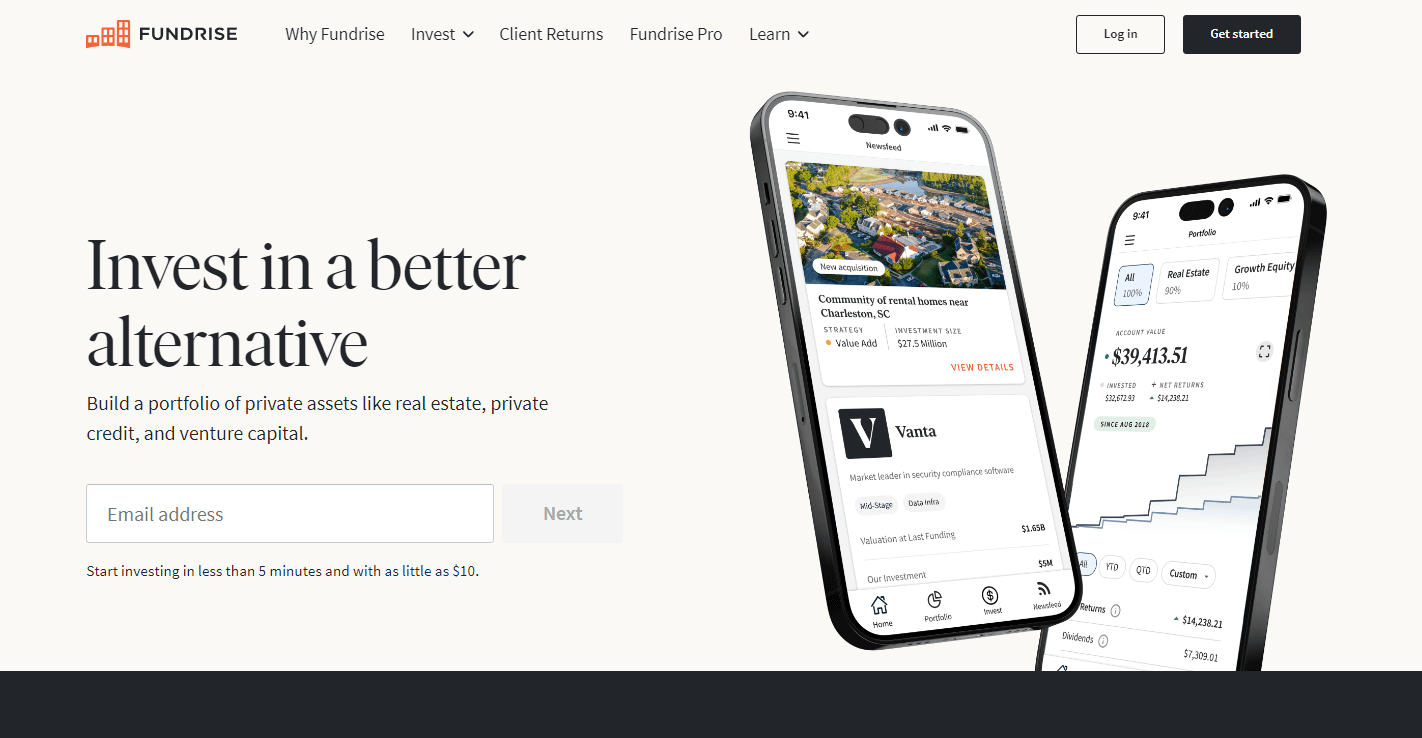 Pros:
Low/flexible account minimums.
Low fees, even compared to similar services.
Easy to use and well-explained at every step of the way.
Cons:
Lets you invest in real estate funds, not individual properties
No control over how funds are managed or how properties are acquired.
Investment takes time to pay off.
| Fundrise | |
| --- | --- |
| Minimum Investment | $10 |
| Fees | 0.15% annual advisory fee   |
| Investment Types | Real estate funds with a broad range of underlying assets |
| Expected Investment Length | 5-year minimum |
---
3. Yieldstreet

Best for Alternative Investments
Yieldstreet understands that real estate isn't the only alternative asset class that investors turn to when they look for yield outside the equity markets. In addition to real estate—of which they have plenty on offer—Yieldstreet gives investors the chance to invest in over ten alternative asset classes, including art, short-term notes, private equity, and private credit.
Accredited investors will find a wide range of alternative investments available on Yieldstreet, most of which would otherwise be out of reach for all but big companies and the ultra-rich. You'll be able to buy into art portfolios, short-term notes, private equity deals, and a bunch of other assets you'd have a hard time finding anywhere else, making the best real estate investment app for alternative investments.
If you're not accredited, you'll be locked out of most of those opportunities, but not all of them. Yieldstreet lets unaccredited investors get a piece of the action via their Growth and Income REIT and their Yieldstreet Prism Fund, both of which give you the chance to profit off of all of the alternative investments they handle. The $10,000 minimum investment requirements are kind of steep, but it's a small price to pay for such exclusive opportunities.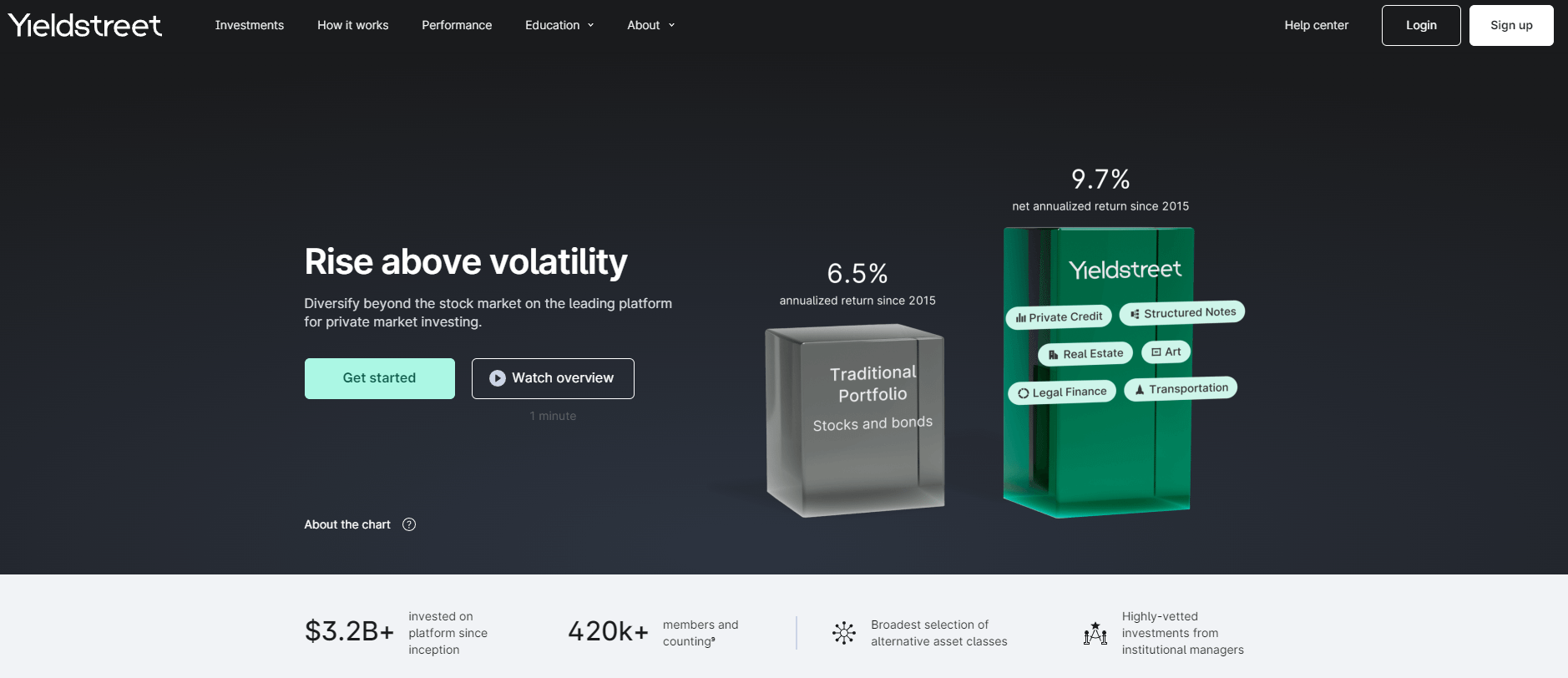 Pros:
Ten different alternative asset classes.
A good range of offers is available with different yields and timetables.
Growth and Income REIT and Prism Fund are available to unaccredited investors.
Cons:
Must be accredited to invest in most opportunities.
Offers are well-vetted but still risky.
High minimum investment thresholds.
| Yieldstreet | |
| --- | --- |
| Minimum Investment | $10,000 – Growth and Income REIT and YieldStreet Prism Fund; Varies for other investments |
| Fees | 0 – 2.5% annual management fees; Additional fees vary by investment |
| Investment Types | REITs, funds, real estate, art, and other alternative investments |
| Expected Investment Length | Varies by investment |
---
4. DiversyFund

Best for Multifamily Real Estate Investing
DiversyFund is one of the best real estate investment apps as it gives unaccredited investors the opportunity to get as close to direct real estate investments as the law allows. The company itself specializes in multifamily properties and makes its money by buying, improving, holding, and reselling the properties. The easy-to-use app gives investors the chance to get in on the action.
While you do need to be accredited to get in on some of their premium opportunities, DiversyFund doesn't require accreditation to buy into their slate of REITs and private real estate investments. The investments they offer aren't as liquid as stocks, bonds, or most other things you'll find on the larger market—and buying in locks you in for a number of years before you can sell—but their steady returns and stable valuations make them an ideal way to diversify your medium- to long-term holdings.
One might think that a company in a relatively niche market would skimp on its mobile presence, but that isn't the case with DiversyFund. Their app is built from the ground up to make investing in real estate feel seamless and intuitive. Everything from the investing interface to the auto-invest feature is made with ease of use in mind, and the care they put into developing the app shines through with every tap.

Learn more: By the way, if you're intrigued by the concept of living in a part of your investment property and renting out the rest, house hacking is a strategy you might want to explore.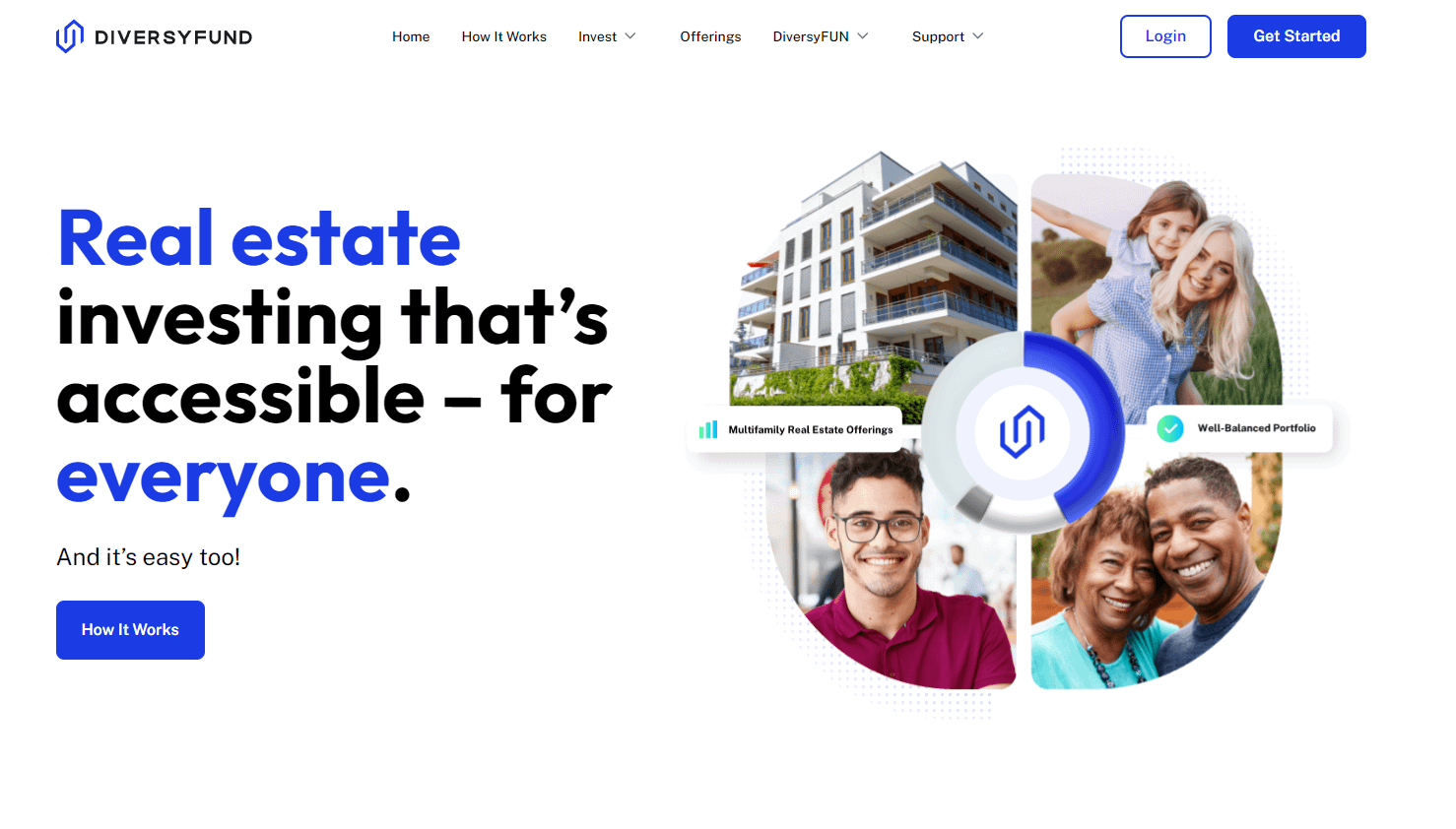 Pros:
Don't need accreditation to access great investment opportunities.
Easy-to-use app makes investing and tracking investments simple.
The auto-invest feature lets you schedule automatic contributions to your investment.
Cons:
Only one type of underlying asset.
The biggest deals require accreditation.
Fairly limited footprint (only 12 current multifamily assets).
| DiversyFund | |
| --- | --- |
| Minimum Investment | $500 – Growth REITs; $25,000 – Premier Opportunity Fund (accredited); $50,000 – Premier Direct SPVs (accredited)   |
| Fees | Varies based on investment |
| Investment Types | REITs, multifamily dwellings, private real estate  |
| Expected Investment Length | 5 – 7 years |
---
5. EquityMultiple
Second Best for Accredited Investors
EquityMultiple has this very self-explanatory quote on their home page from Nerdwallet:
"EquityMultiple blends crowdfunding with a more traditional real estate investing approach that can lead to high returns."
And though we would have stopped at "approach" for the sake of brevity, the Nerdwallet quote sums up EquityMultiple's overall ethos quite nicely. The company sources potential investments from real estate firms all around the country, evaluates them using their proprietary algorithms and underwriting methodologies, and places the very best opportunities up for investment on their platform. EquityMultiple's team manages every aspect of the investments from start to finish, so all you have to worry about is picking an investment and putting your capital to use.
Accredited investors who sign up for EquityMultiple will find themselves knee-deep in opportunities to invest in direct real estate transactions and real estate funds that run the gamut across markets and asset types. There are enough different offerings with a wide enough range of return profiles that any experienced accredited investor should be able to find the missing piece to their portfolio within minutes.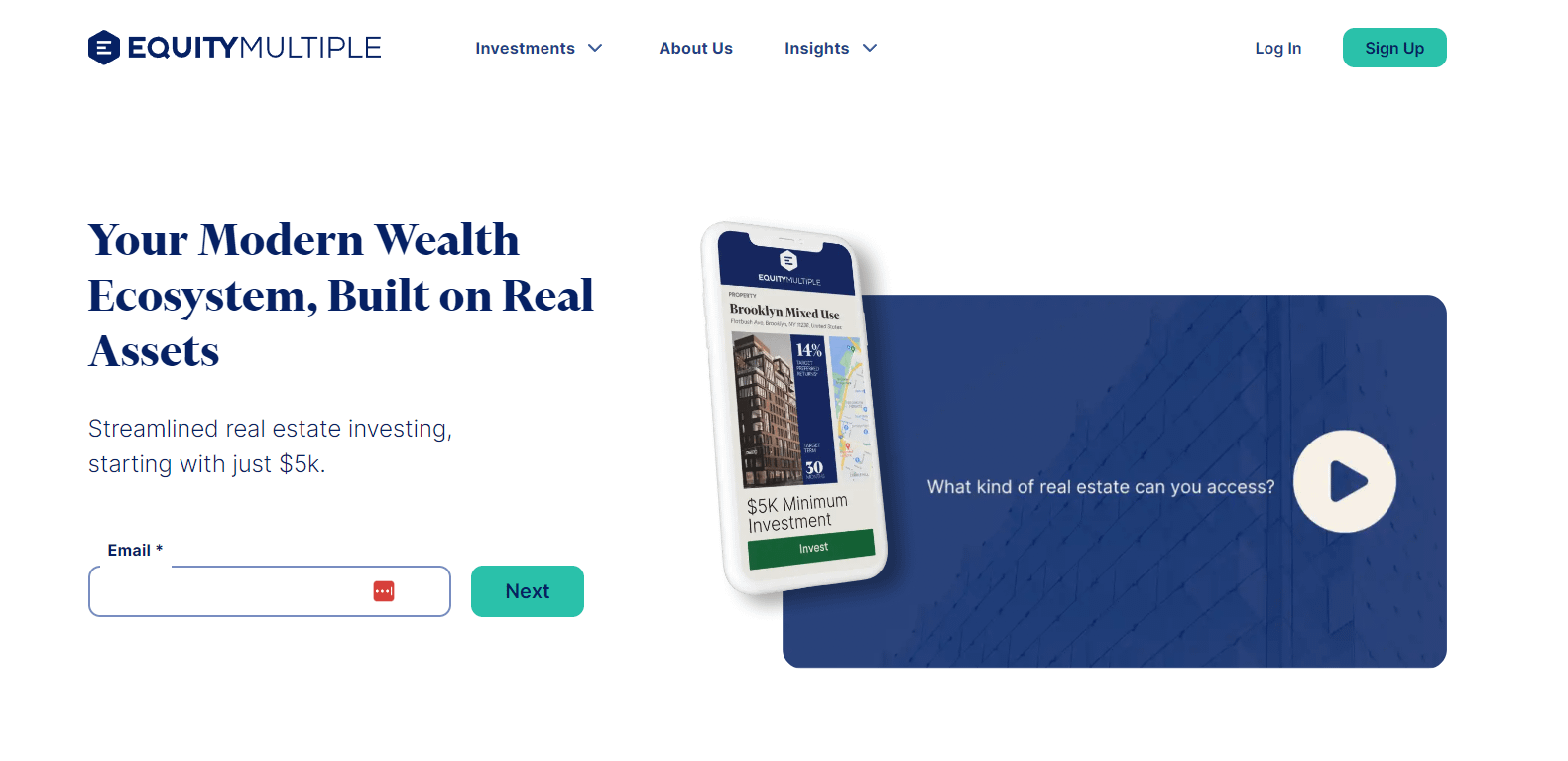 Pros:
Wide range of investment opportunities available.
Opportunities are exhaustively vetted before being presented.
EquityMultiple staff are always on call to answer questions and resolve issues.
Cons:
Accreditation is required for all investments.
Most opportunities have high minimum investments.
Hard to do due diligence on investments; have to trust the EquityMultiple staff.
EquityMultiple
Minimum Investment
$5,000 minimum; $10,000 – $30,000 typical range
Fees
0.5 – 1.5% annual fee: Common Equity;
1% servicing fee: Debt/Preferred Equity;
$30 – $70 annual Administrative Expense
Investment Types
Equity, REITs, debt, funds
Expected Investment Length
Varies by investment
---
The post 5 of the Best Real Estate Investment Apps Tested for 2023 appeared first on FinMasters.