Oh boy! Mickey, Minnie, Donald, and Goofy are back for an all-new platform adventure in Disney Illusion Island. The fabulous four are off to help save a magical place and need some help. This charming, colorful, and super fun game is one the whole family can enjoy no matter their skill level.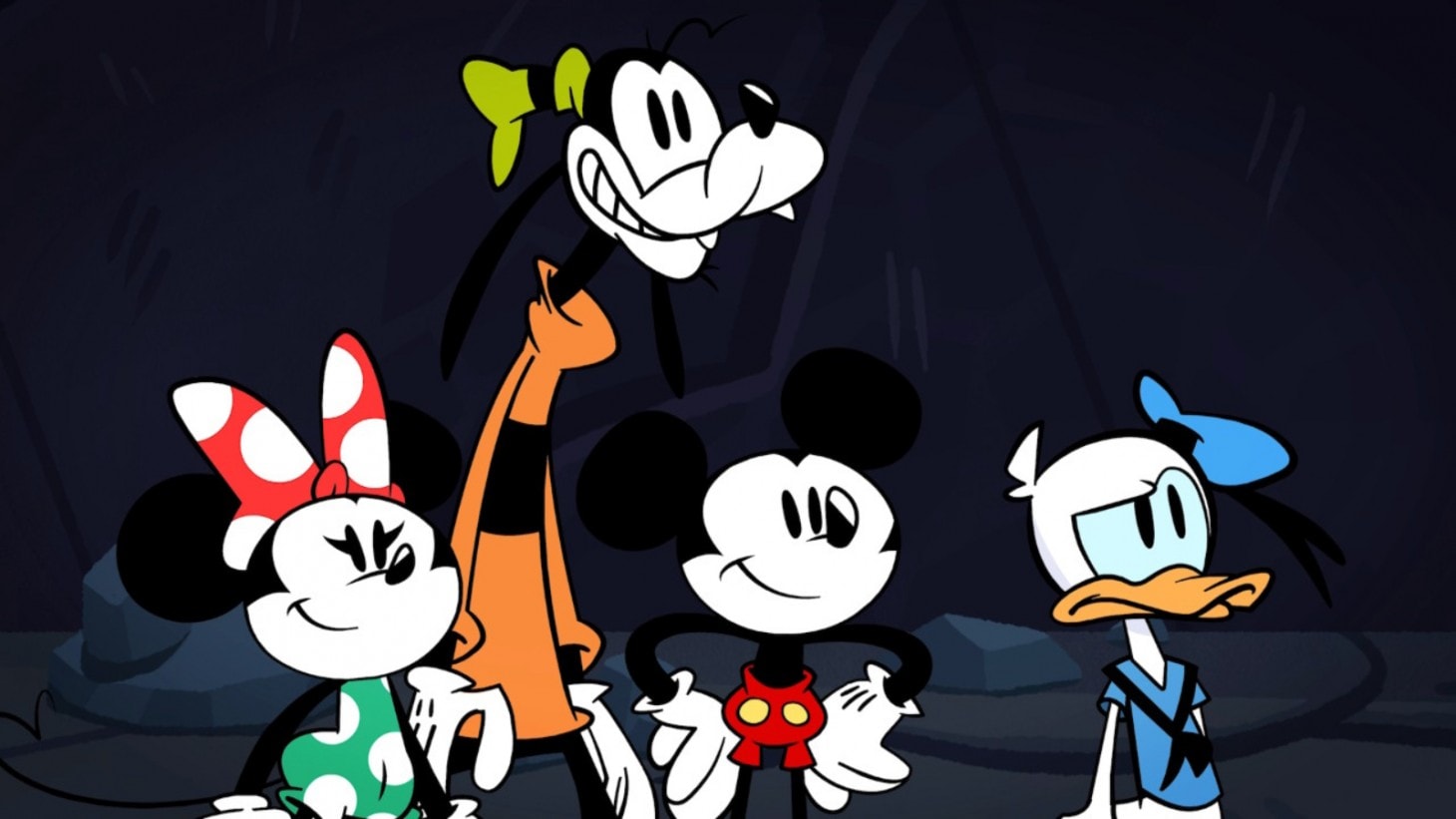 I received a copy of this game for the purpose of our review. All opinions are my own.
Disney Illusion Island Review
Mickey, Minnie, Donald, and Goofy are tricked into traveling to Monoth because the citizens are in need of saving asap! In order to prevent a mega disaster and get the picnic they were promised, the Fab 4 must track down three magical tomes before it's too late. In order to find them, they must travel to the three biomes that make up Monoth's 2-D landscape and face-off with the bosses who currently possess the tomes. After a few cutscenes that could double as Mickey Mouse shorts, thanks to their wit and animation, the characters set off on their quest to save Monoth. 
Illusion Island is a combat-less Metroidvania adventure that is packed with charm, wit, vibrant colors, and plenty of fun. It's a simple story that is presented in a way that will appeal to gamers of all ages. Most of the big events are depicted in cutscenes reminiscent of Disney's House of Mouse while other interactions are purely text-based. Both the physical and dialogue-based humor land, with the latter eliciting more than one laugh out of this Disney fan. The self-aware jokes being cracked are gold for those that know. Quick setup, easy enough controls, and a breezy story, this game hits the sweet spot for family-friendly entertainment.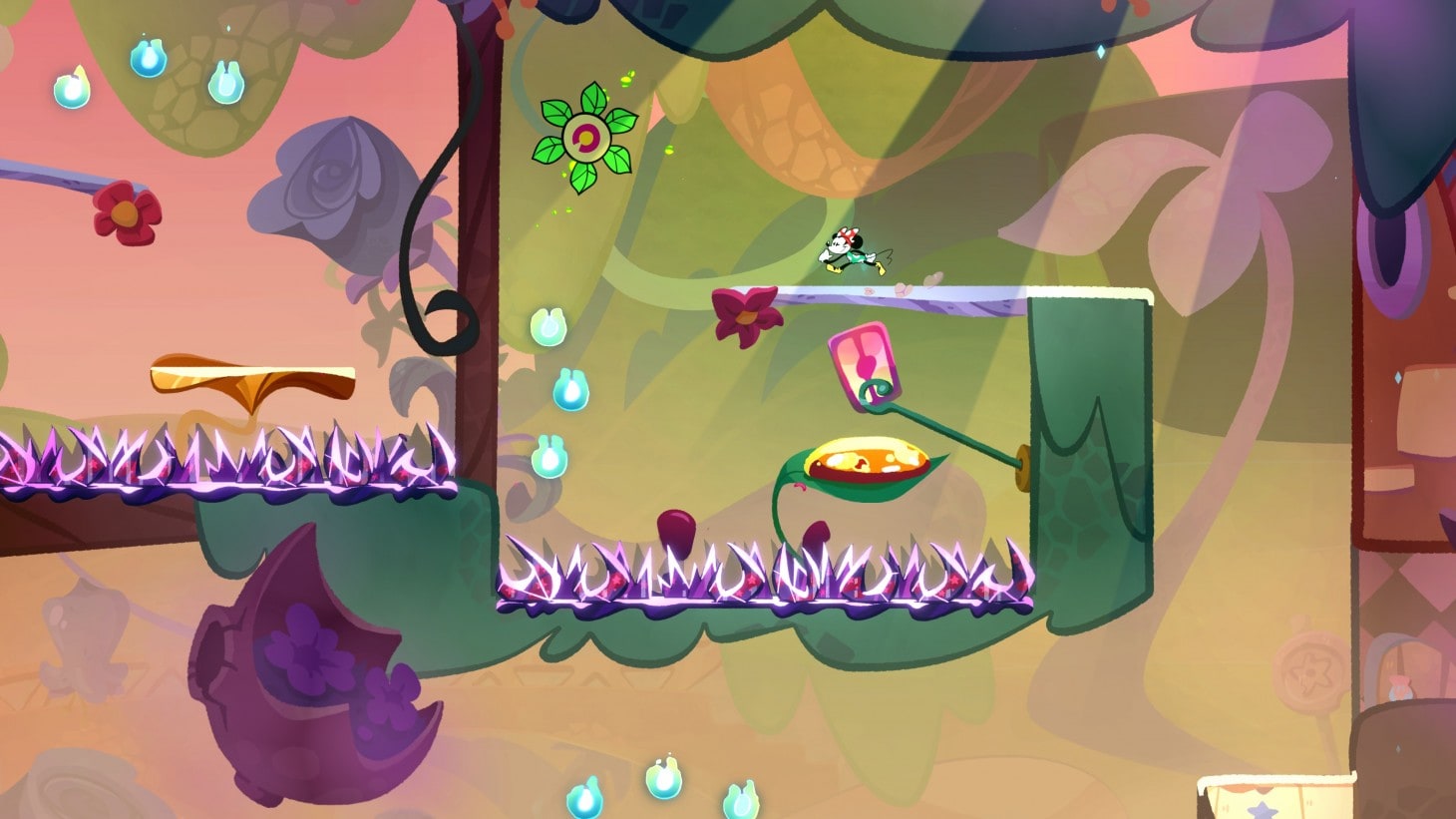 Gameplay
At the start of the game, each character is able to do some basic moves– walk, jump, and if you're playing in two-player or more mode, hug. A few laps through the area, completing fun little quests will allow players to begin to unlock special abilities. The first being the double jump, followed by wall climbing, etc. None of these abilities are combat-based however, as this game focuses on exploring and light puzzle solving to advance through the levels. There are a few boss encounters but no actual fighting is needed to advance. For example you may have to swing off several perches to shake acorns loose that will then fall onto a winged foe. 
The way each character accomplishes their moves is unique. Minnie uses a paper airplane to double jump and Mickey has a giant pencil that allows him to scale walls. Poor Donald is always left for last, but the Monoth citizen swears it's not on purpose. Whether you are playing solo or co-op the animation cutscenes, including the skill boosts, feature all four characters, which is part of the fun. Although the characters play the same they are animated differently to match their personalities. Minnie moves with determination and graceful spins while Goofy lumbers around. They even react accordingly when they are idling, like when Donald becomes teaming mad at the pause.
Illusion Island is made for gamers of all skill levels, especially younger ones who will marvel at how quickly you, the adult, mastered wall jumps. Those Legend of Zelda skills dating back to the 90s are really paying off. Checkpoints are generously found throughout each level not to mention helpful signage. Forget where you need to go? Pull up the map. On it is a clearly visible flag showing exactly which direction to head in. There are even teleportation areas that will help move Mickey and friends from one area straight into the next mission. Everything is brightly colored, with a well-thought out storyline and heartfelt performances by the voice actors. It is clear Dlala wanted Disney Illusion Island to imitate something Disney animation would create, and I'm happy to report it does. It feels like a playable Disney short, something that upgraded those old school DVD interactive menus and bonus features into a full fledged exciting game.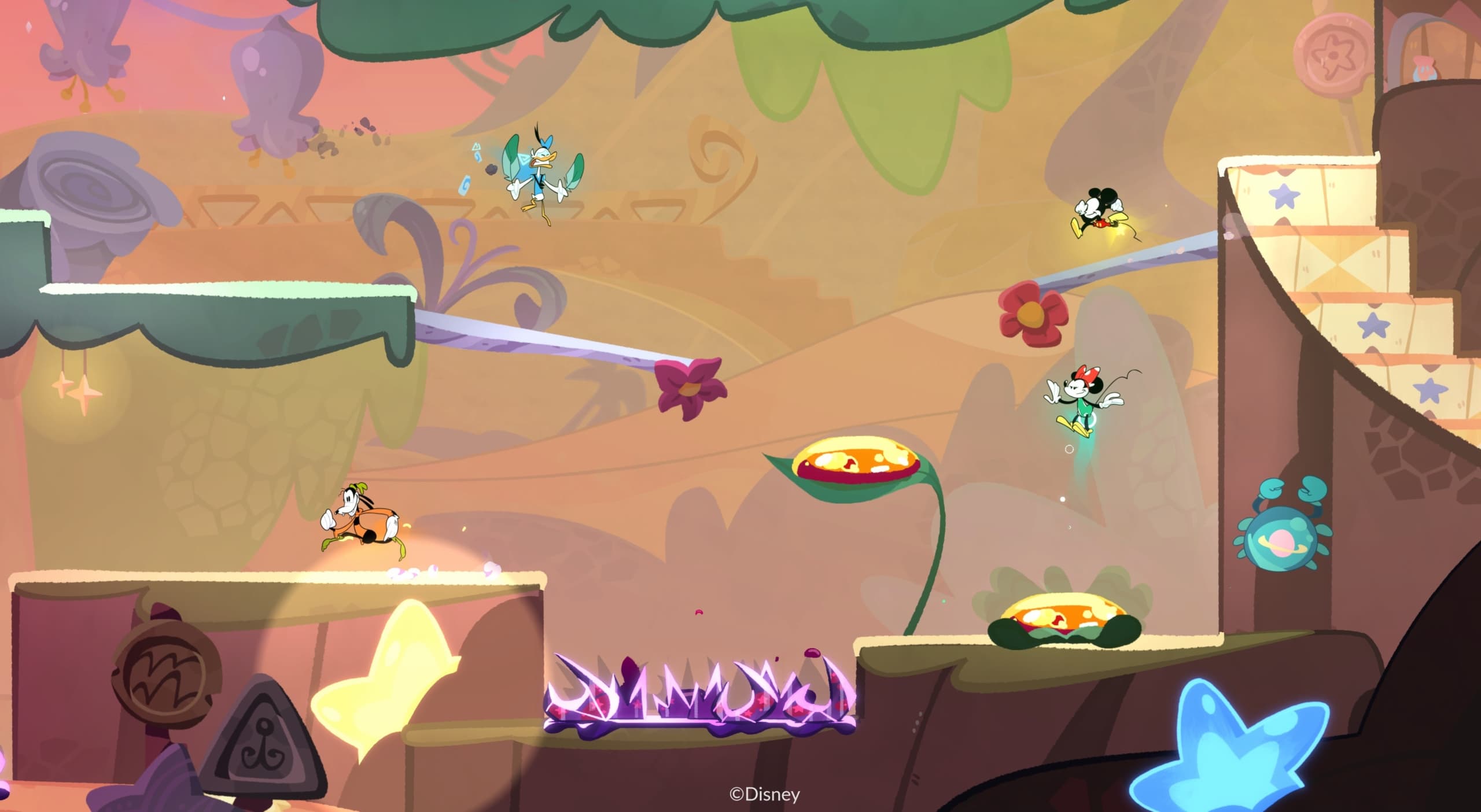 Cooperative play for the family
Aside from the vivid graphics and easygoing gameplay, what really makes Illusion Island a winner is its cooperative play. There are plenty of games out there that allow for more than one player but this is one of the only I've ever played where the feature was specifically designed to accommodate all levels of skill. From experienced gamers to the most novice who have just mastered timing jumps, Illusion Island was made for a mixed bag of players. Sure the game can be played solo but it is clearly designed to be experienced with others. 
Hug time! Likely the cutest co-op feature ever to be coded into a game, a character can get an instant health boost whenever they need it with just a quick hug. In case you were wondering, this never ceases to be adorable. Outside of that, there are additional moves that ensure no friend is left behind. There are teleportation markers if someone is unable to make it through a difficult field of baddies. Just drop one and teleport your friend to safety once the coast is clear. Players can also drop a rope down to help a friend climb to new heights. Leap frog is another fun one which is this game's version of jumping off Mario's head to get somewhere new. All of these support measures are not only sweet but they ensure that even the youngest member of your party never has to sit out for too long because they couldn't make a jump. 
Collectible Items
Not as difficult to attain as they could be in Epic Mickey, Illusion Island features collectible items found throughout the levels. Most of the time these are found in secret walls and off the main path to victory. Some included mementos from famous Mickey Mouse cartoons and films like one of my personal favorites, the brooms from The Sorcerer's Apprentice. While others are character cards featuring little bios of Monoth's residents. It wouldn't be Disney anything without Hidden Mickeys! Disney fans of all ages know that Disney loves to hide Mickey's iconic three circles not only in their films but also through their parks. Just like at Walt Disney World, players of Illusion Island can use their camera (an item that is unlocked) to snap photos in front of the Mickeys hidden throughout the scenery of Monoth.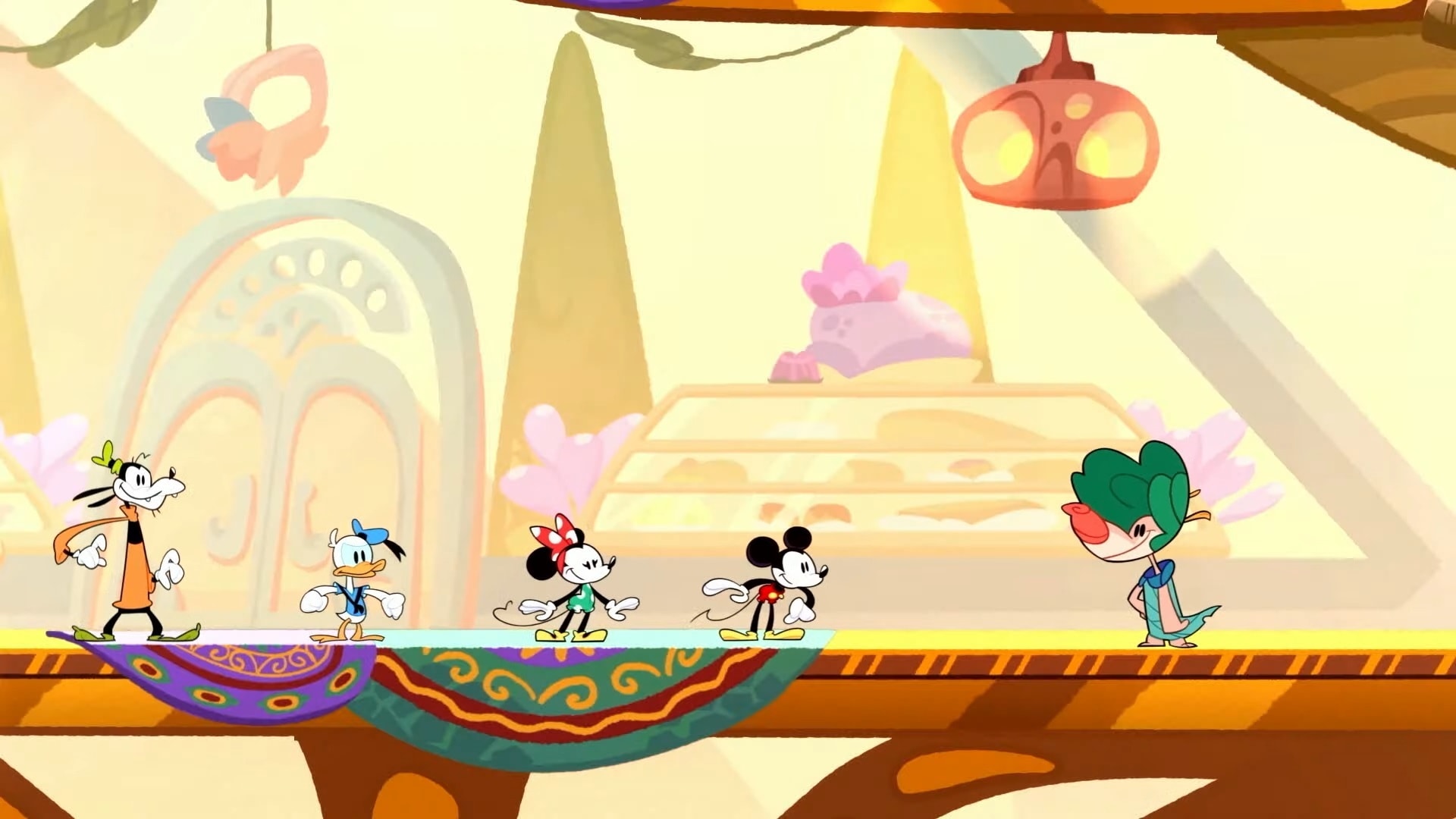 Verdict
Disney Illusion Island is charming, colorful, and just a blast to play with the family. The world is fully imagined and impressively detailed with animations befitting the Fab Four and the Disney legacy they represent. It doesn't attempt to reinvent the Metroidvania wheel, delivering something simple yet fun. The emphasis on cooperative controls and exploration rather than heart-pounding, aggressive boss fights pays off. It wins a gold star for family gaming and should be at the top of everyone's wish list this holiday season.