Chargebacks911
eCommerce Trends


Navigating the Future: 15 Digital & eCommerce Trends to Know About in 2024 
The eCommerce landscape is in constant flux. Changes are influenced by technological advancements and shifting consumer behaviors.
It can be tempting to stick to familiar practices and mindsets. However, understanding and adapting to new eCommerce trends in the digital market can be the "X factor" that gives you an edge over the competition.
Why It's Important to Stay Ahead of the Curve
Staying up-to-date with the latest developments in eCommerce trends, technology, practices, and marketing strategies allows you to:
Forecast New Developments

Staying current with new trends will make it easier to predict what will come to your industry in the future. You'll be able to plan, strategize, and allocate resources more effectively.

Establish Leadership Bona Fides

Want to be seen as a forward-thinking leader in your space? Being seen as on-trend and willing to try new things will position you as an innovative brand that's willing to break with convention in order to deliver a better product.

Identify New Opportunities

If you embrace the future, you'll naturally make connections that can help you stay ahead of competitors. You can eventually pivot from a trend chaser to a trend setter; the industry will move at your pace, rather than vice versa.

Grow Your Business

At the end of the day, this is the main goal, right? New technologies, sales channels, and business practices make it easier to reach more customers and grow your business's reach.
As everyone starts to gear up for 2024, it's crucial to stay ahead of the curve by familiarizing yourself with the industry's key trends. This updated article delves into the game-changing trends you'll want to watch, from voice-activated shopping to emerging social media strategies.
Now, without further ado, here's our list of top 15 eCommerce and digital marketing trends to watch in 2024:
#1 | Expect More Voice-Enabled Search
Smart home devices like Amazon Alexa and Google Home are encouraging the adoption of voice-activated searches. Retailers must adapt by optimizing for voice search (if they haven't done so already). This means focusing on conversational keywords and local SEO to effectively tap into this growing segment.
Forecasts suggest that worldwide sales of these voice-enabled devices are expected to exceed $30 billion by the year 2024. The United States will be a significant contributor to this trend, with estimates indicating that more than half of American homes — around 55% — are likely to have a smart speaker by 2024. Optimizing for voice-enabled commerce now will put you in a good position for this inevitability.
#2 | Headless Websites Offer Greater Flexibility
Headless eCommerce architectures are becoming increasingly popular for businesses seeking flexible and scalable solutions. This setup allows seamless backend updates and enables real-time customization across various front-end channels, helping businesses stay agile.
According to IDC, many current eCommerce platforms, especially in the B2B sector, find it challenging to live up to modern customer experience standards. This is where the concept of headless eCommerce gains relevance. IDC's data indicates that the leading priorities companies seek in digital commerce platforms include:
Scaling operations globally (30%)
Satisfying or surpassing customer expectations (23%)
Creating combined offers with various providers and collaborators (22%)
In this configuration, the front end (what the customer interacts with) and the back end (the underlying functionalities) operate independently of each other. This separation allows for increased customization options and greater design freedom.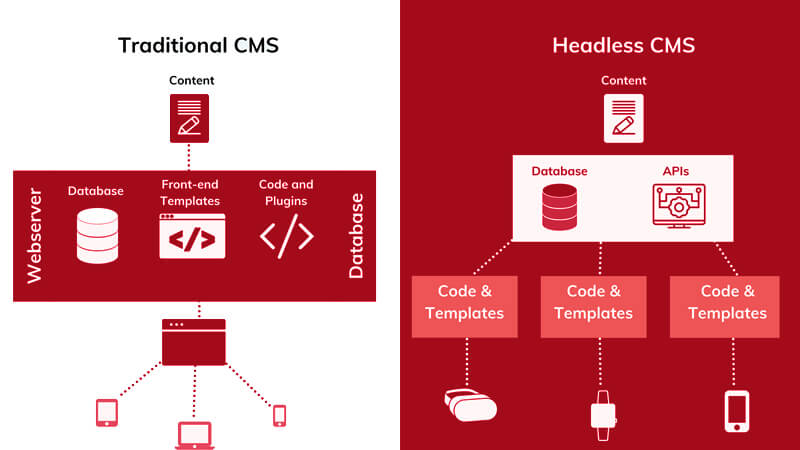 #3 | The Multimedia Revolution: Video, AR, & VR
Technologies like AR and VR are taking customer engagement to the next level by providing more immersive and interactive experiences than ever before. Video content is also gaining traction, helping brands tell their stories more effectively and engage consumers as part of a multilayer, multimedia experience.
By the time we reach 2025, the lines separating augmented reality (AR) and virtual reality (VR) will have blurred substantially. These devices are set to become multifaceted, combining features of both technologies.
The potential of these tools to merge real-world and digital visuals will prompt a reevaluation of various aspects. Everything from how we interact socially to the design and use of both private and public spaces will be on the table.
#4 | Loyalty Programs Enhance Customer Experience
Customers increasingly expect brands to engage with them on their terms. So, how can you outperform your competitors? The answer lies in hyper-personalization.
The era of a generic, one-size-fits-all approach is giving way to strategies that are finely tailored to individual needs. In 2024, this trend of hyper-personalization will become even more central to customer experience initiatives. 
Leveraging sophisticated data analytics, artificial intelligence (AI), and machine learning (ML) for gathering and interpreting customer data will be essential for companies. Also, loyalty programs offering personalized rewards and experiences can drive customer retention and enhance lifetime value.
#5 | B2B eCommerce on the Rise
B2B transactions are increasingly moving online, necessitating a shift in how businesses interact with their corporate clients.
Digital catalogs, streamlined ordering systems, and customized pricing are becoming the norm in the B2B eCommerce space. It's a break with traditional B2B models, which often lagged decades behind trends in B2C commerce.
Forrester forecasts that B2B online sales are set to surpass $2.3 trillion in 2024, and could exceed $3 trillion by 2027. During this period, Gen-Zers and Millennials will increasingly join the workforce, assuming roles that involve decision-making responsibilities for purchases. Unlike previous generations, these groups prefer to research and buy products online, often sidestepping traditional sales interactions.
#6 | Social Media as Sales Platform
Instagram, Facebook, and TikTok are morphing into sales platforms with features like shoppable posts and in-app purchasing. This integration offers a seamless shopping experience for users, allowing them to make purchases without having to leave the social media platform.
According to Statista, the social media user base in the United States alone is estimated to reach 331.09 million users by 2028. To stay relevant in today's attention-driven economy, it's essential to reassess the function of social media. You need to think about how it fits into your strategy not just within the marketing realm, but across the whole enterprise.
In-vogue social media platforms and apps will change over time. However, integrating the power of social media across your company now can position your brand securely for the future.
#7 | Machine Learning Makes Strides
Machine learning technologies are enabling retailers to offer highly personalized experiences through predictive analytics, product recommendation algorithms, and customer service chatbots. All these things make it a critical component of modern eCommerce.
According to recent data, AI, machine learning, and "computer vision" are expected to significantly impact critical operations in the retail sector. These technologies will automate and assist with routine tasks like item picking and scheduling, enhance customer service features such as digital live chats, enable more focused customer marketing strategies, and optimize inventory management., to name just a few.
From a marketing standpoint, experts are talking about tried-and-true practices like search engine optimization (SEO) becoming obsolete. While that's not really true, it is worth noting that the space is changing, and some old practices will need to fall away and make room for new AI-optimization practices.
#8 | The Rise of "Dark Social"
Private sharing through messaging apps (WhatsApp, Signal, etc.) is making it difficult for businesses to track customer behavior accurately. Brands will need to find creative ways to measure and tap into this "dark social" activity to stay ahead.
Navigating dark social effectively will offer an edge over competitors for now, but it will soon be an essential approach:
Uncover the Unseen: Use tools designed to monitor these concealed content interactions.
Enhance Share-Worthiness: Design your products to be compelling for sharing within private channels.
Cultivate Communities: Establish groups or communities to maintain engagement and collect insightful feedback.
#9 | Quick Commerce (Q-Commerce) and Livestream Shopping
Quick commerce, or Q-commerce, driven by platforms like Amazon Prime Now and other innovative companies, is altering the product delivery landscape.
The idea revolves around speedy and convenient delivery, sometimes achieved in mere minutes. This is a trend fueled by growing consumer impatience for immediate access to goods. And, to meet this surge in demand, businesses are shifting their strategies.
For instance, the Need for It Tonight shopping app collaborated with courier service Gophr to provide a 90-minute delivery option for fashion merchandise. As this movement gains momentum, it's anticipated that more companies will form partnerships with local delivery services. They'll make investments in last-mile logistics to enable fast and efficient deliveries.
#10 | Increased Security Measures
The escalation in cyber threats calls for heightened security measures in eCommerce. Expect to see more websites implementing multi-factor authentication, secure payment gateways, and end-to-end encryption.
Financial technology firms depend on strong cybersecurity frameworks to protect customer data, making use of encryption, access management, and secure data storage solutions. That's why fintech firms, specifically, are using AI to fight AI threats.
These companies widely leverage machine learning algorithms in their fraud detection and prevention systems, to identify and counteract fraudulent activities. They're effectively matching financial fraudsters; using AI to counter new threats of financial losses that result from developments in AI technology.
#11 | Connected TV & Other Digital Marketing Shifts
Connected TV offers new avenues for targeted advertisements and branded content. As more households adopt smart TVs, the opportunity for direct consumer engagement through this medium is expected to grow exponentially. 
Point in fact: Connected TV is rapidly becoming the most popular advertising format in the US. Advertisers benefit from the shift of content, viewers, and engagement towards digital platforms.
It's true that predictions did need to be adjusted downward due to unfavorable economic circumstances and hurdles in digital ad precision and assessment. Regardless, CTV still represents a significant opportunity for marketers, especially as traditional TV's influence diminishes.
#12 | Different Platforms for Different Audiences
Understanding generational social media preferences is crucial. TikTok is poised to dominate the Gen Z market, while Millennials can be more effectively reached through a combination of Instagram, TikTok, and Facebook.
TikTok, in particular, has seen meteoric growth. It attracted over a billion users in roughly five years, reaching this milestone in 2022. This substantial user base positions it well for benefiting from advertising dollars. By 2024, TikTok is projected to rake in approximately $11 billion in US advertising revenue, surpassing YouTube.
Other platforms are now scrambling to keep pace. All are striving to match the new benchmark that TikTok has established in the realm of social media. It remains to be seen, however, how long the current balance of audiences will hold.
#13 | B2C Marketers Will Favor MTA, UTM, & Incrementality
Multi-touch attribution (MTA) and incrementality are becoming key focal points for B2C marketers. They offer a more nuanced understanding of customer journeys, enabling better allocation of marketing budgets.
To illustrate how this will work in 2024, consider attribution that uses well-configured UTM codes. It serves as a lens through which you can view the full customer interaction with your brand, from the initial engagement to the final interaction before making a purchase.
UTMs provide information on the source of your web traffic and the specific links clicked on during a campaign. Additionally, they help in monitoring the performance of different campaigns and identifying the platforms used, such as Facebook, Google, or other social media channels.
MTA and UTM provide insights into the origins of your customers and identifies your most effective marketing channels. This information will be crucial for fine-tuning the customer journey and maximizing the return on your marketing investment, especially in a post-cookie environment.
#14 | Key Metrics Are More Crucial Than Ever
Evaluating an investment requires scrutinizing key performance indicators (KPIs). These metrics help identify which initiatives and campaigns have expedited the achievement of goals most efficiently.
KPIs help prevent resource waste and guide budget allocation towards campaigns that deliver a higher return on investment (ROI). Effective financial management is also a critical component of digital marketing strategy. Key performance indicators like customer acquisition cost (CAC), customer lifetime value (CLV), and return on ad spend (ROAS) are vital metrics on this front.
There are more avenues of reaching customers through marketing available than ever before. You'll need to track these and other KPIs diligently in 2024 to gauge the effectiveness of your strategy, and see what needs to be adjusted.
#15 | Environmentally-Conscious Commerce
Expect a surge in eco-friendly eCommerce initiatives as environmental concerns continue to dominate public discourse. From sustainable packaging to carbon-neutral delivery options, "green" will be a defining theme.
Year over year, consumers continue to show preference for brands emphasizing green initiatives and ethical business operations.
To stay in tune with these sustainability currents, consider switching to eco-friendly packaging, minimizing shipping-related carbon footprints, and partnering with suppliers committed to ethical practices. Use your marketing platforms to highlight your green credentials and responsible business practices. This will resonate with environmentally aware customers and set you apart from your competition.
At the End of the Year…
eCommerce and digital marketing are undergoing rapid transformations. Understanding and leveraging these trends can help businesses gain a competitive edge and ensure they're well-equipped to meet the challenges of 2024 and beyond.
Of course, one crucial practice you should adopt to future-proof your business is to optimize and prioritize fraud prevention. Not sure where to start? Don't worry — Chargebacks911® can help.
Our industry-defining approach to chargeback management and fraud prevention will help you avoid loss, recover revenue, allocate resources and staff more efficiently, and develop better relationships with your customers. Partnering with Chargebacks911 helps you ensure that your business is ready for any challenge — no matter what tomorrow brings. Click below and get started today.
This post eCommerce Trends appeared first on Chargebacks911