If you are trying to buy Mega Millions of lottery tickets (or many lottery tickets of other prizes such as Powerball, Euro Millions,…) on  TheLotter but encounter unexpected errors that lead to being unable to buy lottery tickets as desired, then LottoAgent is an alternative.
With LottoAgent, you can easily purchase your favorite international lottery tickets with your Visa Debit card, Cryptocurrency, or e-Wallet.
In addition, LottoAgent also allows you to buy only 1 lottery ticket (1 series of numbers) in one purchase, helping you feel secure to try your luck before actually choosing to buy many lottery tickets according to your preferences. 

Before buying Mega Millions of lottery tickets on LottoAgent, please prepare a Visa Debit card or a crypto wallet with appropriate coins inside.
How to buy US Mega Millions of lottery tickets online with Cryptocurrency at LottoAgent?
This article will show you how to buy a Mega Millions lottery ticket using Cryptocurrency on the LottoAgent website.
You can do the same for other lottery tickets on LottoAgent quickly and safely.
InternationalLottery.org guide you through the steps to buy Mega Millions of lottery tickets on LottoAgent.
The Mega Millions lottery order details page appears. You go to Step 2 to continue.
Step 2:  Select the number of tickets you want to buy and choose the lucky numbers
You can choose 1 LINE, 3 LINES (-6%), 5 LINES (-9%), 10 LINES (-10%), 15 LINES (-11%), or 20 LINES (-12%) to increase the rate win higher. Each LINE is equivalent to one ticket.
In this tutorial, we deal with 1 LINE purchase.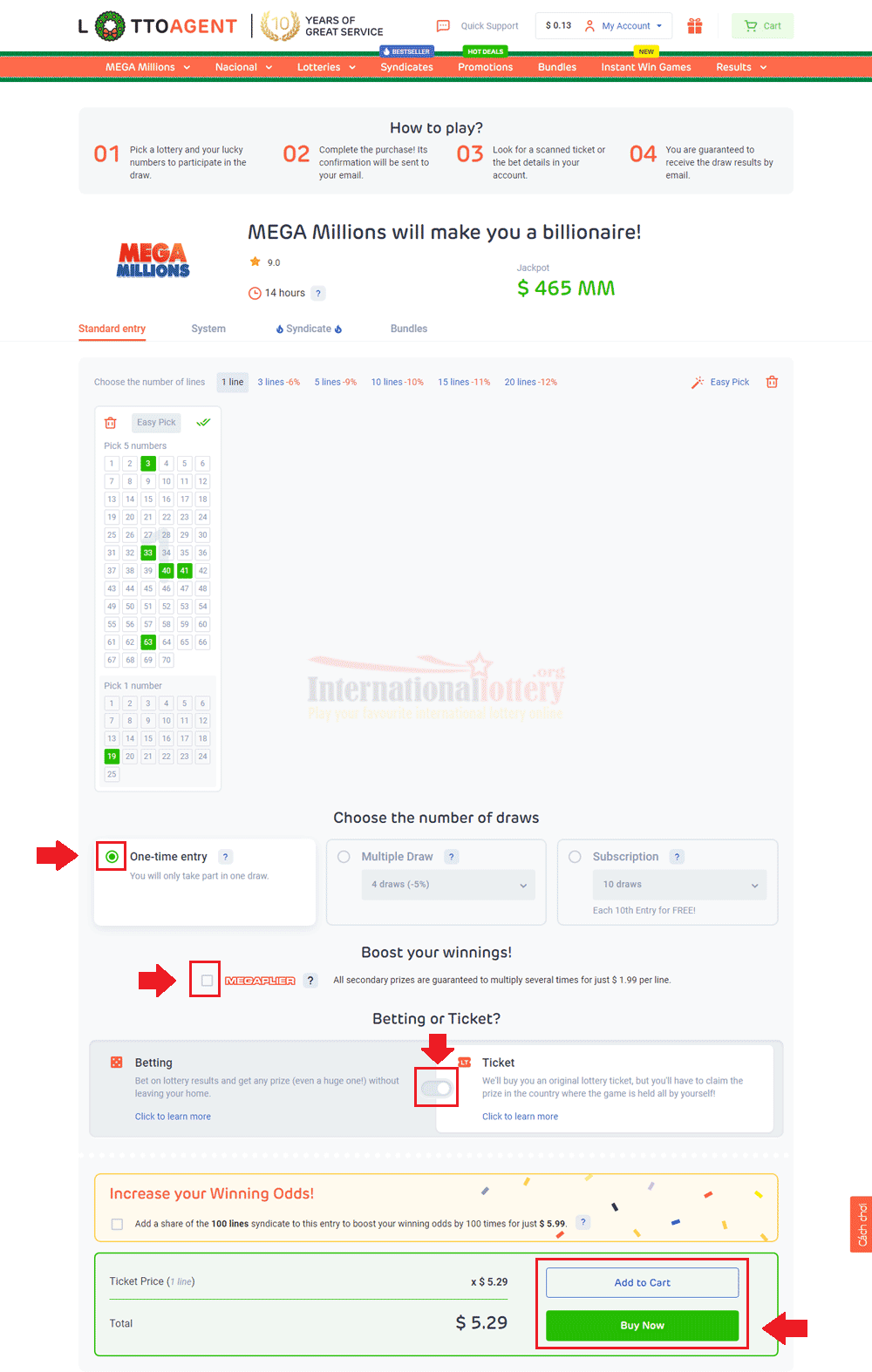 You can use Easy Pick to let the algorithm choose a random sequence of numbers for you or select each number for your lottery ticket.
In addition, you can choose to add additional options such as:
One-time entry

: One-time ticket purchase (default).

Multiple Draw

: Buy numerous tickets with the same numbers on the ticket you have selected for the subsequent sessions.

Subscription

: Automatically buy tickets frequently and automatically deduct money from your wallet (not recommended).

MEGAPLIER

: Lucky star option. With this option, winning 1 million USD can be doubled or even five times. To add the Megaplier option to help you multiply your prize if you win, click on the MEGAPLIER box (for $1.99 per LINE).

Betting or Ticket?

: Here, to buy an actual physical lottery ticket (the Lotto Agent will purchase and send you a scanned copy of the actual ticket), remember to switch the button to a ticket.
If this is your first time buying Mega Millions of lottery tickets on Lotto Agent, you should choose One-time Entry by default.
Next, you can click Add to Cart to add the lottery ticket to your cart or click Buy Now to go to Step 3 immediately.
Step 3: Register or log in to your account
Suppose you have registered an account on AgentLotto according to the article How to open an account to buy international lottery tickets quickly and safely online? and have already logged in to AgentLotto. In that case, you can skip this step and go to step 4!
After pressing the CONFIRM button in step 2, a registration/login frame appears: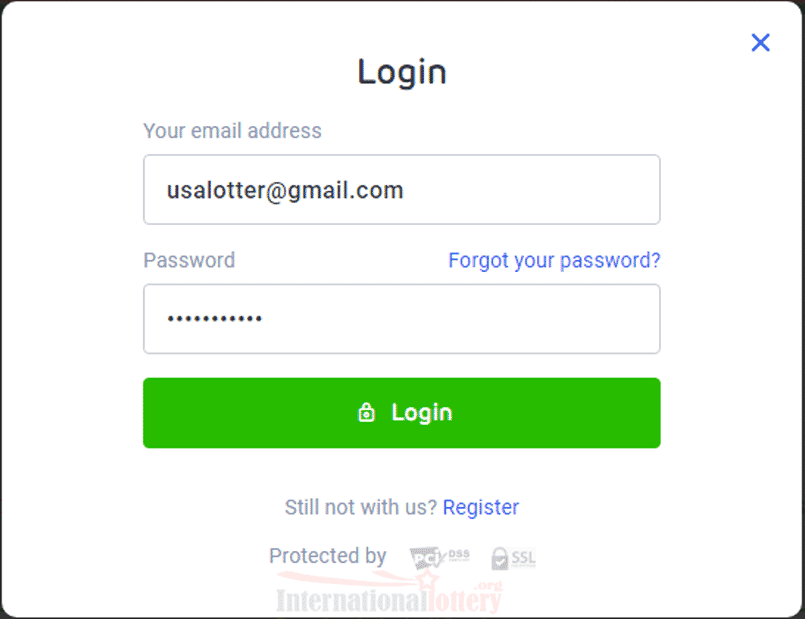 Suppose you have already created an account according to the instructions for registering an account to buy lottery tickets on LottoAgent. In that case, you need to enter all your login information and then click on the blue "Login" link to log in.
If you are new, click the Register link below the Login button, and the quick registration form will appear: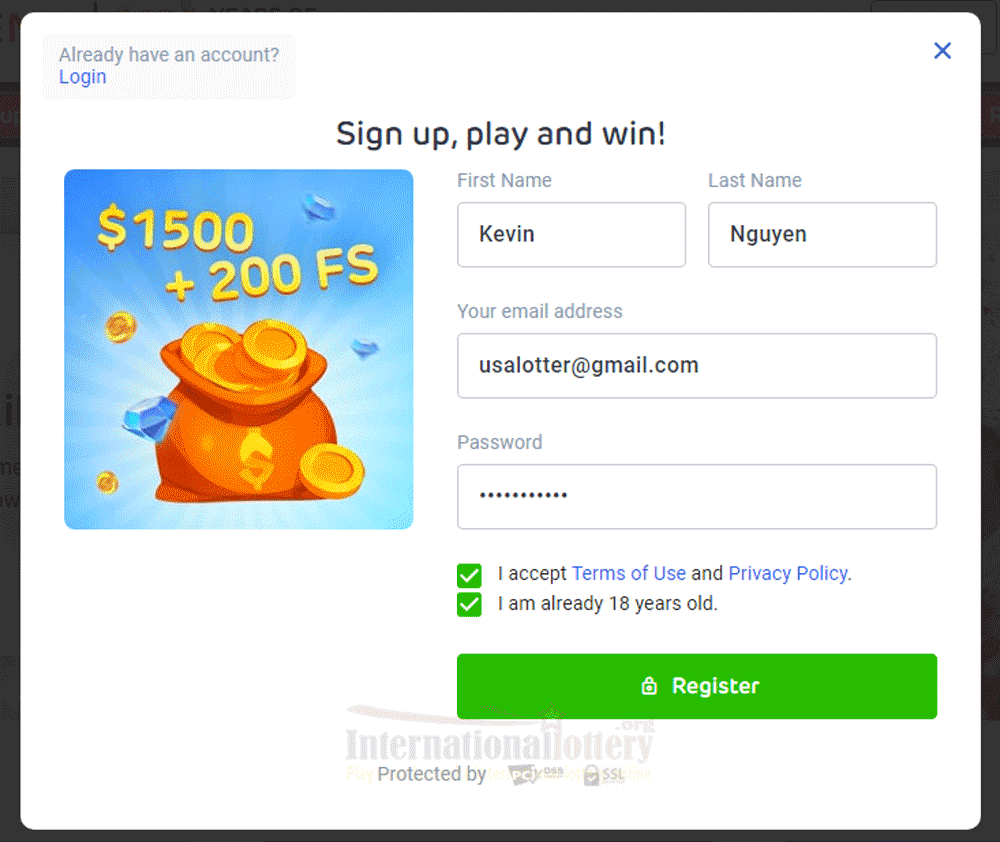 You fill in the information according to the following instructions and then click the "Register" button to register an account:
First name: Your name

Last name: Enter your first and last name.

Your email address: Enter your usual email address.

Password: Enter an easy-to-remember password to log into Lotto Agent in the future.
After successfully registering or logging in, go to Step 4.
Step 4: Payment
At the line "If you have a promo code, click here!", click here and enter the WELCOME code to get 10% off the order value.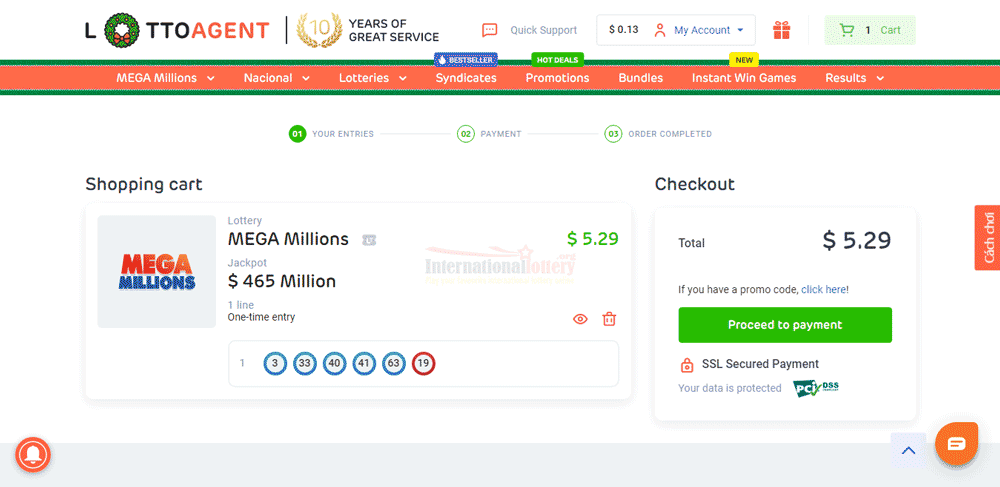 LottoAgent has provided additional support for Vietnamese players in payment, in 3 forms:
e-Wallet: min $15 – with e-Wallet, Lotto Agent offers payment via STICPAY and Skrill
Instant Banking Options
Cryptocurrency: With Cryptocurrency, Lotto Agent provides payment in cryptocurrencies like Bitcoin, Ethereum, Tether, BUSD, BNB, Litecoin, USD coin, TRON, DAI, and DOGECOIN through many kinds of chains.
This guide shows you how to pay via Cryptocurrency and the Trust Wallet.
Cryptocurrency payment is a modern, new and convenient method. Lotto Agent is the world's first lottery ticket service provider that accepts payments in cryptocurrency.
You click Cryptocurrency – choose the token that you want to use to purchase – and click Pay now.
NOTE: LottoAgent has supported:

Bitcoin (BTC)

Ethereum (ETH)

Tether (USDT): TRC20

Tether (USDT): ERC20

Tether (USDT): Polygon

USD Coin (USDC)

Litecoin (LTC)

BUSD (BNB)

BUSD (ERC20)

Binance Coin (BNB)

Tron (TRX)

Dai (DAI)

Dogecoin (DOGE)

You need to prepare a cryptocurrency wallet with the tokens that are listed above and the main token of the blockchain for a gas fee.
This guide shows you how to pay via Tether (USDT) on the Polygon blockchain. You need USDT and MATIC in your wallet.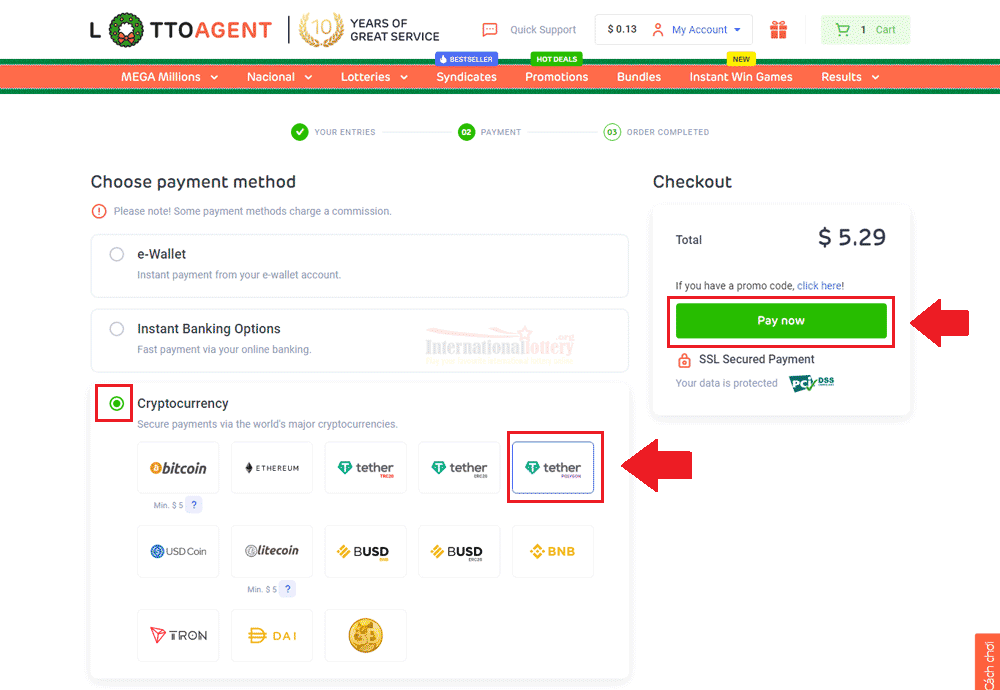 The address of the Lotto Agent wallet appears with the amount of the price of your ticket that you want to purchase.
You can scan the QR code of this address wallet, or copy the address for purchasing.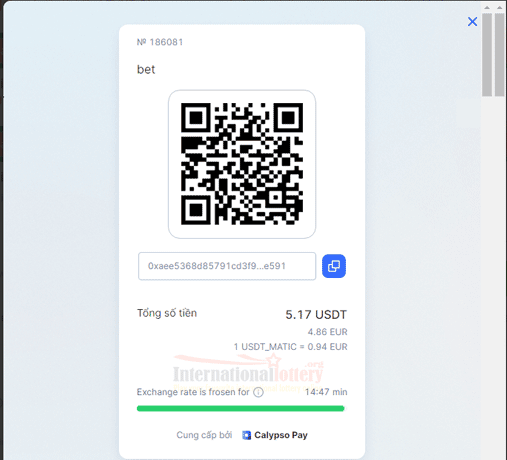 We use the Trust Wallet to purchase.
In the Wallet tab, press Send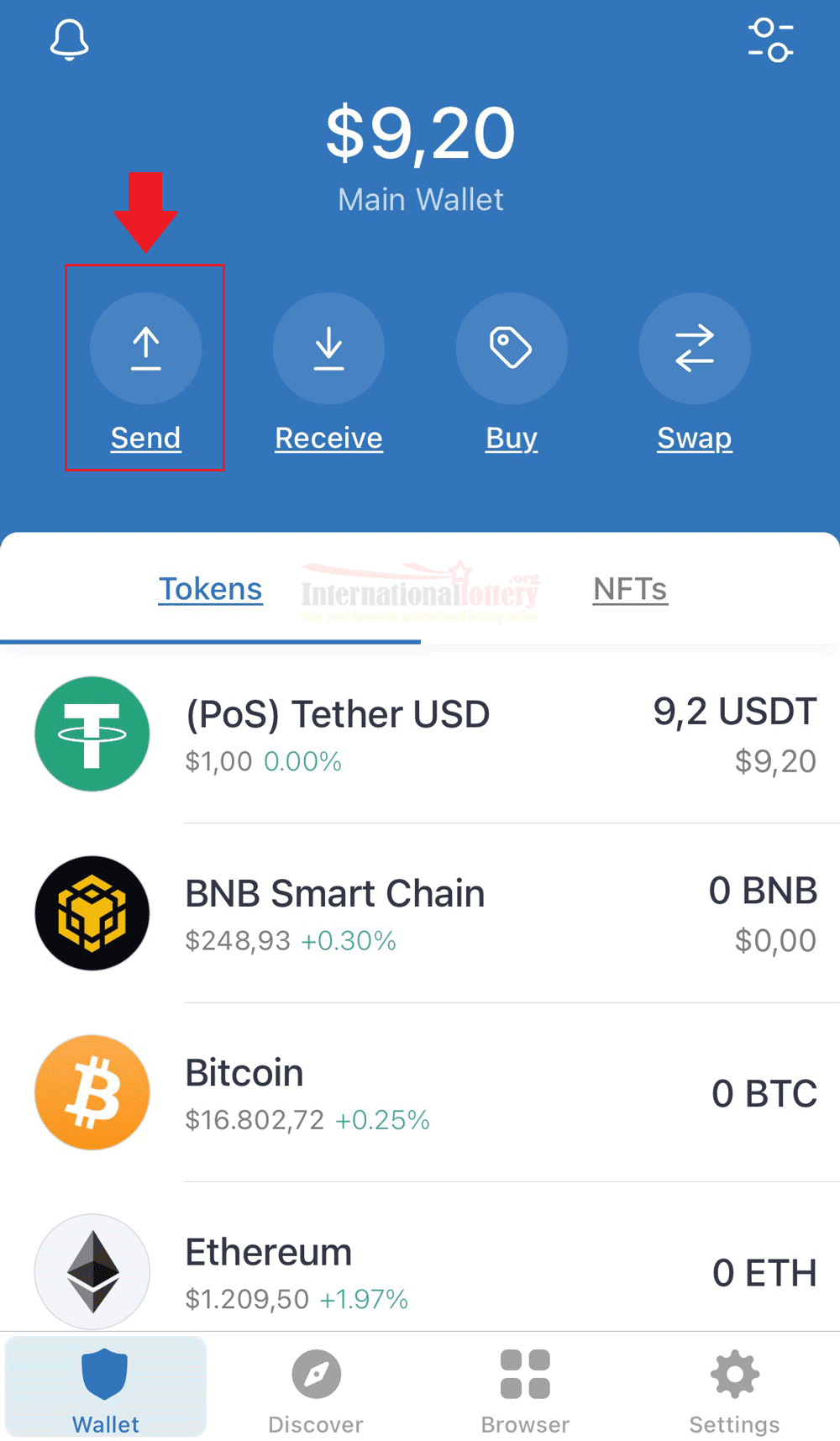 Choose the token USDT on Polygon (MATIC).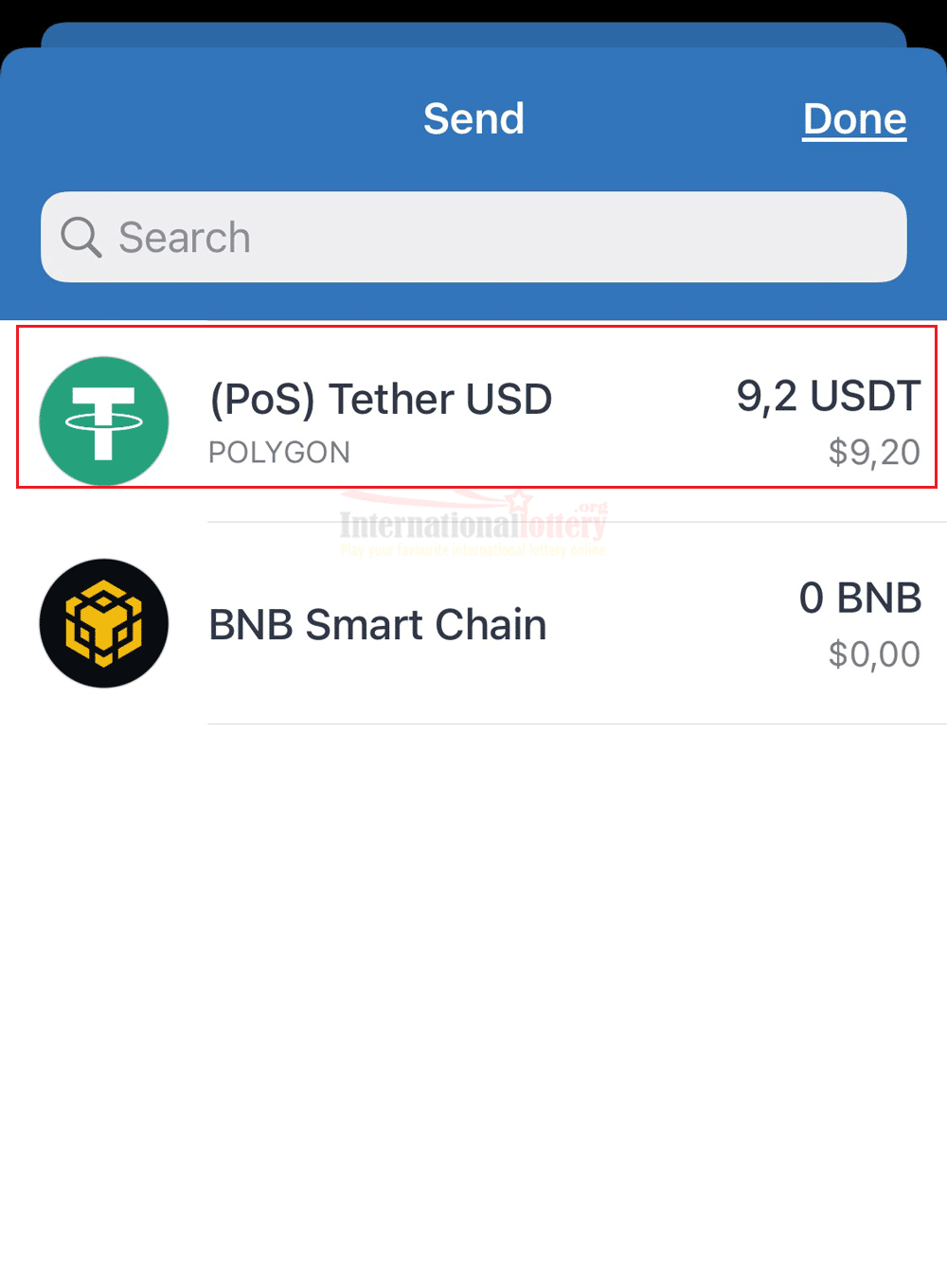 In the Recipient Address box, paste the address of the Lotto Agent gave you above by scanning the QR code of the wallet address or paste the address directly on the box. Then, press Next.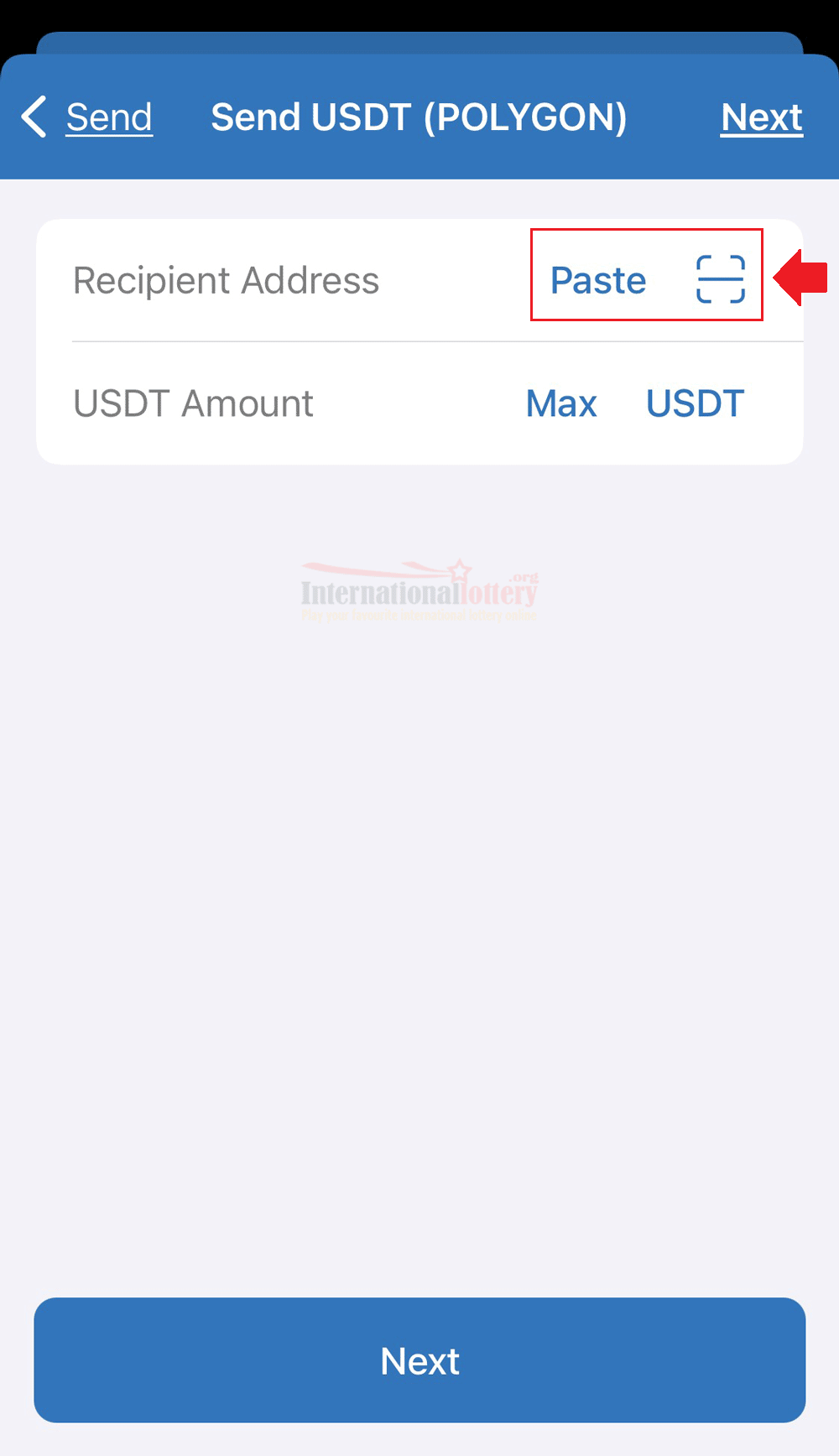 In the USDT Amount box, type the amount of ticket price you need to pay. Then, press Next.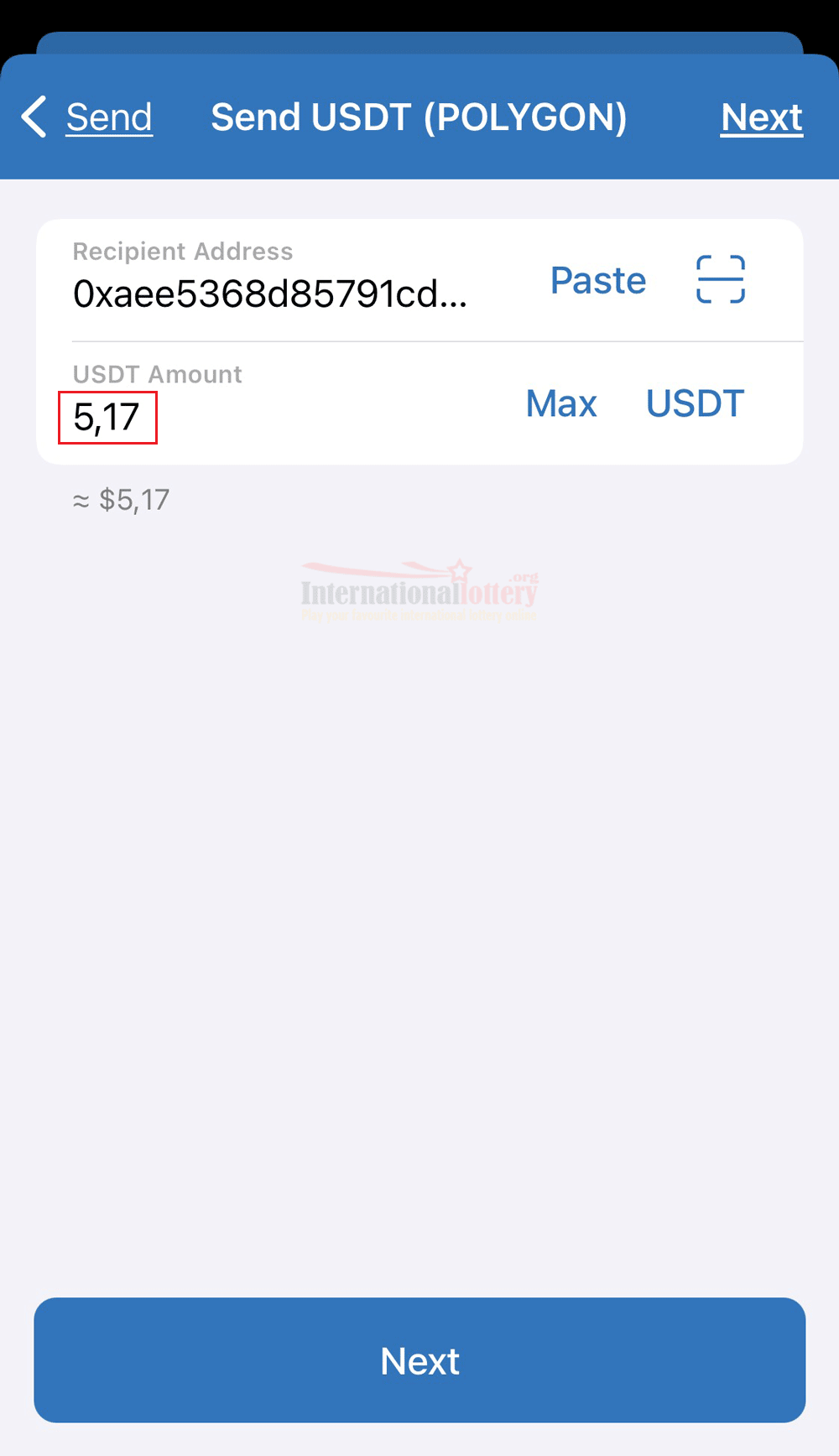 The transfer information appears, you can check again before pressing Confirm.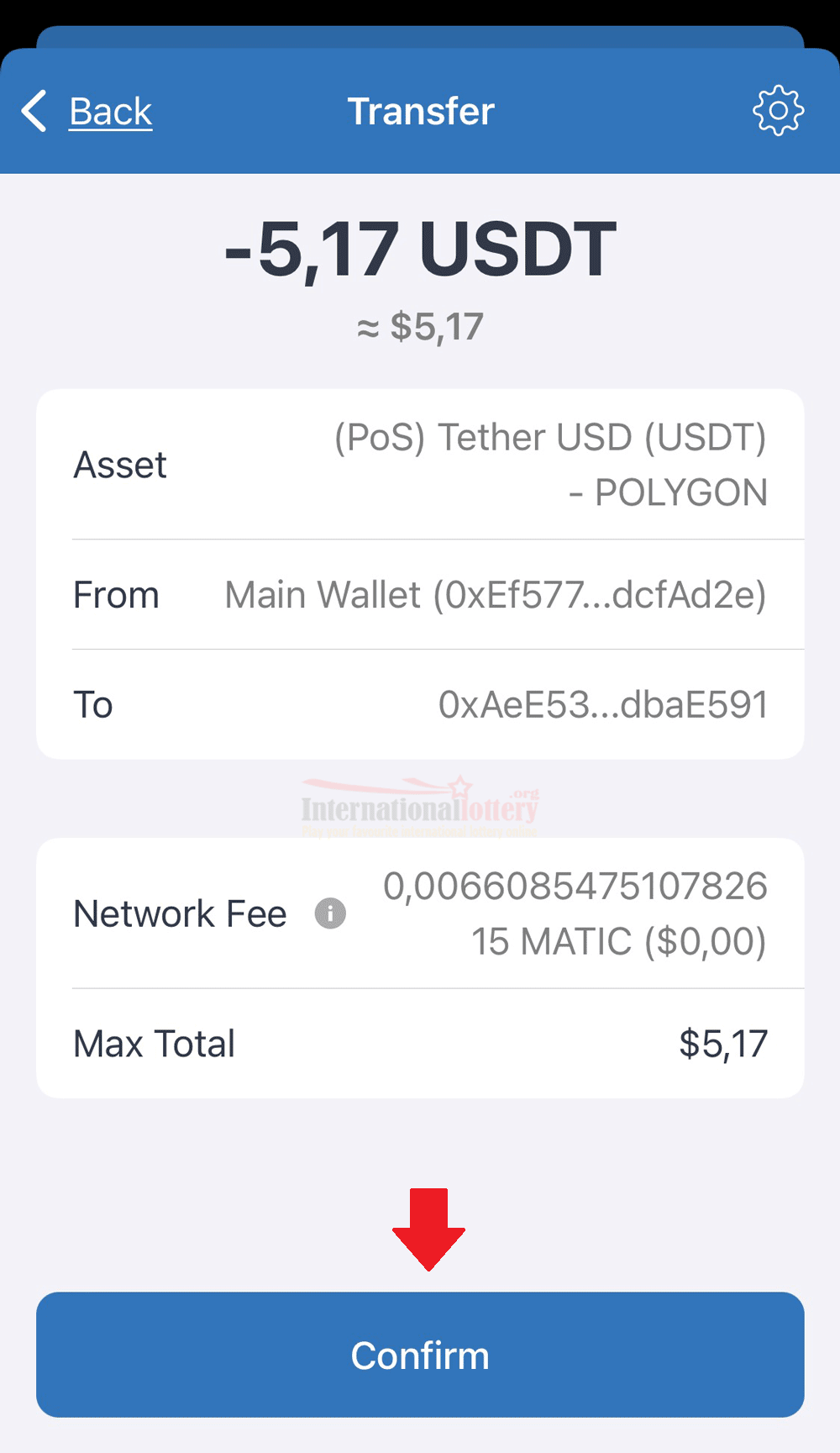 Please wait some minutes to see if the status is Completed.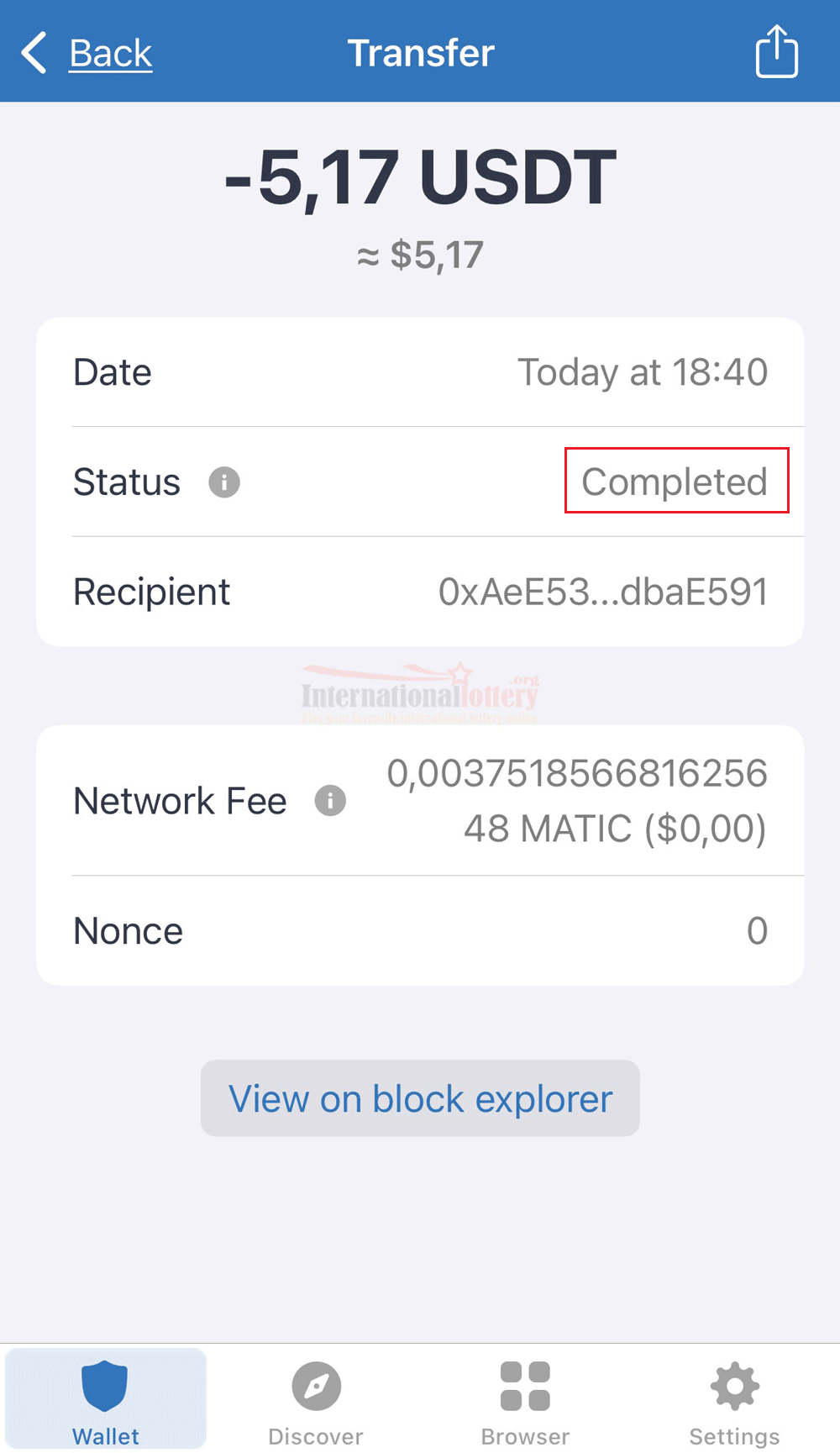 Do not worry if you refresh the payment site. Whenever your pay comes to LottoAgent, your account will show you the money you pay on My account.
Go to My Account – My payments, and you will see the Deposit from Cryptocurrency.

After that, a Congratulations notice appears. Your entry has been accepted.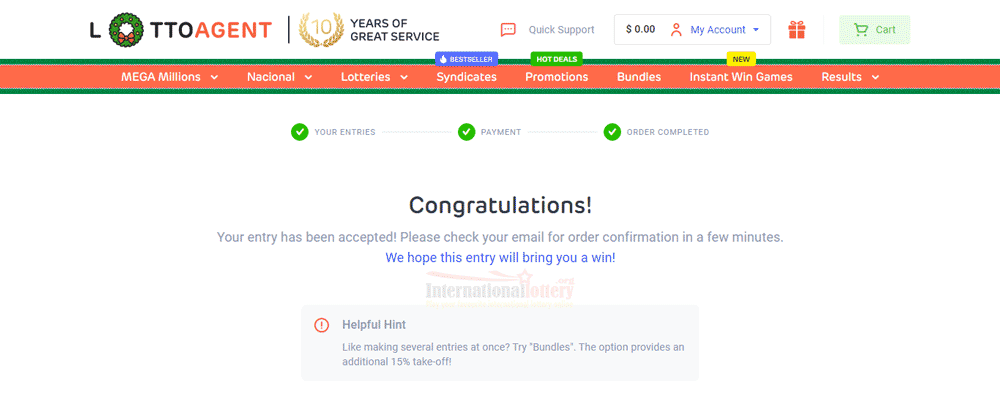 You will get a confirmation number email, or you can see your ticket in My Account – My Entries.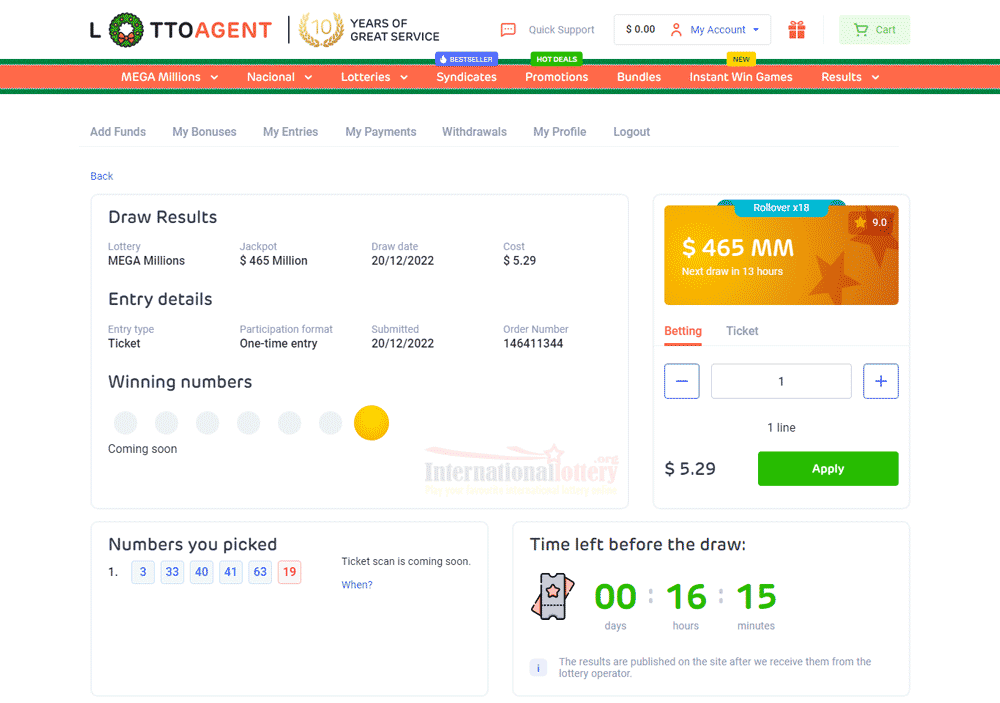 The Lotto Agent will buy your ticket, scan it, and upload it to My Entries. You can see your ticket after an email titled "Your ticket is purchased! See the detail in account" that was sent to you.
You also see it in My entries and press View Ticket.

The ticket appears as you see below.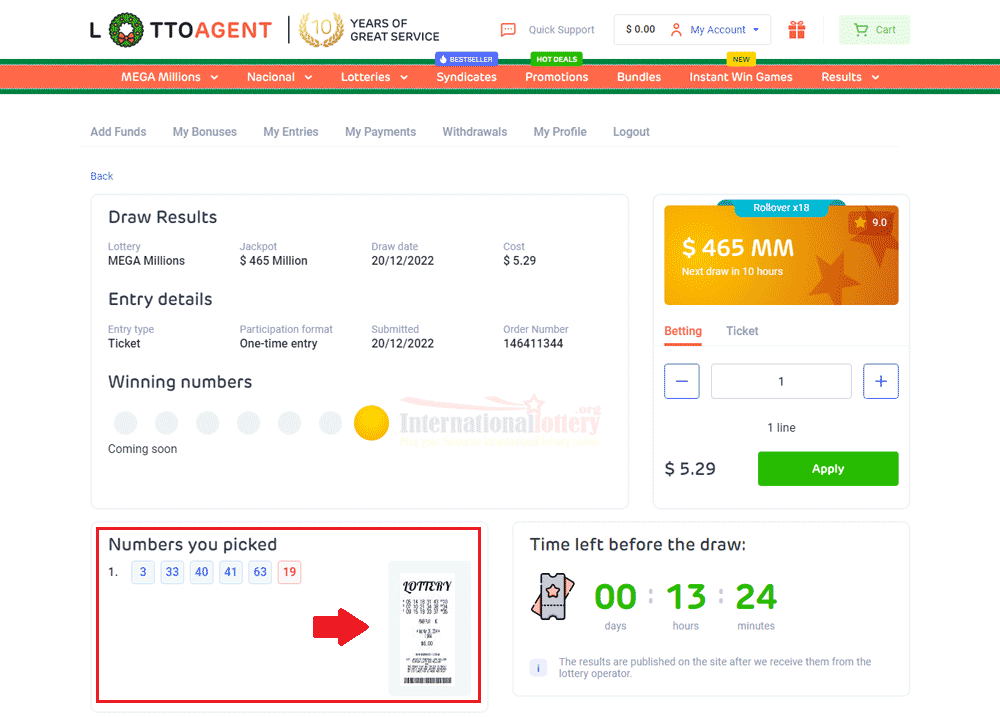 Your SCAN will be similar to the ticket image below:
You have completed buying yourself an American Mega Millions lottery ticket with a "trillion" prize! The rest of you are waiting to see if the god of luck knocks on your house.
You can easily apply the above steps to buy any international lottery ticket through the LottoAgent lottery ticket service provider.
If you found this article helpful, remember to share it. Thank you very much, and best of luck in your life!
Do you know ?
You can just stay at home and buy world top lottery tickets (like PowerBall, MegaMillion, EuroMillions, Australia Saturday lotto,..) online easily and quickly from top lotto messenger services. Go to How to buy international lottery tickets for more information.
The post How to buy real US Mega Millions lottery tickets online with Cryptocurrency? appeared first on InternationalLottery.org.