The post How to Trade Forex in Qatar by Chris Davis appeared first on Benzinga. Visit Benzinga to get more great content like this.
Trade the Qatar forex market with FOREX.com or eToro as your online brokerages.
Qatar is known as a top global financial hub with the world's highest gross domestic product (GDP) per capita. The country is small with only 2.688 million people, but around 10% of those people actively trade in the forex Qatar market. Qatar has plenty of regulatory bodies, including the Qatar Financial Centre Regulatory Authority, the Qatar Financial Markets Authority and the Qatar Central Bank, but relatively little regulation that would be relevant to retail forex traders.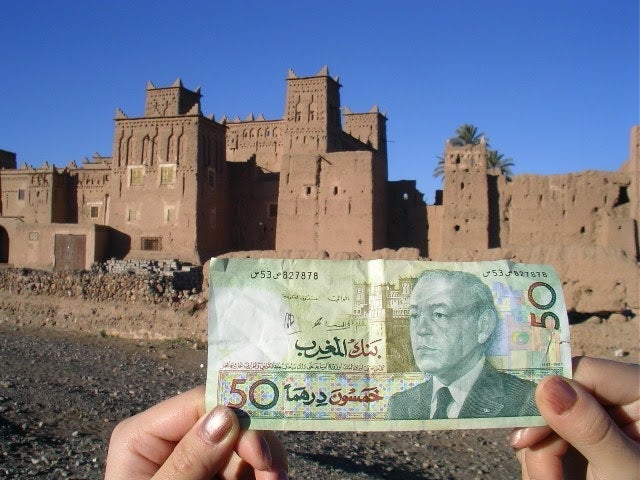 Attribution: Wikimedia
The Qatari riyal (QAR), denoted as ر.ق in Arabic, is pegged to the U.S. dollar at a fixed exchange rate of 1:3.64. This lack of flexibility means that only large entities can viably trade the riyal against other currencies.
Retail forex traders looking for protection can find it through the Cyprus Securities and Exchange Commission (CySEC), the U.K. Financial Conduct Authority (FCA), the Australian Securities and Investment Commission (ASIC) and the U.S. National Futures Association (NFA).
Get Started with Forex in Qatar
Although tensions remain, Qatar seems to be mending its broken relationship with the United Arab Emirates, Egypt, Saudi Arabia and others, which has resulted in economic sanctions against Qatar. These sanctions complicate foreign currency transfers, especially for Qatari residents who are trying to conduct business through an offshore forex brokerage.
Follow these steps to ensure your best chance of success.
Get a good internet connection: You should have no problem finding fast internet in Qatar. Forex trading can be fast and precise, and you should have an internet connection without latency for best results.
Pick out a forex broker: To trade forex effectively in Qatar, be sure to choose a broker with the agency to assist you in sourcing U.S. dollars or another strong currency in exchange for your riyal. It is also quite possible to find a forex broker with a website and customer service in Arabic. For the safety of your account, it is usually best to pick a broker under the auspices of a major regulator — the CFTC, ASIC, CySEC or FCA.
Open your investment account: Your broker should take you through the process of verifying your funding source and identity.
Put funds into the account. In order to trade efficiently, you will need to exchange your riyal with another major currency after funding your account.
Select a trading platform: Select the user interface (UI) you will trade on based on your experience. The more familiar you are with your UI, the better you will perform.
Start trading: Your trading infrastructure is all set up. You can immediately begin trading — although you may want to start with a virtual account (a working account that uses practice money).
Qatar Forex Trading Strategies
Read on to become familiar with all of the major strategies before you start to trade forex.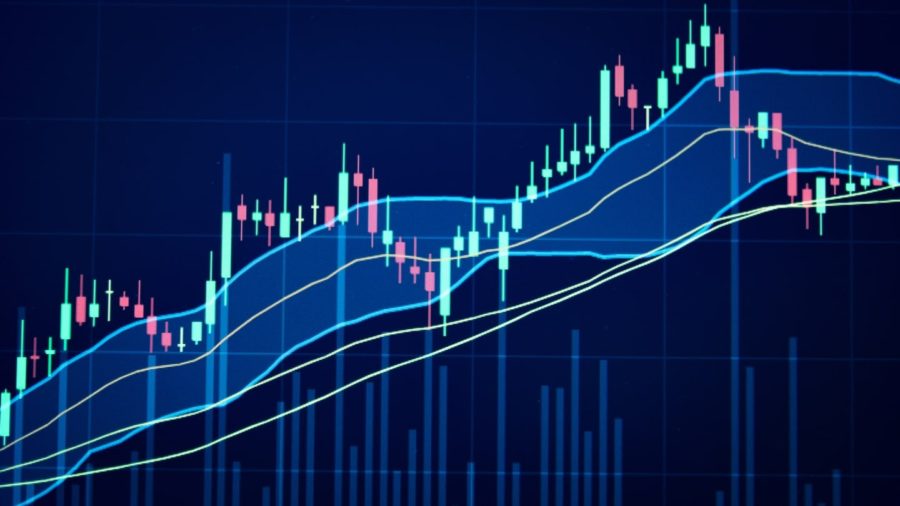 Attribution: Admiral Markets – Forex candlestick charts help investors make entry and exit decisions.
Scalping
Scalping is for traders who love to take small profits quickly. These kinds of trades may only take a few seconds — scalpers and day traders act on the first opportunity. The advantage is that the trade has no time to move against the trader. You will need to master chart technicals for this high-frequency strategy.
To compete in short-term trading, your internet connection needs to be fast. You will be competing with people who have systems set up specifically to trade this way. Some may use bots or automated software to trade for them.
Swing Trading
Swing trading is not as frantic as scalping, but the skill set you need is just as precise. Swing traders learn to identify ranges and trends. They know how to profit from a currency's directional or from its fluctuation between levels of support and resistance.
You may hold a trade for 1 hour or 1 week as a swing trader. Studying technical chart patterns is important but you may also benefit from understanding macroeconomic conditions.
Position Trading
A position trader is in it for the long haul. You are looking for big moves and aren't worried about the smaller pullbacks that happen constantly in the forex market. You enjoy learning about the fundamental forces that drive the market and big political and business trends around the world.
You cannot worry about short-term moves if you are a position trader. You are looking for price imbalances rather than being quick on the draw.
Forex Trading Example in Qatar
QAR/USD is trading at 0.27460/0.27470. You see the price rising in the near future, and you are looking to buy QR250,000. The margin rate of this currency pair is 2.98%, so you will only need $2,046.14 in your account to control QR250,000. The remainder comes from a loan from your forex broker.
The QAR/USD price moves up and is trading at 0.27660/0.27680 after 1 hour. The value went up by 19 points. The total amount of money you made on the trade is
(QR250,000 x 0.27660) – (QR250,000 x 0.27470), or $475.
Making Money with Forex in Qatar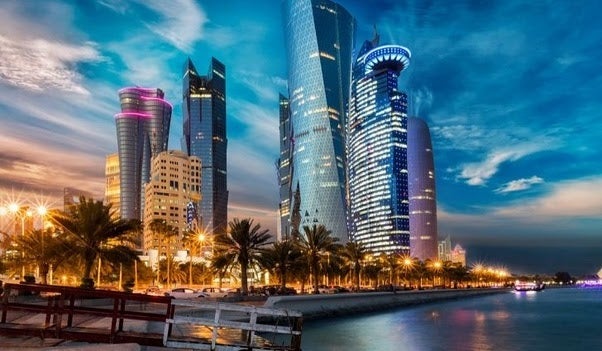 Attribution: Quora – Downtown Qatar
You can make money in a number of ways in the forex market. Here are a few of the most common.
Short selling: If you expect a currency price to go down, you can borrow money to sell it and buy it back later. If you buy it back at a lower price, that is your profit.
CFDs: CFDs are short for contract for differences. These instruments track the price of currencies, but you never actually buy or sell the currency itself.
Binary options: Unlike traditional options, the binary option offers a simple win or lose scenario. It does not link its profit or loss percentages to currency price movement.
Best Qatar Forex Brokers
Here are some of the top forex brokers you can open a trading account with in Qatar.
Forex Terminology
Understanding forex means learning some common terms that you will hear over and over again.
Pip: The smallest forex unit, equal to $0.0001.
Lot size: The amount of currency traded. A standard forex lot size is 100,000 currency units.
Orders: You give your trading platform orders to execute, telling it your lot size, currency and other factors.
Calls: A call option lets you purchase a certain currency at a set time at a set price.
Currency pair: A currency pair in forex is a two-part designation for a specific currency exchange rate. It consists of two different currencies that are being traded against each other. For example, the EUR/USD pair is made up of the Euro and the US Dollar.
Connecting to the Globe
Trading forex in Qatar has become increasingly popular as the country has embraced modern technology and foreign exchange markets. With its large population of expatriates, Qatar is an ideal place for traders to start their forex journey.
The combination of a strong economy, low taxes, and a favorable regulatory environment has made it possible for Qatari citizens to access a wide range of global financial markets from the comfort of their own homes. As long as they are careful with their trading decisions and keep up-to-date with market news, forex traders from Qatar can enjoy the same opportunities as those in other countries.
Frequently Asked Questions
Does Qatar allow forex trading?
Yes, Qatar does allow forex trading. Qatar is one of the few countries in the Middle East that have embraced foreign exchange trading. The Qatar Financial Markets Authority (QFMA) is the government regulator responsible for regulating all financial and capital markets activities in Qatar, including forex trading.
What is the best broker in Qatar?
FOREX.com, eToro, AvaTrade and Interactive Brokers are great forex brokers for traders in Qatar. If you want to test out these forex brokers, try out their demo account before investing real money.
What are the forex trading hours in Qatar?
Forex trading hours in Qatar follow the same pattern as most major markets around the world. The Qatar Exchange (QE) is open from Sunday through Thursday from 10:00 am to 3:30 pm local time. There is a one hour break between 12:00 pm and 1:00 pm local time.
The post How to Trade Forex in Qatar by Chris Davis appeared first on Benzinga. Visit Benzinga to get more great content like this.