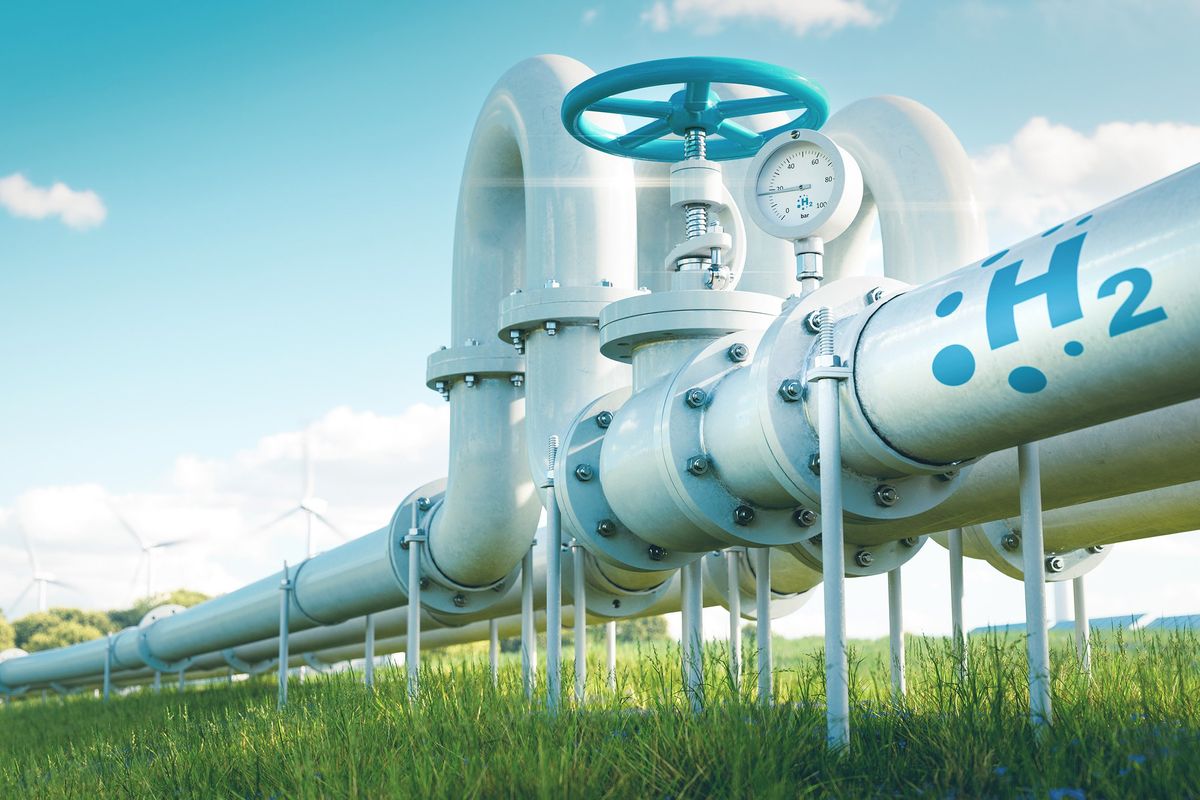 Hydrogen stocks are benefiting from cleantech sector momentum as the world moves closer to a green energy future.
The most abundant element on Earth, hydrogen is a colorless gas. It can be produced in liquid form and burned to generate electricity, or combined with oxygen atoms in fuel cells. In this way, hydrogen — which produces no carbon emissions — can replace fossil fuels in household heating, transportation and industrial manufacturing processes such as steel manufacturing.
Rising demand for carbon-free energy sources alongside significant new government policies are driving growth in the hydrogen market. Grand View Research projects that the global hydrogen-generation market will grow at a compound annual growth rate of 9.3 percent from 2023 to 2030, reaching US$317.39 billion by the end of the forecast period.
---
It's worth noting that the downside to hydrogen as a clean energy source is that 99 percent of the hydrogen fuel currently produced is derived from power generated by coal or gas. To combat this problem, some companies are pursuing green hydrogen, which is produced by splitting hydrogen atoms from oxygen using electrolyzers powered by renewable energy.
Below the Investing News Network profiles the largest hydrogen stocks by market cap on US, Canadian and Australian stock exchanges. Data was gathered on May 30, 2023, using TradingView's stock screener. The hydrogen stocks on this list are focused on a diverse range of sectors in the hydrogen space, including: low-carbon hydrogen gas production; green hydrogen technology and production; hydrogen fuel cell vehicles and refueling stations; and hydrogen distribution and storage.
US hydrogen stocks
The US hydrogen market is well established, accounting for "more than half the world's fuel cell vehicles, 25,000 fuel cell material handling vehicles, more than 8,000 small scale fuel systems in 40 states, and more than 550 MW of large-scale fuel cell power installed or planned," according to the Fuel Cell and Hydrogen Energy Association.
Looking at the medium to long term, the use of hydrogen as a fuel source is expected to grow on further investments and strong government incentives. The passage of the Bipartisan Infrastructure Law in November 2021 includes US$9.5 billion for clean hydrogen, the large majority of which is earmarked for regional clean hydrogen hubs to service the industrial sector. What's more, in mid-2022, US President Joe Biden signed the Inflation Reduction Act into law; it also include policies and incentives for hydrogen, such as a production tax credit aimed at further boosting the US market for clean hydrogen.
1. Linde (NYSE:LIN)
2. Air Products & Chemicals (NYSE:APD)
3. Cummins (NYSE:CMI)
Canadian hydrogen stocks
Like its neighbor to the south, Canada is a world leader in hydrogen and fuel cell technologies, especially when it comes to innovation, research and development. In terms of the global hydrogen market, the country reportedly generates C$200 million in hydrogen exports a year.
The federal government is heavily invested in the sector both in terms of funding and the implementation of clean energy policies. "Development of an at-scale, clean hydrogen economy is a strategic priority for Canada," Natural Resources Canada states, "needed to diversify our future energy mix, generate economic benefits and achieve net-zero greenhouse gas emissions by 2050." Invest Canada projects that the domestic market for hydrogen and related products will reach a value of C$50 billion by 2050.
There are several hydrogen projects in the pipeline that will significantly aid in the growth of Canada's green hydrogen industry. In January, the Canadian government invested C$9.7 million into hydrogen technology development in Alberta.
1. Ballard Power Systems (TSX:BLDP)
2. First Hydrogen (TSXV:FHYD)
3. DynaCERT (TSXV:DYA)
Australian hydrogen stocks
Australia is another important hotspot for investing in hydrogen. The Australian Renewable Energy Agency forecasts that the country's hydrogen market could be worth up to AU$10 billion annually by 2040.
The Australian government's National Hydrogen Strategy highlights its intention to position the country as a "major player" in the global hydrogen market by 2030. To this end, Australia has partnered with a number of other nations on hydrogen technology.
Australia and Germany are working together on a hydrogen technology development program that will help Australia build out its capacity to export hydrogen to Germany as it seeks to reduce its reliance on fossil fuels. Through a partnership with Japan, Australia is developing new hydrogen fuel cell technology and looking to establish the world's first clean liquefied hydrogen export pilot project.
1. Hazer Group (ASX:HZR)
2. Pure Hydrogen (ASX:PH2)
3. Elixir Energy (ASX:EXR)
FAQS for hydrogen investing
​Which is better: EVs or hydrogen?
According to research from TWI Global, there are pros and cons to both electric vehicles (EVs) and hydrogen vehicles. In terms of range and charging time, hydrogen beats electric hands down. However, while a hydrogen-powered vehicle doesn't need much time to refuel compared to an EV, there is still much more EV charging infrastructure currently available compared to hydrogen fueling stations. EVs are also cheaper to purchase than hydrogen vehicles. As far as safety and emissions are concerned, it's a draw between the two.
​Why does Elon Musk not like hydrogen?
Elon Musk's SpaceX has used hydrogen to fuel its rockets, and Musk has more recently talked about hydrogen playing an important role in industrial applications, such as steelmaking. However, he has balked at the idea of hydrogen fueling vehicles, calling fuel cells "fool cells." Speaking at a Financial Times conference in May 2022, Musk said, "It's important to understand that if you want a means of energy storage, hydrogen is a bad choice."
​Why is Toyota investing in hydrogen?
Toyota (NYSE:TM,TSE:7203) first invested in hydrogen fuel cell technology in 1992 as its executives saw clean energy as the future of transport. However, with EVs dominating the clean car space, the automaker began to shift its focus to compete with its peers. Now, Toyota is set to bring its newest hydrogen-powered vehicle to market in the fall of 2023 — it will be a revamped Crown sedan that will also have a hybrid-electric version. The company will most likely put more focus on commercial vehicles rather than passenger vehicles for its hydrogen models going forward, according to reports.
​Who is the leader in hydrogen energy?
Today, the United States leads the world in green hydrogen production, followed by Germany and Canada. By 2030, Australia is expected to be the leader in hydrogen energy, followed by the US and Spain.
Don't forget to follow us @INN_Resource for real-time news updates!
Securities Disclosure: I, Melissa Pistilli, hold no direct investment interest in any company mentioned in this article.
Editorial Disclosure: Elixir Energy and DynaCERT are clients of the Investing News Network. This article is not paid-for content.