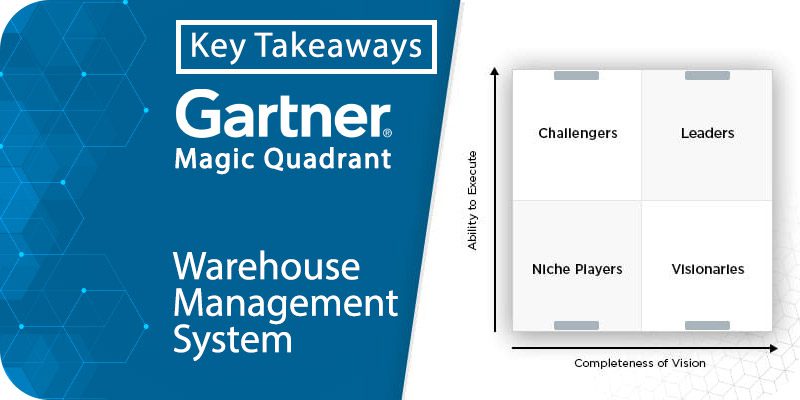 The editors at Solutions Review have highlighted the updates in the 2023 edition of Gartner's Magic Quadrant for Warehouse Management Systems and summarized the findings.
Analyst house Gartner Inc. recently released the 2023 version of its Magic Quadrant for Warehouse Management Systems. According to Gartner, a warehouse management system (WMS) is "a software application that helps manage and intelligently execute the operations of a warehouse or distribution center (DC)." These solutions can help businesses monitor warehouse activity, track inventory, adjust processes, sort products, and achieve more accurate visibility into their warehouse operations.
Gartner also summarizes some of the core capabilities WMS should offer, which include functionalities for stock locating, inventory management receiving, put-away, wave planning, order picking, replenishment, order allocation, task interleaving, cycle counting, packing, shipping, automated material handling equipment (MHE) interfaces, and labor management.
Widget not in any sidebars
Key Takeaways: 2023 Magic Quadrant for Warehouse Management Systems
---
In this updated Magic Quadrant, Gartner identifies eighteen of the most significant Warehouse Management System providers in the marketplace. The researchers behind the report—Simon Tunstall, Dwight Klappich, Rishabh Narang, and Federica Stufano—evaluated the strengths and weaknesses of each provider listed and ranked them on the signature "Magic Quadrant" graph, which provides readers with an illustration of each vendor's ability to execute their vision. The diagram includes four quadrants: leaders, challengers, niche players, and visionaries.
A breakdown of each category and the companies associated with it is below. You can find Solutions Review's rundown of last year's Magic Quadrant for Warehouse Management Systems here.
Leaders
Manhattan Associates kicks off the Leaders category with three different WMS products: Manhattan SCALE; Manhattan Warehouse Management for IBM i (WMi); and Manhattan Active Warehouse Management (WM), a cloud-native microservices multitenant cloud WMS. It's one of the largest supply chain suite providers assessed for this report and primarily focuses on the retail, e-commerce, grocery, footwear/apparel, 3PL, and wholesale distribution markets. Strengths include its innovative warehousing functionalities, its microservices multitenant cloud architecture, and the breadth of its core SCE products.
Blue Yonder is the largest vendor Gartner evaluated for this year's Magic Quadrant. Its solution suite includes warehouse management, supply chain planning, transportation management, merchandising, retail planning, and workforce/labor management capabilities. Its differentiating qualities in the WMS marketplace include its robust partner network, a diverse customer base, the maturity of its core and extended WMS functionalities, and the Luminate Warehouse Execution System (LWES), which provides orchestration between multiple robotics providers, humans, and its WMS.
Körber's WMS suite includes solutions for Level 2, Level 3, Level 4, and Level 5 warehouse operations across the DACH region, France, and Spain. Its strengths as a vendor include its strong customer growth, its warehousing expertise, a growing ecosystem of over 100 global sales and specialist implementation partners, the ability to make specific changes at the software's business logic level, and the recent acquisition of enVista's distributed order management (DOM) system, which expands its capabilities.
Oracle offers several WMS solutions, but Gartner's report focused on its primary WMS product, Oracle Fusion Cloud Warehouse Management. This solution is a multitenant SaaS/cloud WMS that's integrated Oracle's other cloud-based SCM offerings, including Fusion Cloud Supply Chain & Manufacturing, Oracle NetSuite, and Oracle Retail Merchandising Operations Management Cloud. Its most notable features include its mature cloud WMS offering, SCM cloud strategies, a "differentiated" user experience, support for a Platform as a Service (PaaS) layer that exposes most WMS capabilities via REST APIs, and its robust presence in 17 industries worldwide.
SAP—alongside Infor, Microsoft, and Oracle—is one of the "megavendors" listed in Gartner's report. It has over three decades of warehousing expertise and has more WMS customers than any of its market competitors. Gartner evaluated the SAP Extended Warehouse Management (SAP EWM) solution and identified its strengths as its platform strategy for addressing SCE convergence, a sizeable global ecosystem of implementation and consulting partners, and its integration with SAP's other technology platforms.
Infor rounds out the category with a product portfolio that includes multiple SCM applications embedded in or integrated with its ERP solution. For example, its SCM products cover everything from planning applications to labor management, warehousing, 3PL billing, and transportation. Notable strengths include its continued focus on cloud technology, its developing WMS capabilities, its approach to extensibility, and its global presence, as it has deployed in over sixty countries.
Challengers
Ehrhardt Partner Group (EPG) is a privately owned German WMS and logistics solution provider that works with companies in the 3PL, retail, e-commerce, industrial, construction machinery, automotive/parts, and consumer products markets. It differentiates itself in the WMS marketplace with its 35 years of warehouse management experience, a competitive pricing plan, an innovative roadmap for SCE convergence, and extensive expertise in complex and automated (i.e., Level 5) warehouses.
Tecsys is a warehouse management vendor that offers companion SCE capabilities. The company focuses on the healthcare and life sciences markets, providing clients with industry-specific capabilities, compliance, customer experience, and partnerships with other healthcare-centric companies like Workday. Other strengths include its broad suite of SCE capabilities, a flexible rule engine that's embedded in the WMS, a rearchitected database that enhances its 3PL functionalities, and its investment in a robotics integration strategy with SVT Robotics, a multiagent orchestration vendor partner.
Microsoft is the only new vendor in this year's Magic Quadrant. The Dynamics 365 WMS product isn't routinely sold separately from Microsoft's ERP, but it is viable as a standalone option for companies interested. The Microsoft Dynamics 365 Supply Chain Management (WMS) product is an appealing option for existing Microsoft customers thanks to its ease of use, competitive pricing, and integration with Microsoft's broader technology ecosystem. It also benefits from the large ecosystems of global, regional, and local partners that can help clients deploy and enhance the solution.
SSI SCHAEFER is the final vendor listed in the 2023 Magic Quadrant report. Its WMS solution, WAMAS, is available independently of material handling systems and can be tailored to purely manual warehouse operations. The Germany-headquartered, family-owned company has over 85 years of experience in manufacturing, warehousing materials, equipment, and material handling automation. Other strengths include its in-depth presence in European markets and its long-term roadmap for improving usability, sustainability, and modernizing its architecture.
Widget not in any sidebars
Niche Players
Synergy Logistics is a smaller software company focusing exclusively on warehouse management systems and related technologies, including mobile robots. Its WMS, SnapFulfil, is used primarily in Level 2 and 3 operations but can scale to work with higher Level 1 or moderately complex Level 4 operations that don't require extended capabilities. Its strengths as a WMS vendor include its scalable seasonal pricing strategy, its collection of video training and remote implementation capabilities, a flexible rule engine that supports no-code adaptability, and the SnapControl tool, which provides additional work prioritization and allocation functionalities.
Made4net is a WMS and SCE solution provider with customers in approximately forty countries and focuses its efforts on companies in the retail, wholesale distribution, and 3PL industries. Despite being a smaller vendor, Made4net differentiates itself with a robust international go-to-market strategy, consistent sales track record, a compelling global partner network, its SCE convergence strategy, and a cost-effective deployment implementation methodology.
Mecalux provides SMBs across markets with warehouse management products and services ranging from manufacturing or racking and shelving to automated MHE, associated consulting on design, warehouse control, and WMS. Its strengths as a vendor include its streamlined product catalog, relatively low TCO compared to other providers in the marketplace, and its extensive geographic presence in Iberia and France, with a growing footprint in Latin American, Northern European, and United States territories.
Generix Group provides clients with a portfolio of SCM solutions with two warehouse management solutions alongside tools for transportation management, logistics orders, replenishment management, electronic data interchange (EDI), and yard management. The company has benefited from a new private structure, which released additional funds to help it further develop its innovation strategy, solutions, and operational efficiency. Other strengths include its seamlessly integrated WMS and MES, model-driven architecture, back-office capabilities, and visual tools.
Mantis is a WMS suite provider headquartered in Greece but has offices across EMEA and North American markets. It has a compelling local presence, customer base, and partner network in EMEA, which has helped the company differentiate itself in the WMS market. The company also benefits from its solution's visual workflow capabilities, powerful rule engine, seasonal subscription offering, support for advanced customization via scripting tools, and more.
Vinculum once again rounds out the Magic Quadrant with cloud and SaaS-based solutions for omnichannel retail, e-commerce, darkstore/backstore fulfillment, and retail-focused 3PLs. Its Vin eRetail suite can work alongside its WMS offering by providing companies with payment reconciliation, product information management (PIM), omnichannel sales order management, automated marketplace listings, merchandising, and real-time inventory views in stores and warehouses.
Visionaries
Reply is once again a Visionary and offers IT services, including consulting, SI, cybersecurity, and digital services. It provides two WMS products: Click Reply, its legacy WMS, and Logistics Execution Architecture (LEA Reply), a multitenant cloud-based WMS developed in a contemporary microservices architecture. Its notable features include its robust consulting and SI capabilities, its status as one of the first WMS products built on a microservices-based multitenant cloud platform, its consistent release of new innovations, and the ease of integration between its on-premises MHE software and cloud-deployed WMS software.
Softeon rounds out the 2023 report. It's a smaller SCE solution vendor but has been in the market for over twenty years and has roots in the warehousing vertical. Differentiating features include its fixed-price implementations, its focus on healthcare logistics, a suite of SCE capabilities collected on a common platform, and the other differentiated capabilities it offers, including end-to-end work orchestration, embedded and independently offered WES functionalities, and more.
---
Widget not in any sidebars
The post Key Takeaways: 2023 Magic Quadrant for Warehouse Management Systems appeared first on Solutions Review Technology News and Vendor Reviews.