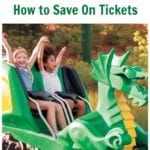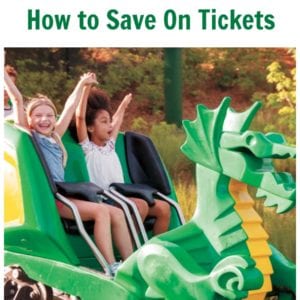 Legoland Discount Tickets – Deals for Legoland California Tickets
Kids Free Ticekts & More Savings On Legoland Tickets!
If you're headed to southern California and are interested in visiting Legoland with your family, we've compiled a few of the best deals you will find on Legoland ticket admission.
And don't forget if you're also headed to Disneyland while you're visiting southern California – you'll want to check out our Disneyland Page where we have tips & ways to save on everything from Disneyland tickets, hotels, restaurants & dining, mementos & more! If you are looking for another affordable theme park visit while in the area, we also have a big round up of Knotts Berry Farm discount tickets here too,
Also, check out the best deals on the Legoland Hotel deal on Groupon too.
Legoland Kids Free Ticket Offers –
Legoland offers a few Legoland Kids Go Free promotions. These are a great way to save big on Legoland tickets if you plan to visit with a family.
Here are a couple of Legoland California Kids Free Tickets Deals (should work for all Legoland parks).
Find the Legoland Kids Free Tickets here with purchase of an adult ticket, with Legoland coupon offer.
Looking for more Legoland Free Child Ticket offers. check out these Legoland coupons for Kids free tickets with adult purchases.
Grab a FREE Subscription to the Lego Magazine for kids here.
I have heard they offer BOGO FREE Ticket Coupons on the back cover (and the subscription is totally free – so no risk)!
Free Legoland Free Child Ticket with Park Hopper Ticket Purchased!
On the Legoland website, there is a special coupon for a free child's ticket. If you purchase a full-price One Day Adult Hopper Ticket to Legoland California and Sea Life Aquarium, you will get a FREE One Day Child Hopper Ticket.
This is not valid with any other discounts and only one free ticket per coupon. This cannot be applied to pre-purchased discounted tickets
San Diego offers one of my favorite Kids Travel Free promotions in the month of October! It generally includeas Free Kids Legoland Ticket with adult ticket purchase duing the month of October. What I really love about this promotion is that is also includes kids free tickets for other attractions, Kids eat free promotions, and kids stay free promotions…so it is the full package. October is a great month to plan a family friendly trip to San Diego.
More Legoland Ticket Discounts!
Groupon Legonland Discount
Groupon offers 1-Day LEGOLAND or 2-Day LEGOLAND Hopper Admission Tickets (Save up to $30) starting at just $89.
Get Away Today:
Get Away Today sells both discounted tickets and discounted vacation package deals. Here are some of their best offers for Legoland currently.
Legoland Second Day Free Ticket offers –
General Admission for Adults & Kids to Legoland – $108
aRes Travel: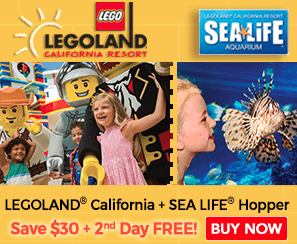 We found great discounts for Legoland California Tickets from aRes Travel! Sia has purchased her family's tickets through aRes Travels discount ticket deals in the past for Disneyland and she can assure you they are the real deal. They just printed our tickets off and redeemed them at that gate, with great savings for the parks.
More Legoland Discounts to look for include:
AAA Discount
Military Discounts –
They offer 30% off for Miliary here.
Costco Discount Legoland Tickets –
From time to time Costco offers discount tickets. You will generally find these for sale in southern california Costco locations if they are available. Costco does seem to have cut back on the theme park discount tickets these days though.
Find many more discounts for teachers, students, first responders, nurses and more here too.
New Legoland California Promo: Tickets from $90
General Admission to Legoland – $109.79
Legoland Hotel Discounts –
There are some perks to staying onsite at the Legoland Hotels too, beyond just the fun Legoland theming. For example, Legoland hotel guests receive early access to certain rides 30 minutes before the park opens, and they offer free breakfast too. Find more about Legoland hotel discounts and perks here.
More Options for your visit to Southern California + Legoland Ticket Discounts:
GO SanDiego Cards – these are great, because you can get one of these from $119 and it includes a visit to Legoland. The best deal is to do a two or more day pass and use one day at Legoland, and then enjoy some of the other attractions on the list for the other days.
The Go San Diego cards are going to be available in 1-, 2-, 3-, 4-, 5- and 7-day options, The value you are going to get out of them is going to depend on how many days you want to use it. There are even some days, where a one day pass will save you money. You will only be able to determine that by comparing the price at Legoland for the day you want to visit to the price of the Go San Diego passes that include the Legoland visit.
Citypass San Diego is also a multi-attraction pass like the ones mentioned above. You pay one fee, and then have multiple days to use them for all the attractions included. A visit to Legoland is also inlcuded in the Citypass San Diego cards, so this is a great option if you really want to viist multiple attractions in the area during your visit.
Save
Save
Save
Save
Save
Legoland Discount Tickets – Kids Get In Free Coupon, 2nd Day Free & more! is a post from Thrifty NW Mom