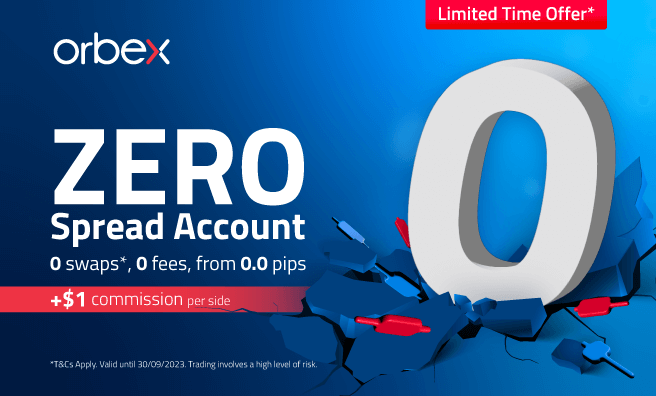 Orbex, a prominent forex and CFD broker that adheres to multiple regulations, has unveiled the introduction of its latest offering: the ZERO Spread Trading Account. This account type will cater to new traders who sign up before September 30th, 2023, for a limited duration. By commencing with spreads, fees, and swaps at zero levels, coupled with a fixed commission fee of $1 per side lot, Orbex aims to offer traders unparalleled trading conditions.
Orbex provides traders with the ability to engage in leveraged CFD trading, granting them direct access to a wide range of underlying assets. These assets encompass forex pairs, major company stocks, global indices, metals, energies, futures, cryptocurrencies, and agricultural products. Considering the prominence and popularity of the forex market, traders often encounter significant trading expenses such as spreads, swaps, commissions, and withdrawal fees, which can limit their potential profits and cause frustration. To address this issue, Orbex has introduced the ZERO Spread Trading Account, designed to offer traders the lowest possible costs and a range of advantageous conditions. This allows traders to optimize their trading portfolios and maximize their potential gains.
Exclusively offered to new traders at Orbex for a limited duration, the newly introduced Orbex ZERO Spread Trading Account allows traders to access Orbex's most favorable terms yet. The conditions include:
Raw forex spreads starting from 0.0 pips
Zero swaps applied to overnight positions
0% withdrawal fees for all payment methods
Up to 500x leverage available for forex and gold trading
A mere $1 commission per side lot for FX trading
Exceptional execution speeds without requotes
No commissions are charged on all US shares
Orbex offers a comprehensive range of conditions and services to enhance the trading experience for its clients. These include 24/5 expert support, negative balance protection, and daily market analysis by a world-renowned research team. Moreover, Orbex extends unlimited access to its exclusive Trading Central suite for all active traders. This suite encompasses a robust set of market-scanning tools and expert analytics, empowering traders to identify emerging trading opportunities and enhance their trading strategies effectively. With these powerful resources at their disposal, traders can stay ahead of the market and make well-informed trading decisions.
For opening an Orbex Zero Spread Trading Account or to learn more about it, click here.

Established in 2011, Orbex Global Ltd stands as a prominent global investment services firm, renowned for its exceptional forex and CFD trading services. Recognized for its competitive conditions, Orbex offers a range of award-winning trading solutions. The company's unwavering commitment lies in providing clients with access to cutting-edge trading and investing resources. This commitment is further reinforced through comprehensive educational offerings, expert research tools, and continuous support, enabling clients to navigate the complexities of the global financial markets with confidence.