New York Mets owner Steven Cohen's designs on bringing a casino hotel to the Citi Field area are drawing the ire of Queens immigrant groups that claim a gaming venue will prey on their communities.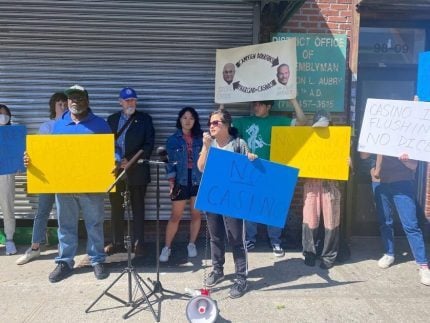 The Fed Up Coalition pointed out that Flushing, Queens is home to an array of immigrants, many of whom are Asian — a demographic the civic group alleges is targeted by the gaming industry.
He (Cohen) is targeting the Asian community who will be spending the money at the casino and we know this means they will be losing their hard-earned money," said Sarah Ahn, an organizer with the Fed Up Coalition, in an interview with Documented.
Surveys conducted by groups with ties to Cohen, who made his fortune in the hedge fund universe, indicate there's support for Citi Field casino among locals, including minorities. However, much of that support is derived from the promise of the Willets Point redevelopment including ample green and park space and entertainment options beyond those offered by a gaming venue.
Asian Opposition Could Be Latest Hurdle for Queens Casino
Cohen has reportedly attempted to leverage the high Asian population in the Flushing area as selling point for the casino plan.
However, that may not be to the liking of New York officials tasked with selecting the winners of three downstate casino permits. Not in the wake of a 2021 report by Boston-based community group Asian CARES that found casino operators may specifically target older Asian-Americans.
The Fed Up Coalition might not be off base with its concerns. Resorts World New York — a slots-only venue in Queens that is believed to be in-line for one of three permits — has an Asian language marketing staffer. The coalition also observed Connecticut's two tribal gaming venues have similar employees.
The Fed Up Coalition's opposition to the Queens casino came to light after the plan recently suffered a political setback. Last month, New York State Sen. Jessica Ramos — a Democrat representing the communities closest to Citi Field – said she wouldn't support legislation to alter the parkland status of the property Cohen is eyeing for the casino. Without that alteration, the Queens casino proposal could be stuck.
Door Ajar for Rivals
Whether it's "catering to" or "targeting" Asian customers, the gaming industry has long-running ties to this demographic. As just one anecdotal example, Las Vegas is colloquially referred to as the "ninth island" of Hawaii — the state with the highest Asian population by percentage. California, the state that accounts for the most annual visits to Las Vegas, has the second-largest Asian-American population by percentage.
New York ranks sixth in terms of Asian population on a percentage basis, indicating there's allure there for gaming companies and credibility to the concerns of groups such as the Fed Up Coalition and others.
It's not clear exactly how New York lawmakers feel about the anti-casino sentiment among minority groups in Queens, but recent speculation suggests the leading contenders for a downstate permit are Las Vegas Sands and Wynn Resorts. That's assuming two of the licenses are already spoken for by MGM's Empire City and Resorts World New York.
The post Queens Casino Plan Draws Criticism from Immigrant Groups appeared first on Casino.org.