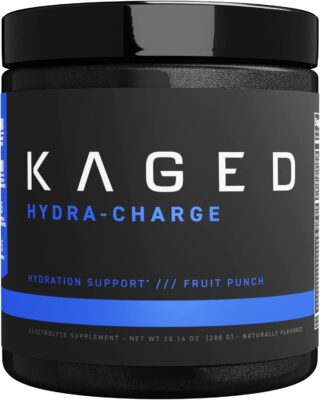 Save on Kaged Pre-Workout, Hydration, and more!
Hydra-Charge fuels your muscles with essential electrolytes like calcium, sodium, phosphorus, magnesium, and potassium, ensuring your muscles are primed to go the distance in the gym, on the field, or on your run.*Insufficient hydration can lead to poor recovery, fatigue, muscle loss, and even slow your fat-loss efforts. Hydra-Charge is formulated with the key electrolytes you need to support muscular fluid dynamics and achieve peak performance.* Get this Electrolytes, Kaged Muscle Hydra-Charge Premium Electrolyte Powder, Hydration Electrolyte Powder, Pre Workout, Post Workout, Intra Workout, Fruit Punch, 60 Servings for only $19.99.
ENHANCES PERFORMANCE & ENDURANCE: With hydration boosting electrolyte minerals, Hydra-Charge is a delicious and refreshing electrolyte powder to replenish fluid balance before, during, and after workouts, or any time you need it. Each serving provides five essential electrolytes and a dose of taurine. Electrolytes to help hydrate your muscles faster and more effectively than water alone, the other to support endurance, cellular water balance, and electrolyte utilization

REFRESHING & DELICIOUS: Using only natural flavoring, Hydra-Charge comes in a variety of refreshing and great-tasting flavors, with no added colours, artificial flavors, or dyes. Whether you're hitting the weights, grinding through cardio, or want to enhance your overall endurance, thirst-quenching Hydra-Charge is a superior choice to hydrate before, during, or after your toughest workouts, or anytime you need it.

PROVIDES POWERFUL ANTIOXIDANT SUPPORT: Free-radicals are rogue molecules caused by stress, poor diet, and intense exercise that can damage healthy cells throughout your body. Each serving of Hydra-Charge includes Spectra, a high-ORAC antioxidant blend that delivers a nutrient-rich combination of fruit, veggie and botanical extracts to help support your body's natural defenses to help you fight back against oxidative stress and free-radical damage

FLAVOR YOUR OWN CUSTOMIZED SUPPLEMENTS: In addition to delivering electrolytes, Hydra-Charge is the perfect flavor base for our Mix Your Own system. Customize your own supplements from a selection of unflavored Kaged Muscle BCAAs, Glutamine, Citrulline, or Patented Creatine HCl to build a clean formula that's tailor made to your unique training and performance goals. Then add your favorite flavor of Hydra-Charge to make it refreshing and great-tasting without sweeteners or masking agents

THE KAGED MUSCLE DIFFERENCE: We develop our formulas with some of the most premium, patented, and cutting-edge compounds available. After all, why train to get bigger, stronger, fitter, and healthier, but use supplements with low-quality ingredients? Kaged Muscle supplements are formulated for performance-minded men and women who not only want real results, but also want clean, quality products that provide incredible value for their money
Remember, Amazon prices can change at any time.
This post contains affiliate links.