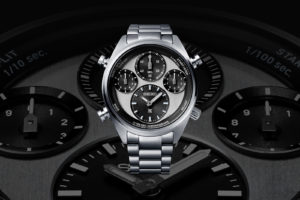 Drawing inspiration from the Kinetic Chronograph of 1999, Seiko's latest is the Prospex Speedtimer 1/100 Sec Solar Chronograph. It is equipped with a new solar movement that has the ability to measure elapsed time with a resolution of up to 1/100th of a second, though its defining attribute is the design: the chronograph and time displays are separated into individual sub-dials.
Initial thoughts
Seiko's sports chronographs, particularly those equipped with quartz or solar-powered movements, receive less recognition than their higher-end counterparts. However, some of the brand's recent endeavours in this segment are interesting, and this is one of them.
The primary point of interest in the new model lies in its unique aesthetic with a separated sub-dial design that fans of the brand recognise from the Kinetic Chronograph. The new Speedtimer reimagines the design with a smart and highly-functional movement and price tag of well under US$1,000, making it a compelling option for someone seeking an affordable sports chronograph.
Up to 1/100th of a second
Having done away with the original closed dial of the Kinetic Chronograph, the Speedtimer features four registers beneath a curved sapphire crystal.
Positioned at six is an oversized sub-dial displaying the time, while a 1/10th of a second chronograph sits at ten. The running seconds can be observed at 12, and a crucial element is the 1/100th of a second register located at two.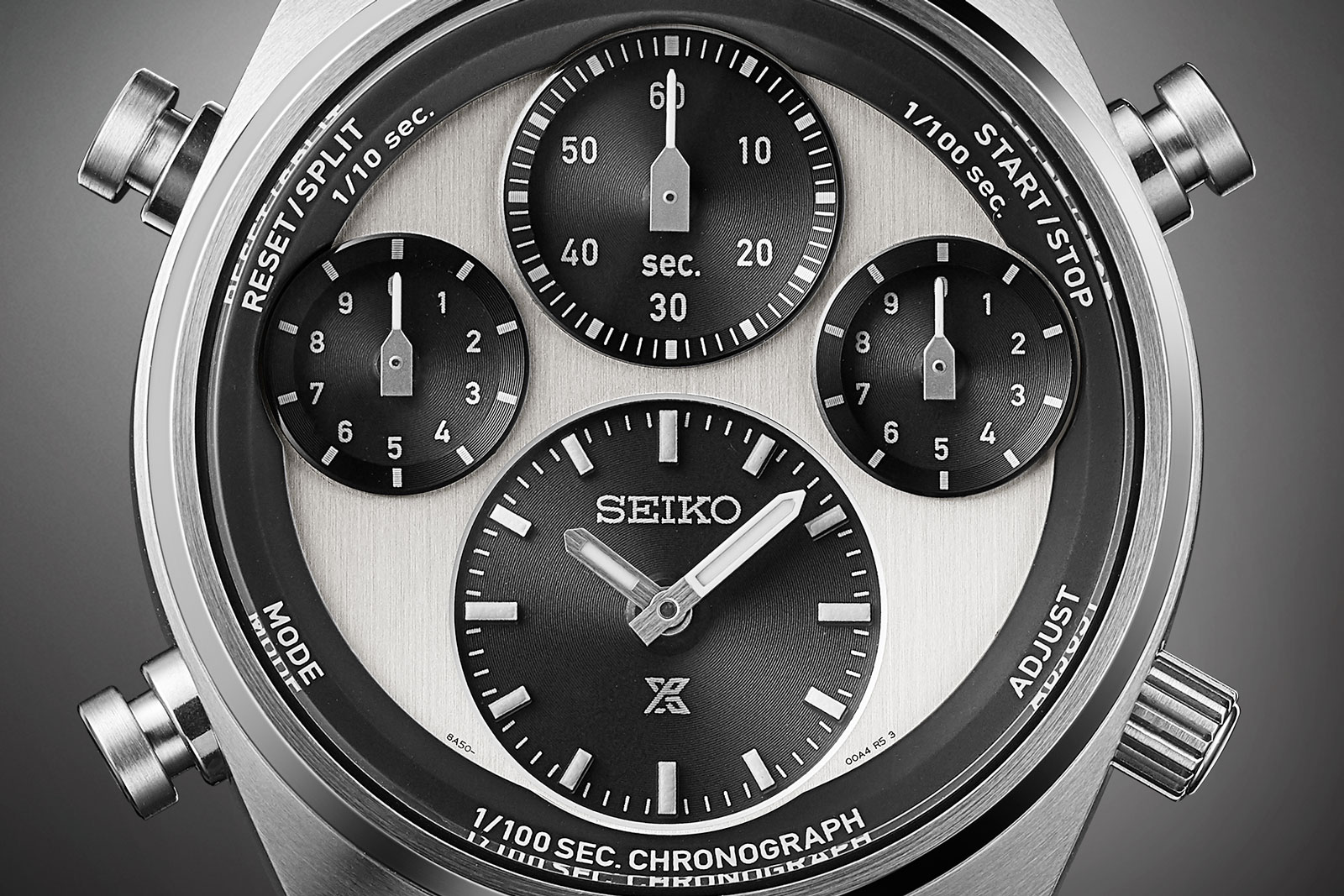 The case has pushers at two, eight, and ten o'clock, and the crown at four – the function of each clearly marked on the dial.
One of the key features of the movement – feasible thanks to the fact that it's electronic – is the "mode" pusher at eight o'clock that enables the hour and minute sub-dial to function as a 60-minute counter, with the hour hand staying hidden behind the minute hand.
The case steel measures 42 mm in diameter and 12.9 mm high. Inside is the brand's latest chronograph movement, the cal. 8A50 can measure elapsed times down to 1/100th of a second. Solar-powered, it has a six-month power reserve when fully charged.
The Speedtimer is available in four colourways. Two are regular production: a white "reverse panda" (SFJ001) and a monochrome black (SFJ003).
The other two are limited editions: a textured black dial inspired by a running track to mark the 2023 World Athletic Championships in Budapest (SFJ007), and a khaki (officially grey-toned) dial with red-orange chronograph hands, a livery that pays homage to a 1992 model, that celebrates the 40th anniversary of the brand's first analog quartz chronograph (SFJ005).
---
Key facts and price
Seiko Prospex 1/100 Sec Speedtimer Solar Chronograph
Ref. SFJ001 (white dial with "reverse panda" design)
Ref. SFJ003 (black dial)
Ref. SFJ005 (Analog Quartz Chronograph 40th Anniversary Limited Edition)
Ref. SFJ007 (World Athletics Championships Budapest 23 Limited Edition)
Diameter: 42 mm
Height: 12.9 mm
Material: Stainless steel
Crystal: Sapphire
Water resistance: 100 m
Movement: Cal. 8A50
Functions: Hours, minutes, seconds and chronograph
Winding: Quartz
Frequency: Solar
Power reserve: Six months when fully charged
Strap: Matching bracelet
Limited edition: Regular production except for SFJ007 (4000 pieces) and SFJ005 (4000 pieces)
Availability: Starting July 2023 at Seiko boutiques and select retailers
Price:
White dial with "reverse panda" design and black dial: US$895
Analog Quartz Chronograph 40th Anniversary Limited Edition: US$925
World Athletics Championships Budapest 23 Limited Edition: US$950
For more, visit seikowatches.com.
---