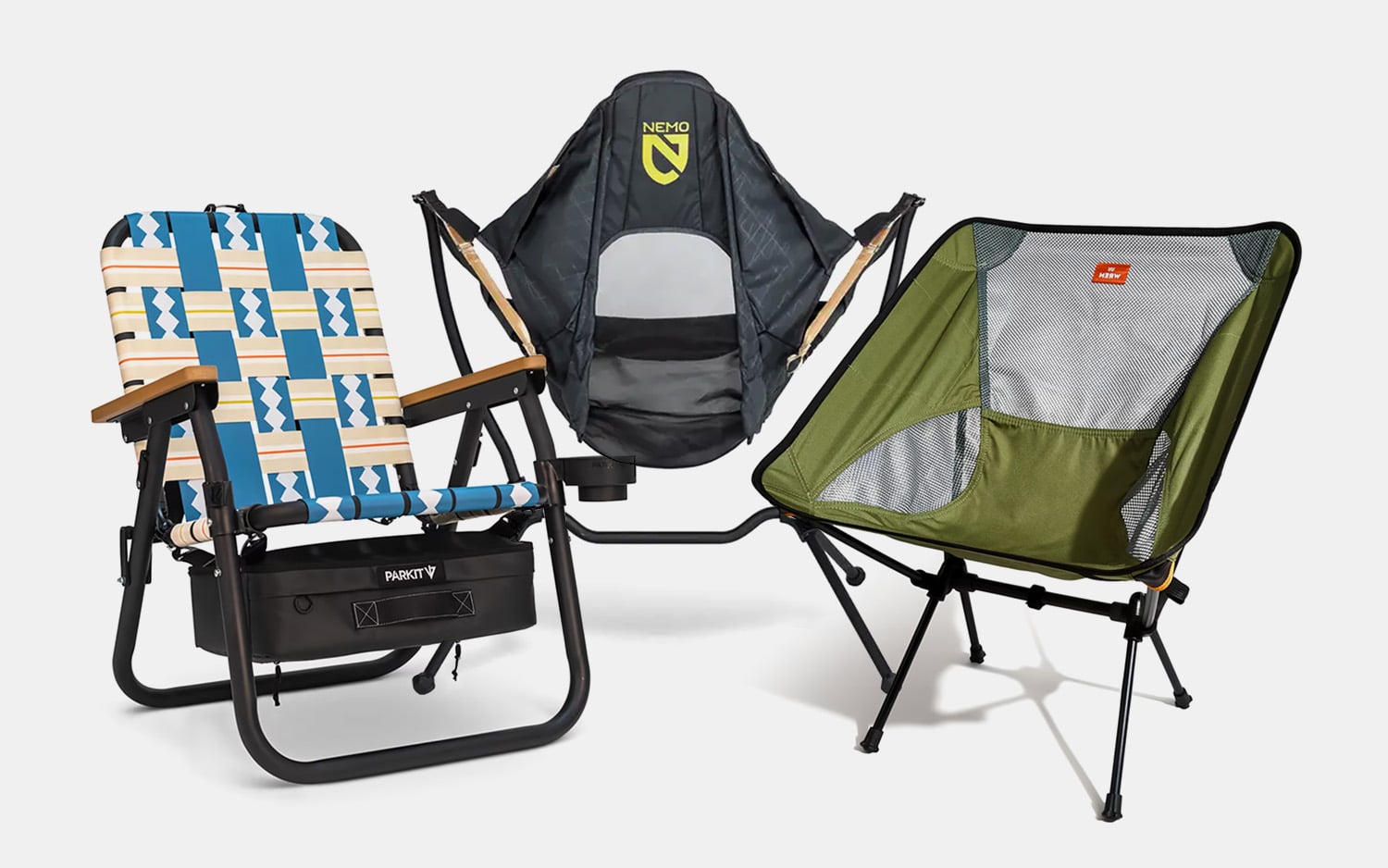 Why sit on the cold, hard, and muddy ground when you could elevate your backside in a compact folding chair?
This curated list of the 12 best camping chairs of 2023 will introduce you to a versatile and accessible range of campsite-ready seating options, from ultralight and barebones to fully equipped and luxurious. Once you make the upgrade to well-designed camp seating, you'll never go back.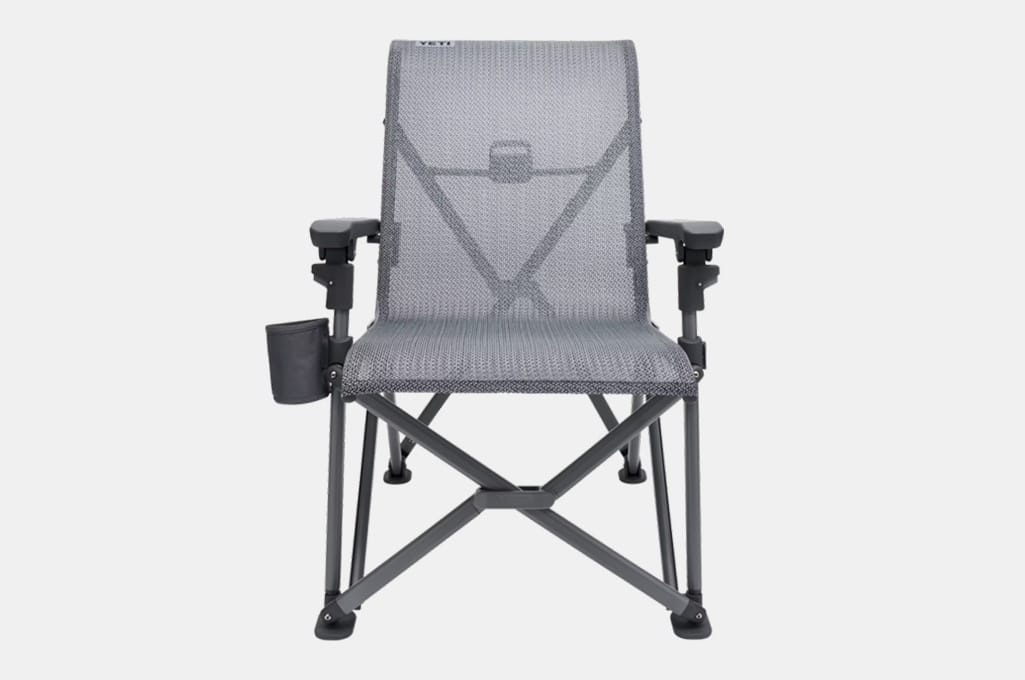 Yeti Trailhead Camp Chair
Yeti has a reputation as a top-tier camp gear brand for good reason: Their combination of high-quality materials, thoughtful designs, and long-lasting warranties more than justifies their items' higher price tags. That's true of the Yeti Trailhead Camp Chair, too: It's made with a lightweight but sturdy woven fabric, collapses down neatly into its own carrying bag, and comes with a five year warranty. Plus it's super comfortable, has its own integrated cupholder, and is rated to hold up to 500 pounds—one of the highest capacity ratings of any folding camp chair on the market today.
Weight: 13.3 pounds
Capacity: 500 pounds
Pros: Lightweight, portable, sturdy, comfortable, comes with a cupholder. It also carries like a backpack for easy transport
Cons: Expensive, not fire or puncture resistant
Price: $300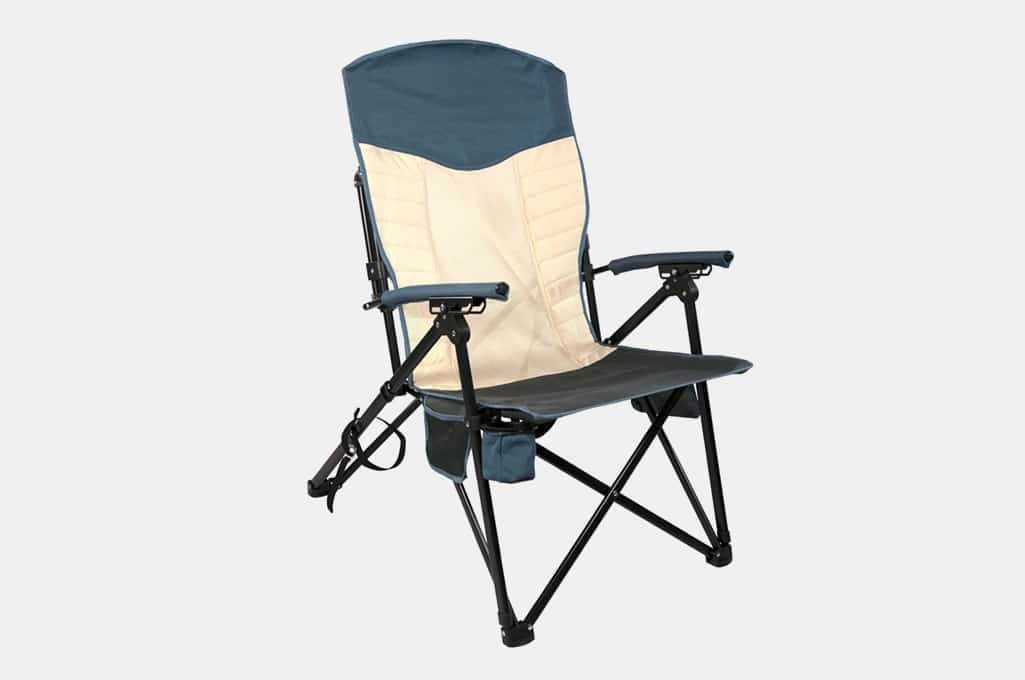 Klymit Switchback Reclining Camp Chair
A rigid steel frame and 600D polyester fabric make Klymit's Switchback Reclining Camp Chair a real tough cookie—but its padded armrests and gentle reclining action make it a soft and comfortable seating option, too. The Switchback's combination of a high back, head rest, and three reclining positions make it comfortable for people of just about any shape and size, although the chair does max out at a capacity of 300 pounds. Overall though, it's a great multi-position chair for the price.
Weight: 12.5 pounds
Capacity: 300 pounds
Pros: Comfortable seating positions, durable materials, good price
Cons: Weight limit could be higher, armrests are somewhat narrow
Price: $120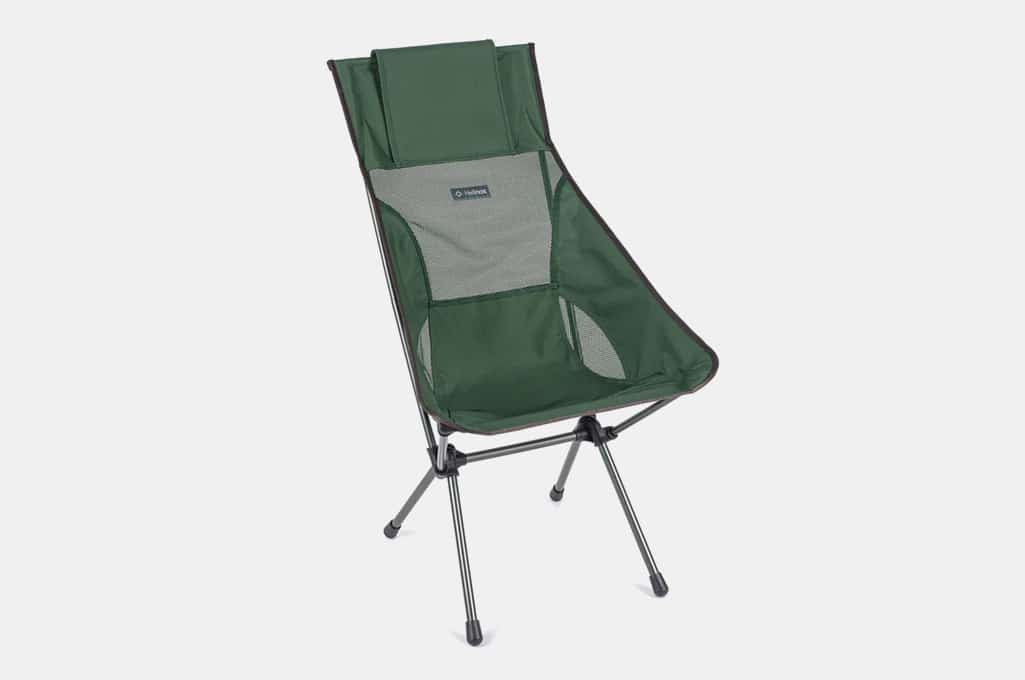 Helinox Sunset Chair
Rather than tote along a full-sized chair to your campsite, why not opt for the Helinox Sunset Chair? It's one of the lightest camping chairs we've found yet, weighing in at just 3.25 pounds, and packs down to a tiny 18.5 inch length. Despite those minimalist qualifications, it's still fully capable of supporting up to 320 pounds. Its high back and longer legs do a great job of keeping you elevated off the ground, giving plenty of room to sit comfortably even while you're strumming a guitar by the fireside.
Weight: 3 pounds 4 ounces
Capacity: 320 pounds
Pros: Lightweight, compact, high back
Cons: No armrests, moderately expensive
Price: $170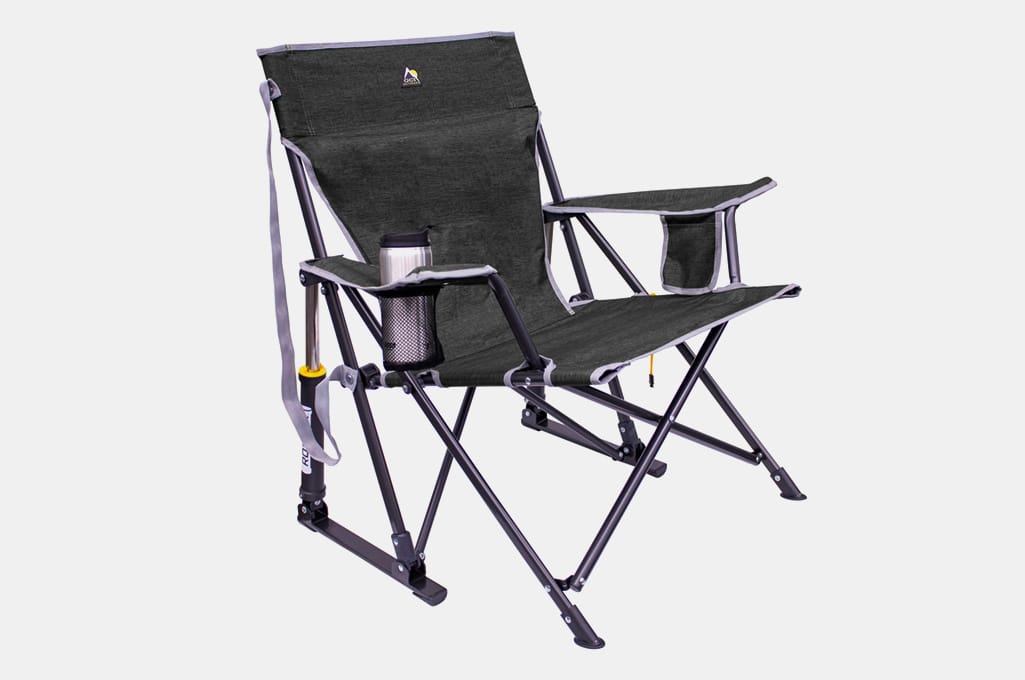 GCI Outdoor Kickback Rocker Chair
When your day of outdoor adventuring has come to an end, and you're ready to kick back, crack open a cold brew, and relax, GCI Outdoor's Kickback Rocker Chair has got you covered. For well under 100 dollars, it's one heck of a camping chair, offering a low-to-the-ground style, smooth rocking motion, and dual cupholders. Take note, however, that this is not a chair for bigger guys—its weight limit tops out at just 250 pounds.
Weight: 10 pounds 9.6 ounces
Capacity: 250 pounds
Pros: Very affordable, smooth rocking motion
Cons: Low weight limit, no UV protection
Price: $67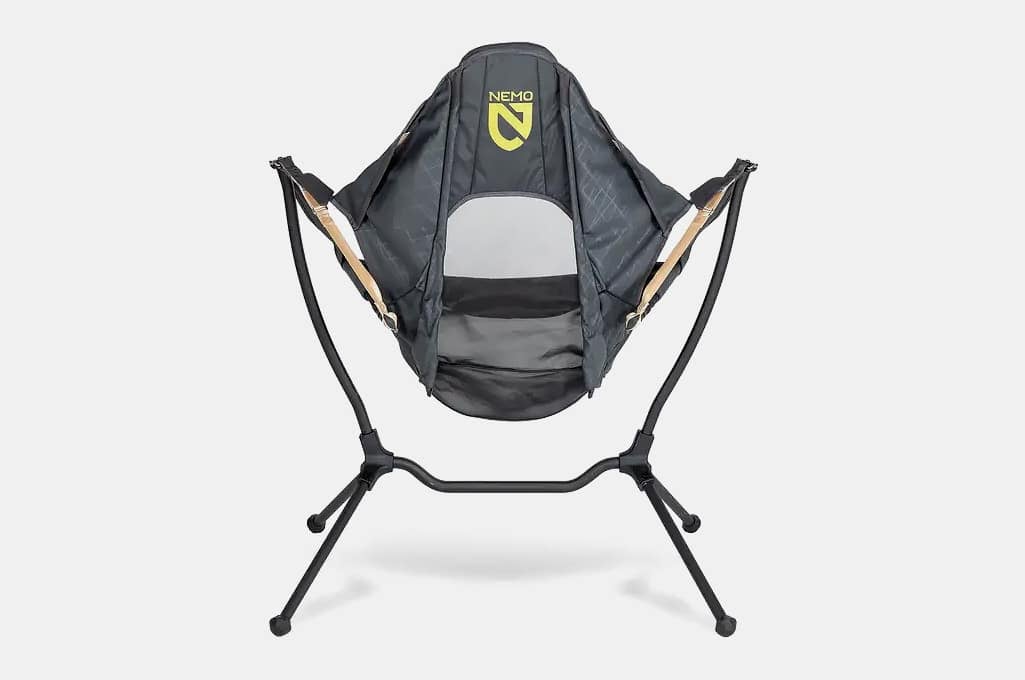 Nemo Stargaze Reclining Camp Chair
Halfway between a recliner and a hammock, you'll find Nemo's innovative Stargaze Reclining Camp Chair. The design here is markedly different from other camp chairs, featuring a pole frame that suspends a free-floating recliner seat—one that feels more like the gentle rocking of a hammock than the back-and-forth of a traditional rocker. It's an unconventional camp chair, to be sure, but if you're already a fan of hammock camping, you'll absolutely love it.
Weight: 8 pounds 11 ounces
Capacity: 300 pounds
Pros: Best parts of a hammock and a camp chair in one
Cons: Unconventional design may feel strange to some
Price: $300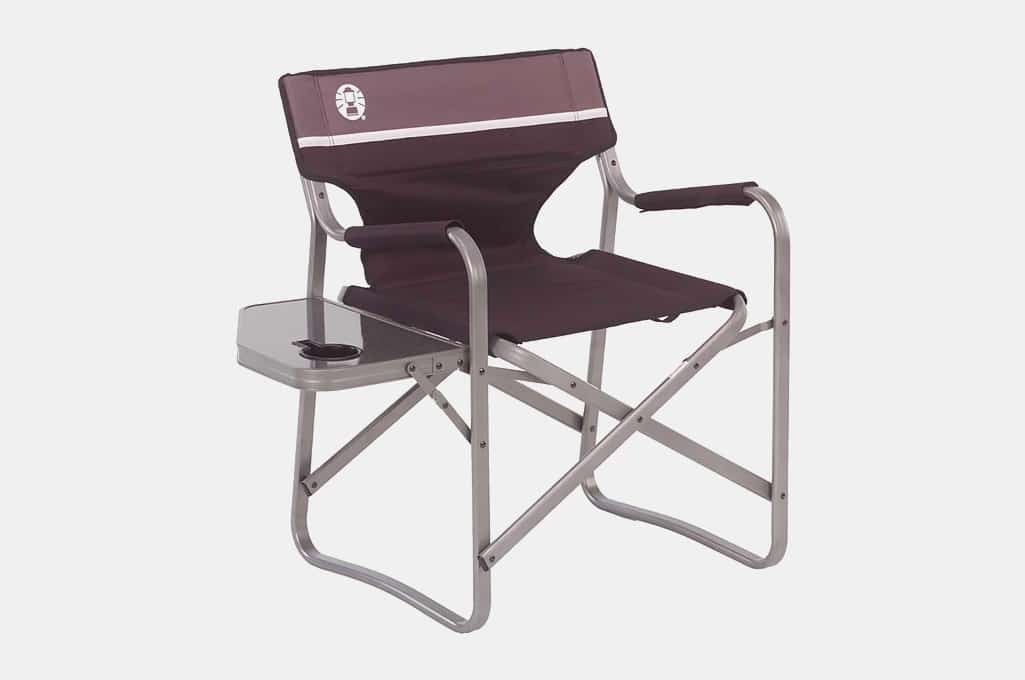 Coleman Aluminum Camping Chair with Side Table
Is there anything better than taking your lunch outdoors? Yep: Taking it outdoors and not having to share it with the ants. Coleman's Aluminum Camping Chair does a great job of making this a possibility, with a fold-down side table and integrated cupholder that are perfect for outdoor mealtimes. Besides those features, the chair is pretty average—but if you're looking for a casual camp chair that's just right for mealtime, it's a good choice.
Weight: 7 pounds 8 ounces
Capacity: 225 pounds
Pros: Side table is great for picnicking,
Cons: Very low weight capacity compared to other camp chairs
Price: $72+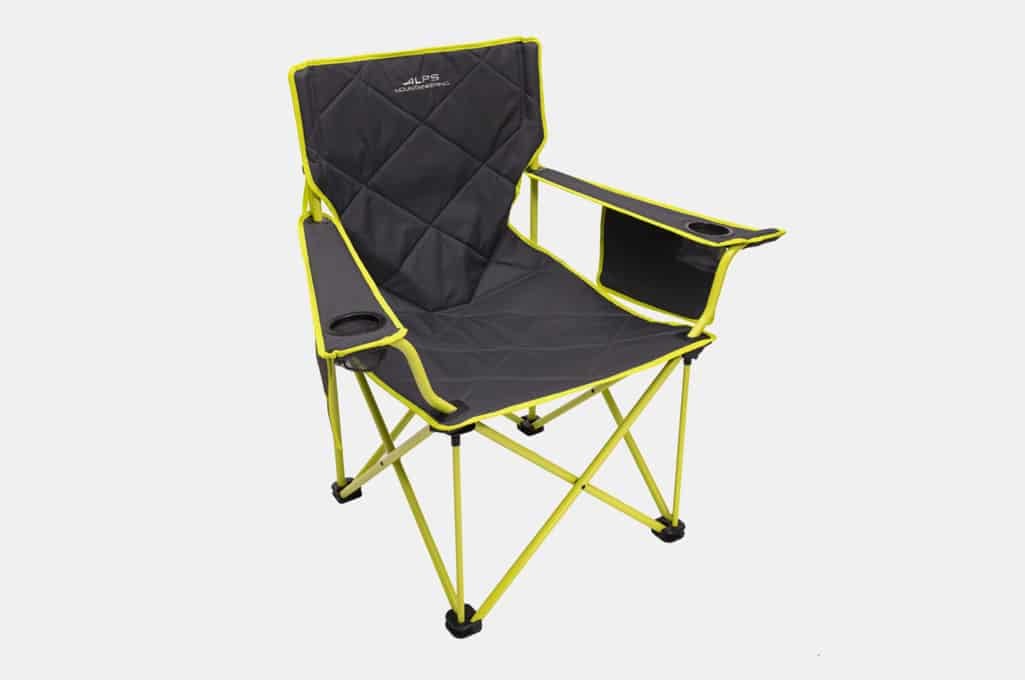 Alps Mountaineering King Kong Chair
Other puny camp chairs cower in fear at the sight of Alps Mountaineering's King Kong Chair. This large and in charge camp seating option has the highest weight rating of any you're likely to see, at a massive 800 pounds—and it comes in at a 13 pound carry weight, to match. The powder-coated steel frame and 600D polyester seat (with a reinforced center, no less) guarantee that the King Kong Chair is built to last, and two beverage holders pair with two stash pockets for all-in-one storage capabilities.
Weight: 13 pounds
Capacity: 800 pounds
Pros: Huge weight capacity, great price
Cons: Heavy carrying weight
Price: $80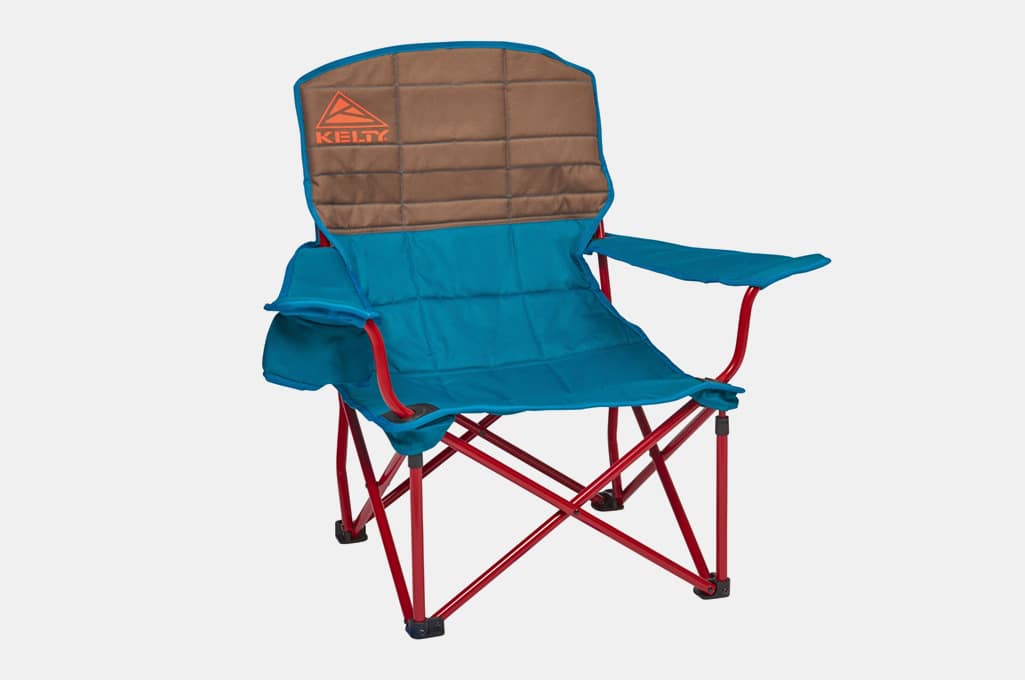 Kelty Lowdown Chair
Kelty is a backpacking and camping gear brand with some serious pedigree. Around since 1952, they were one of the first gear designers to produce a backpack with a rigid external frame. You can see a lot of those same design cues in their Lowdown Chair, a steel-framed and low-to-the-ground camp chair built with a durable 600D polyester fabric. It's fully collapsible, comes with a roll tote bag to carry it with, and features an insulated cupholder—a nice detail that we haven't seen in many other camp chairs.
Weight: 7 pounds 6 ounces
Capacity: 350 pounds
Pros: Midweight and portable all-rounder of a chair, insulated cupholder
Cons: Low seat height might not be comfortable for bigger/taller guys
Price: $75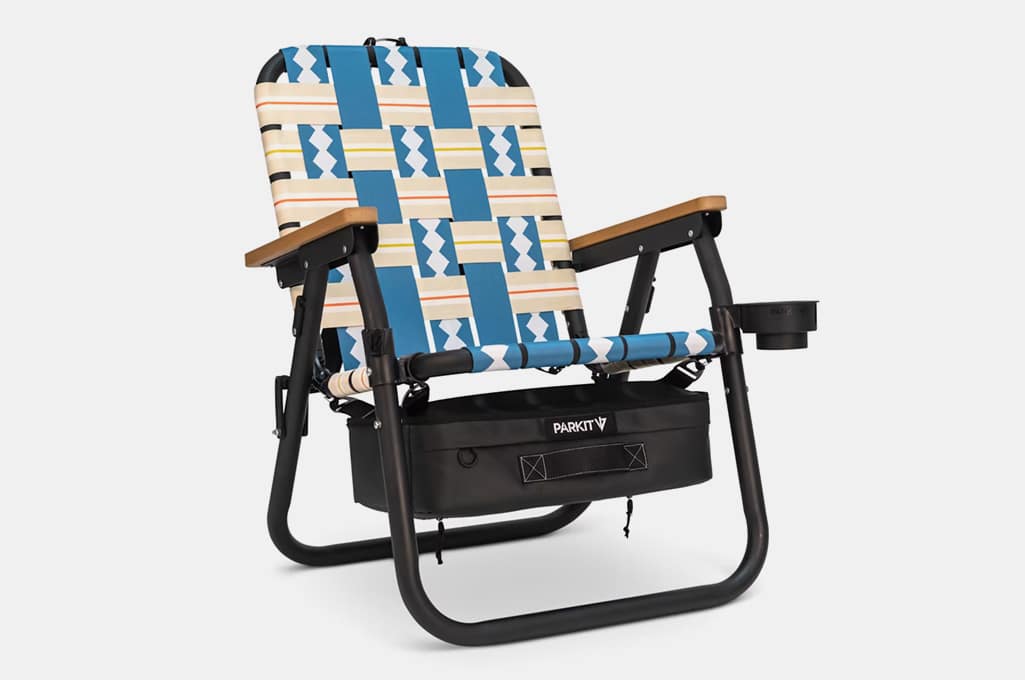 Parkit Voyager Chair
With the Parkit Voyager Chair, you won't even have to get up to grab a fresh beer—they'll be stored right underneath you, in the Voyager's integrated cooler. The leakproof cooler has enough storage space for about six beers and a little bit of ice, giving you everything you need to park your butt and sip your way through an outdoor evening. The removable cupholder here is a nice touch, with cutouts for camp mug handles, and the 16-inch seating position is just right for a natural, comfortable sit.
Weight: 12 pounds
Capacity: 350 pounds
Pros: Integrated cooler feature, comfortable backpack-style carry
Cons: Fairly expensive and heavy
Price: $225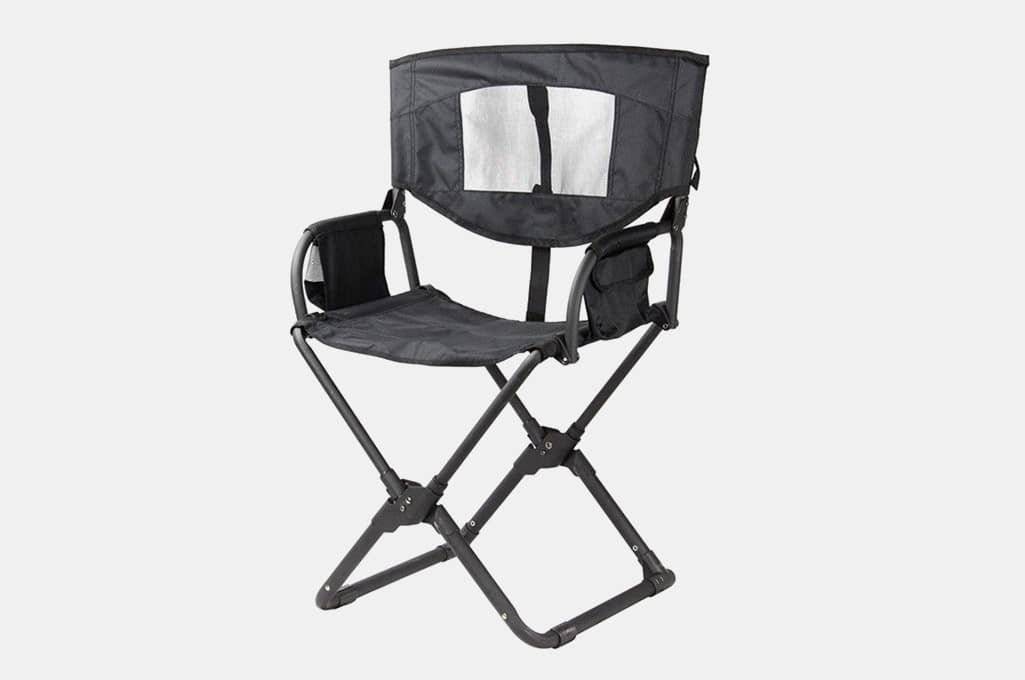 Front Runner Expander Camping Chair
Front Runner's Expander Camping Chair offers a high-off-the-ground experience that's similar to a director's chair, and its use of a patent-pending folding technology makes it the most compact folding chair on this list. It's made with a durable steel frame and 600D polyester, comes with a cupholder and two pockets—one for your cell phone, and one for larger items like books, magazines, and maps. For just under 80 dollars, it's an exceptional camp chair for anyone who likes to sit higher off the ground.
Weight: 9 pounds
Capacity: 253 pounds
Pros: Extremely compact, durable construction
Cons: Narrow seat width
Price: $80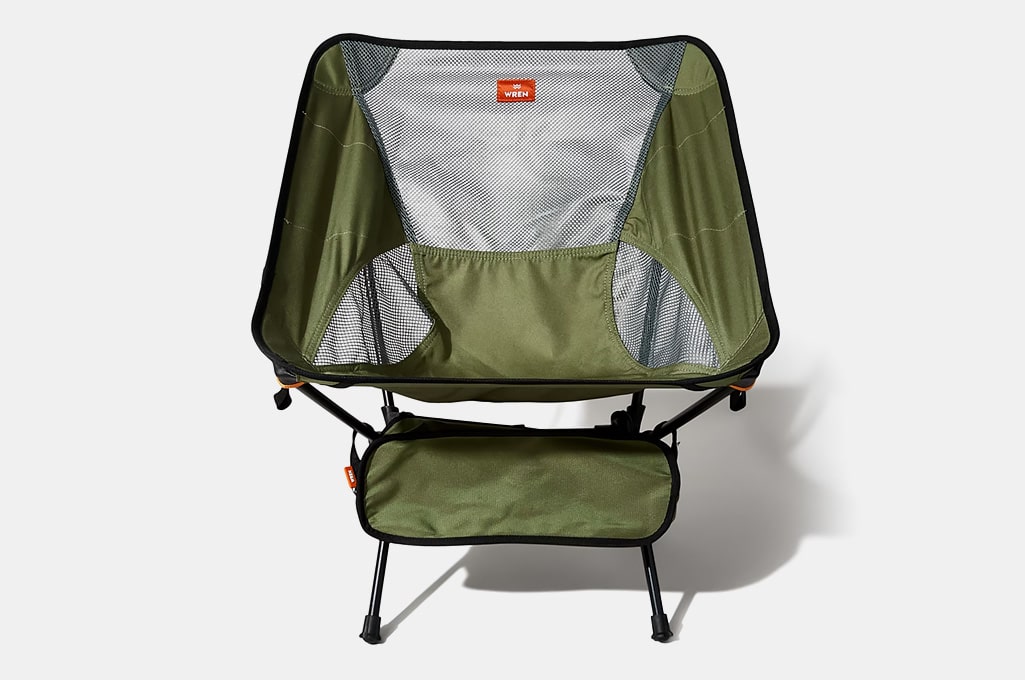 Wren Compact Camp Chair
If you're willing to put a little bit more work into building your camp chair in much the same way as you set up a tent, then the Wren Compact Camp Chair offers unbeatable weight capacity at a very small carrying weight and size. Folded up, it's about the size of a large thermos—just 14 inches long, five inches wide, and five inches deep. And it only weighs just over two pounds. Even so, it can carry up to 300 pounds, and offers a comfortable medium seat height that's right for just about everybody.
Weight: 2.25 pounds
Capacity: 300 pounds
Pros: Lightweight, compact, high weight limit for its size
Cons: Some assembly required
Price: $75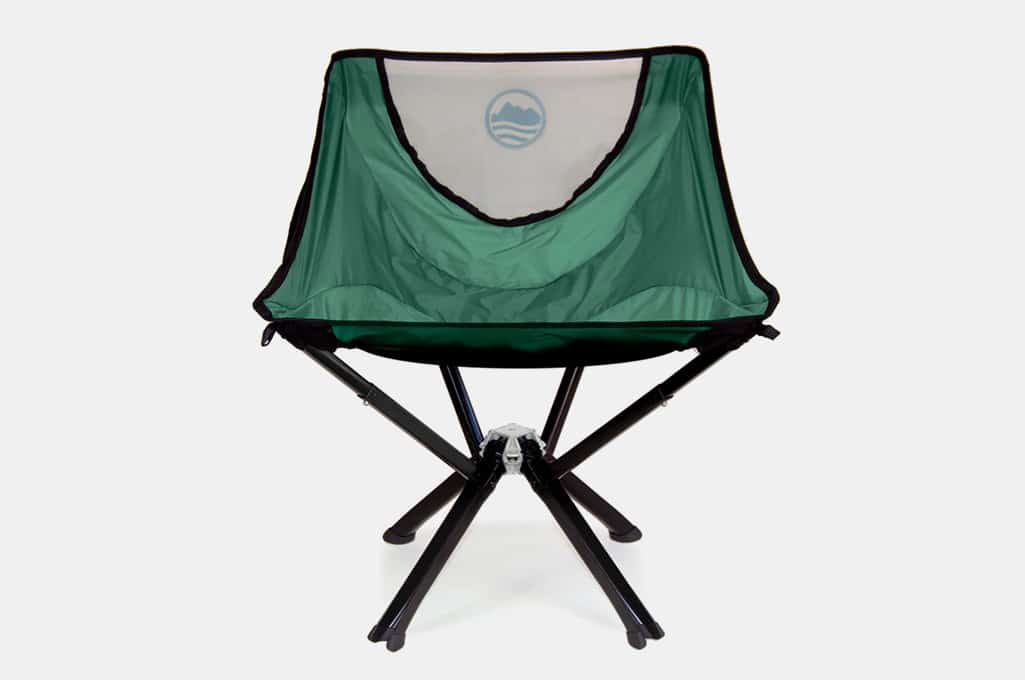 Cliq Chair
If the previous chair's compact size got your attention, but you're not all about the setup and building, then the Cliq Chair might be just right (if a little bit more expensive). This compact folding chair uses a set of telescoping legs for its frame, popping up from the size of a thermos into a fully-realized camp chair in seconds. It can support 300 pounds and has a 10 inch seat height, making it an excellent go-anywhere chair.
Weight: 3.65 pounds
Capacity: 300 pounds
Pros: Extremely compact, fast and easy unfolding
Cons: No armrests
Price: $110