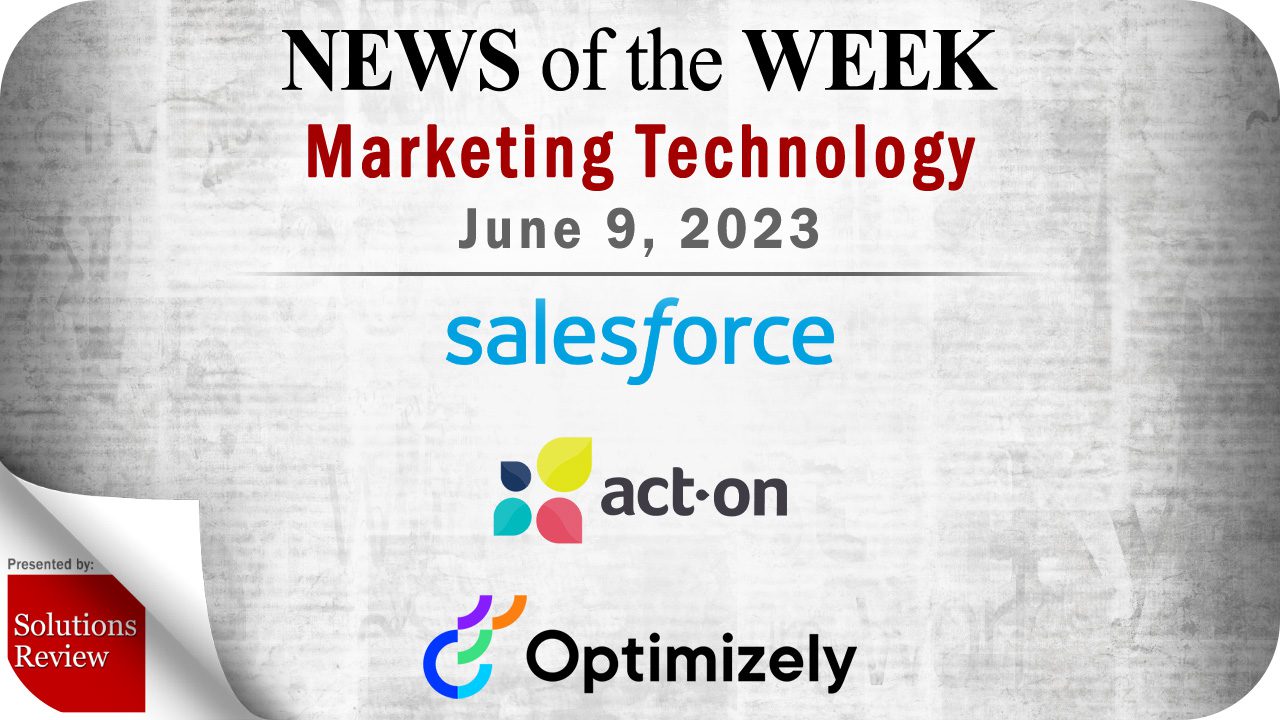 The editors at Solutions Review have curated this list of the most noteworthy MarTech news from the week of June 9th. This round-up covers announcements and updates from companies like Salesforce, Act-On, Optimizely, and more.
Keeping tabs on the most relevant CRM and MarTech news can be time-consuming. As a result, our editorial team aims to summarize the week's top headlines in the marketing technology landscape. The Solutions Review editors will compile a weekly round-up of vendor product news, mergers and acquisitions, venture capital funding, talent acquisition, and other noteworthy MarTech news. With that in mind, here is some of the top MarTech news from June 9th.
Our
Free CRM Buyer's Guide
helps you evaluate the best solution for your use case and profiles leading providers in the marketplace.
Top MarTech News From the Week of June 9th, 2023
---
Act-On Software, a marketing automation solution provider, has launched Act-On AI Create, a new tool to enhance email generation. The release is part of the company's multi-year commitment to strengthen its marketing automation solutions with AI technology. With Act-On AI Create, marketers can generate email content within seconds. It can also directly plug its generated email and optional subject lines into existing templates by integrating generative AI into the Act-On solution suite. The new tool is available now and marks the first of multiple planned AI releases for the Act-On marketing automation portfolio.
---
Brevo, formerly Sendinblue, has appointed Isabelle Guis as its new CEO for North America and Global Chief Marketing Officer and Julien Cros as its U.S. Sales Director. With over a decade of experience in the SaaS and CRM industry, Isabelle Guis has previously worked with companies like Salesforce, Commvault, and Egnyte. In her new role, Guis will help drive Brevo's North American growth and continue positioning the software as an easy-to-use CRM suite in the fast-growing, value-oriented market where its mid-market and self-service clients reside.
---
Instabase, an Applied AI provider for enterprises, has announced a Series C funding round and the launch of AI Hub, a new repository of AI apps. The $45 million Series C funding round, which concluded at the end of 2022, was led by Tribe Capital, with additional participation from Andreessen Horowitz, New Enterprise Associates, Greylock Partners, Spark Capital, K5 Global, and Standard Chartered Ventures. Meanwhile, the new AI Hub repository will focus on content understanding and provide users with a set of generative AI-based tools that are available now.
---
Integrate, a B2B Precision Demand Marketing (PDM) solution provider, announced Mobile Connect, a new application designed to enable B2B marketers to capture data at third-party events, field events, and wherever connections happen. The tool will help marketers get opted-in leads by capturing images of trade show badges, business cards, and additional buyer information for transcription. It can also route lead and buyer data to the user's CRM and marketing automation systems in real-time. Mobile Connect will be included in Integrate's Demand Acceleration Platform (DAP) and available to download on iTunes and Android app stores later in Q3 2023.
---
Mosaicx, a cloud-based conversational AI solution, has announced details on its new Mosaicx Agent program. With this new program, the Mosaicx sales team will partner with agents who have identified companies struggling to utilize AI technologies and work with them to present a Mosaicx solution that fits their needs. Rebecca Jones, the general manager of Mosaicx, says, "Through this program, agents can generate new revenue opportunities and become valued providers of robust conversational AI functionality. This program reinforces Mosaicx's role as a trusted advisor and our commitment to delivering exceptional customer experiences across industries."
---
NICE, a cloud-native customer experience platform provider, has launched three new solutions as part of Enlighten. The company is combining the latest generative AI technology with its suite of customer experience data to help stakeholders better engage, predict, and take actions that improve agent empowerment, optimize customer experiences, and promote operational excellence. These new solutions include Enlighten Copilot for employees, Enlighten Autopilot for consumers, and Enlighten Actions for CX leaders.
---
Optimizely, a digital experience platform (DXP) provider, has expanded its partnership with Contentsquare, a digital experience analytics platform, to enhance its experience capabilities with journey analytics features. As part of the expanded partnership, Contentsquare's Zone-Based Heatmaps feature will be available to Optimizely Web Experimentation users via two-way integration, providing them with actionable insights on customers' in-page behavior, a deeper understanding of the reasons behind an experiment's performance, and a pathway toward optimized digital experience.
---
Salesforce, the global CRM provider, has launched Marketing GPT and Commerce GPT, two new generative AI product offerings that use trusted first-party data from Data Cloud. Marketing GPT will help marketers automatically generate personalized emails, audience segments, and marketing journeys across touchpoints. Meanwhile, the Commerce GPT feature suite will enable brands to deploy customized shopping experiences and offers that use GPT-powered dynamic buying journeys that adapt to customer needs.
---
SugarCRM, an AI-driven CRM platform provider, has announced a new partnership with sales-i, a cloud-based sales intelligence platform. The partnership aims to improve B2B sales performance in manufacturing, distribution, and wholesale sectors with enhanced customer insights, intelligence, and analytics capabilities powered by AI and machine learning. The SugarCRM integration with sales-i will centralize access to sales analytics for every customer, sales team, product, and branch, making it easier for companies with extensive product catalogs to detect buying patterns.
---
Expert Insights Section
---
Watch this space each week as the Solutions Review editors will use it to share new articles from the Expert Insights Series, Contributed Shorts videos, Expert Roundtable videos, event replays, and other curated content to help you gain a forward-thinking analysis and remain on-trend with changing industry expectations. All to meet the demand for what its editors do best: bring industry experts together to publish the web's leading insights for enterprise technology practitioners.
---
As part of Solutions Review's Expert Insights Series, Jake Athey, the VP of Marketing & Sales at Acquia, outlines a few of the most meaningful ways companies can find the right balance in their customer experience (CX) and employee experience (EX) initiatives. These include best practices like maintaining a customer-focused mindset, equipping teams with the proper tools, and empowering employees.
---
As part of Solutions Review's Premium Content Series, Marc Hardgrove, the CEO of The HOTH, delves into the impact generative AI has had on digital marketing and where it might go in the future. In the article, Hardgrove explores how these technologies have changed the digital marketing landscape, how businesses can prepare for the future, and offers some suggestions on how that future might look.
---
As part of Solutions Review's Premium Content Series, Kerry Ryan, the Director of Financial Services Marketing at Seismic, explains how enablement technology can help financial services ("finserv") professionals succeed. Her article covers topics like unlocking efficiencies, streamlining content access, creating better client experiences, and charting the future of enablement technologies.
---
For consideration in future news round-ups, send your announcements to wjepma@solutionsreview.com.
---
The post Top MarTech News From the Week of June 9th: Updates from Salesforce, Act-On, Optimizely, and More appeared first on Solutions Review Technology News and Vendor Reviews.