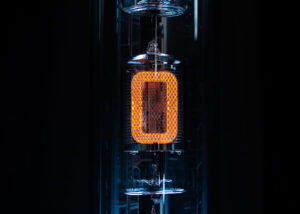 With a towering height of 1.62 m and hefty weight of 40 kg, the one-of-a-kind Space-Time Blade created for Only Watch 2023 undeniably embodies the quintessential Urwerk style in both form and concept. The Space-Time Blade is the only sci-fi, retro-electronic clock in an auction dominated by mechanical wristwatches, proving that Urwerk always does things its own way.
Even then the Space-Time Blade is hardly a clock in the conventional sense. It eschews minute and hour hands, and even the outline of a conventional standing clock. Instead it illustrates Urwerk founders Felix Baumgartner and Martin Frei's fascination with the captivating and vintage technology of Nixie tubes.
It will be sold by Christie's during Only Watch, the charitable auction held every other year to raise funds for research into a cure for Duchenne Muscular Dystrophy.
Initial thoughts
It's easy to see this in the corner of a Brutalist home, alongside other examples of interpretive modern art, but that is not what makes this piece interesting from a construction or technical standpoint. Instead it is the Nixie tubes and their display, along with the multiple timekeeping functions that provided reason for pause. The many and varied ways in which this piece can measure and display time speak to the heart of Urwerk's philosophy.
Known for polarising pieces that push the line between timekeeper and sculpture, Urwerk has created its most abstract timepiece to date with its singular take on the standing clock. The sci-fi references of the Space-Time Blade are strong and perhaps a little on the nose. The appeal of the clock is very personal to everyone, as with everything this brand produces, it is certainly not aimed to appeal to a broad audience.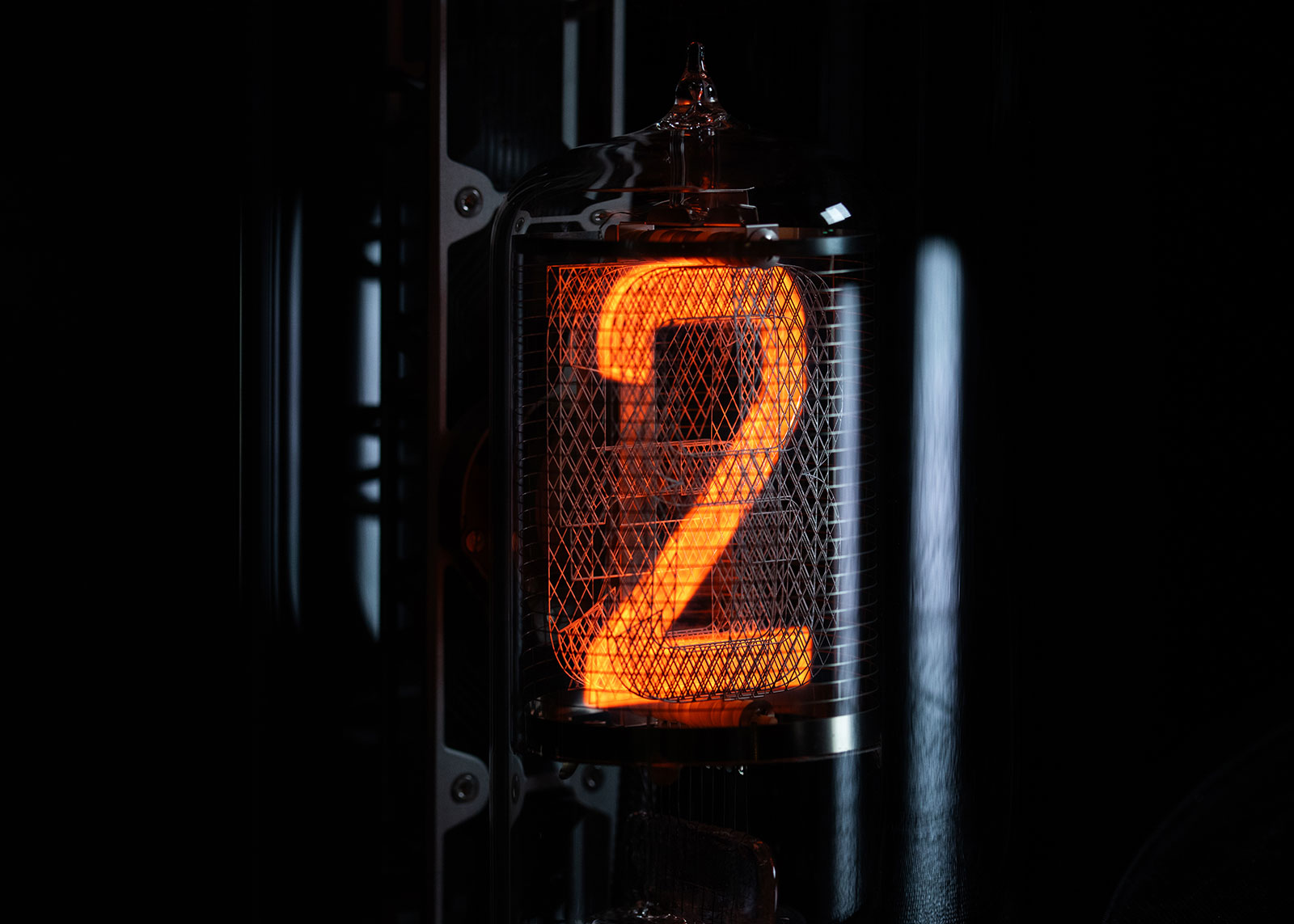 Whether you like it or not, the Space-Time Blade shows why Urwerk is a genuine independent watchmaker. Felix Baumgartner and Martin Frei create exactly what they desire and not what the market demands. So no integrated bracelet sports watch or movement with extra inward angles, but the Space-Time Blade.
The question that remains, for now, is the value of such an enigmatic creation. With a low estimate of CHF45,000, the Space-Time Blade is one of the more affordable lots in the sale – and perhaps the best value in its price segment.
Intriguing Nixie tubes
The Space-Time Blade is destined to capture attention in any setting. Whether regarded as a timekeeping device, a celestial odometer, or even an artistic masterpiece, it is probably easier to amalgamate all these aspects into one. Another striking association is its resemblance to a lightsaber from the Star Wars universe, with its sci-fi grip clearly inspiring the base section of this creation. This design element drew inspiration from Urwerk's iconic bronze crown seen on their wristwatches. Above it, a glass column houses vertically arranged Nixie tubes displaying digital time and casting a futuristic luminescent plasma glow.
It's a well-known fact that Urwerk occasionally diverges from its traditional wristwatch path to present creatively astounding items that still carry the distinctive Urwerk nonconformist spirit established by its founders, Felix Baumgartner and Martin Frei. The AMC atomic master clock, Macallan x Urwerk Flask, and now the Space-Time Blade are examples that are guaranteed to astonish those less familiar with the brand's portfolio.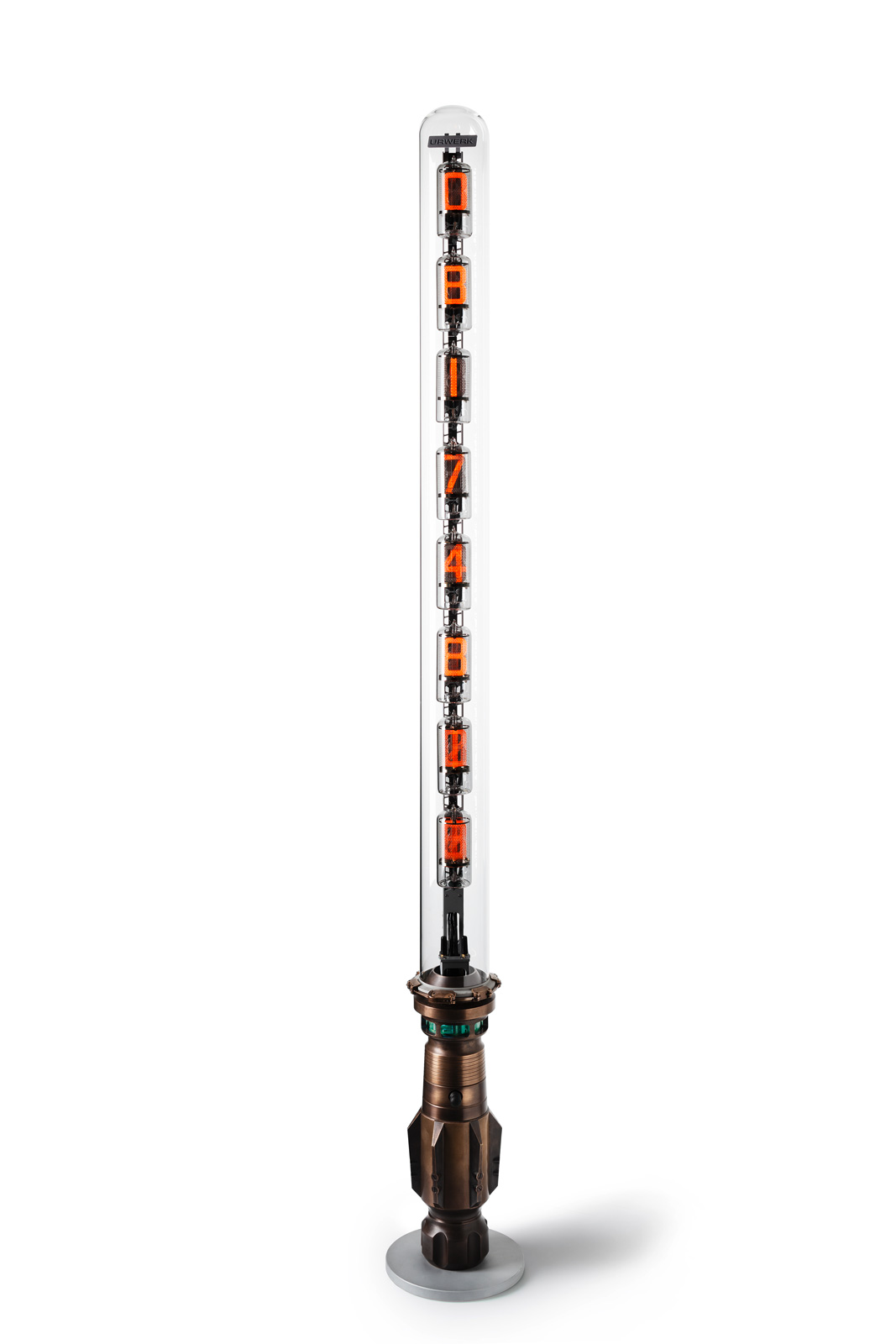 The Space-Time Blade actually came to life with the collaboration and expertise of Czech entrepreneur Dalibor Farny, a pioneer in reviving Nixie tube technology since his discovery of it on the internet in 2011. Since then, he has dedicated his time to studying Nixie tubes and their manufacturing processes.
This remarkable vintage technology involves delicate bulbs filled with low-pressure neon gas, with cathodes forming the numerals positioned within wire-meshed anodes. Requiring a similar level of hand precision as watchmaking itself, every wire structure is meticulously arranged, element by element, using just a pair of pliers. Once activated, the warm orange-hued display can change at a staggering rate of up to 100,000 times per second.
Urwerk configured the eight vertically aligned Nixie bulbs to showcase various indications, selectable through a unique remote control:
Time indication in hours, minutes, and seconds
Time indication in hours, minutes, seconds, 1/10, and 1/100 of a second
Indication of kilometres covered in one day (Earth's rotation at the Equator)
Indication of kilometres traveled in one day (Earth's revolution around the Sun)
Indication of kilometres traveled in one year (Earth's revolution around the Sun)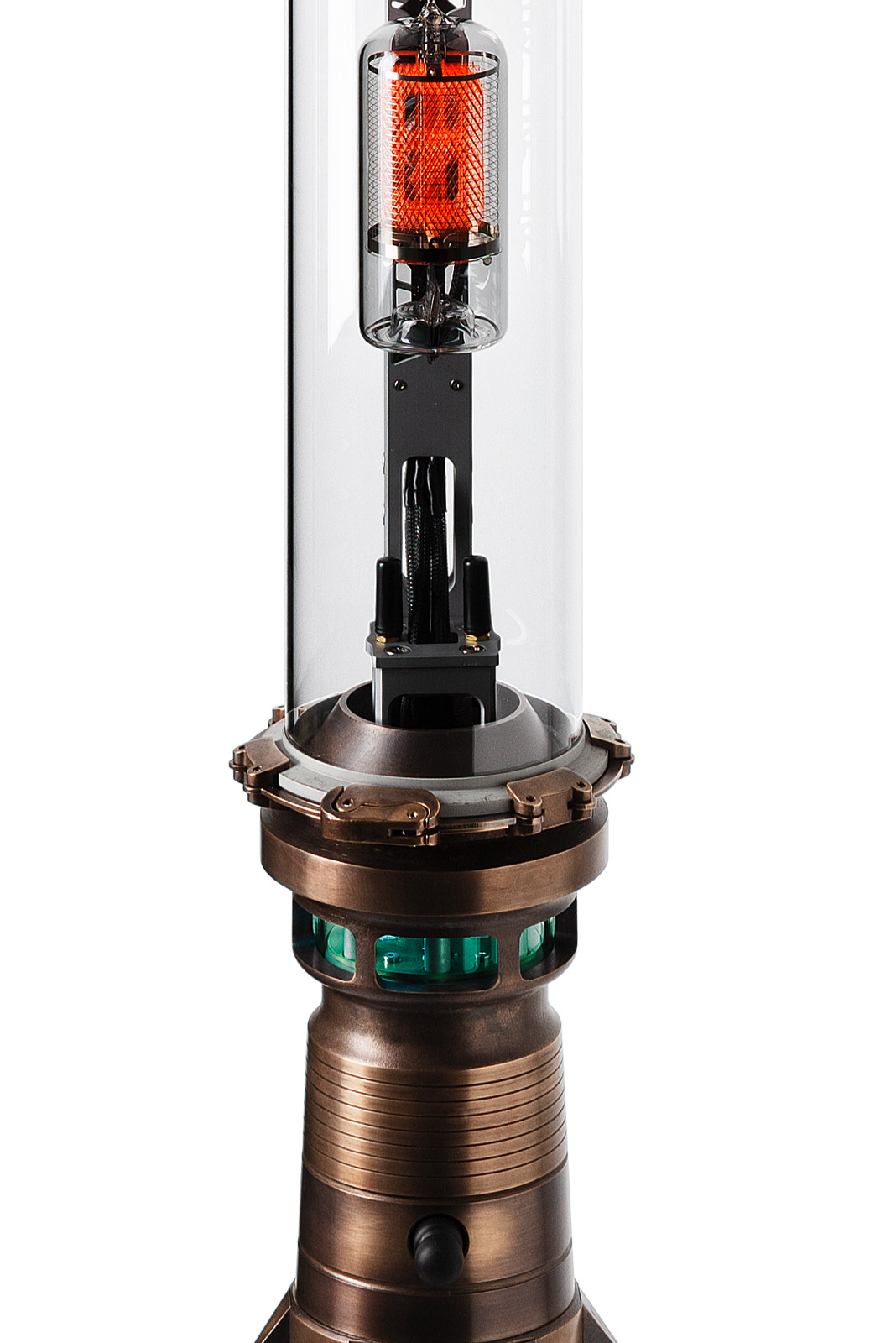 ---
Key facts and price
Urwerk Space-Time Blade for Only Watch
Height: 1.62 m
Material: Glass tube, bronze stand
Movement: Developed and made by Urwerk in collaboration with Dalibor Farny
Functions: Hours, minutes, seconds and distance travelled by the Earth
Winding: Electric
Power reserve: Unavailable
Limited edition: Unique piece
Availability: At Only Watch 2023 on November 5 in Geneva
Estimate: CHF45,000-80,000
For more, visit onlywatch.com.
---