Pasta Salads are one of my favorite recipes to make during the warm summer months. Primarily because I'm a huge pasta lover, but also because I love the combination of chilled pasta mixed with veggies and covered in a tangy vinaigrette dressing. Pasta salads are extremely versatile, easy to make and they hold up very well in the fridge which makes them perfect for leftovers. And they make pretty large servings, so they're great for parties and cookouts!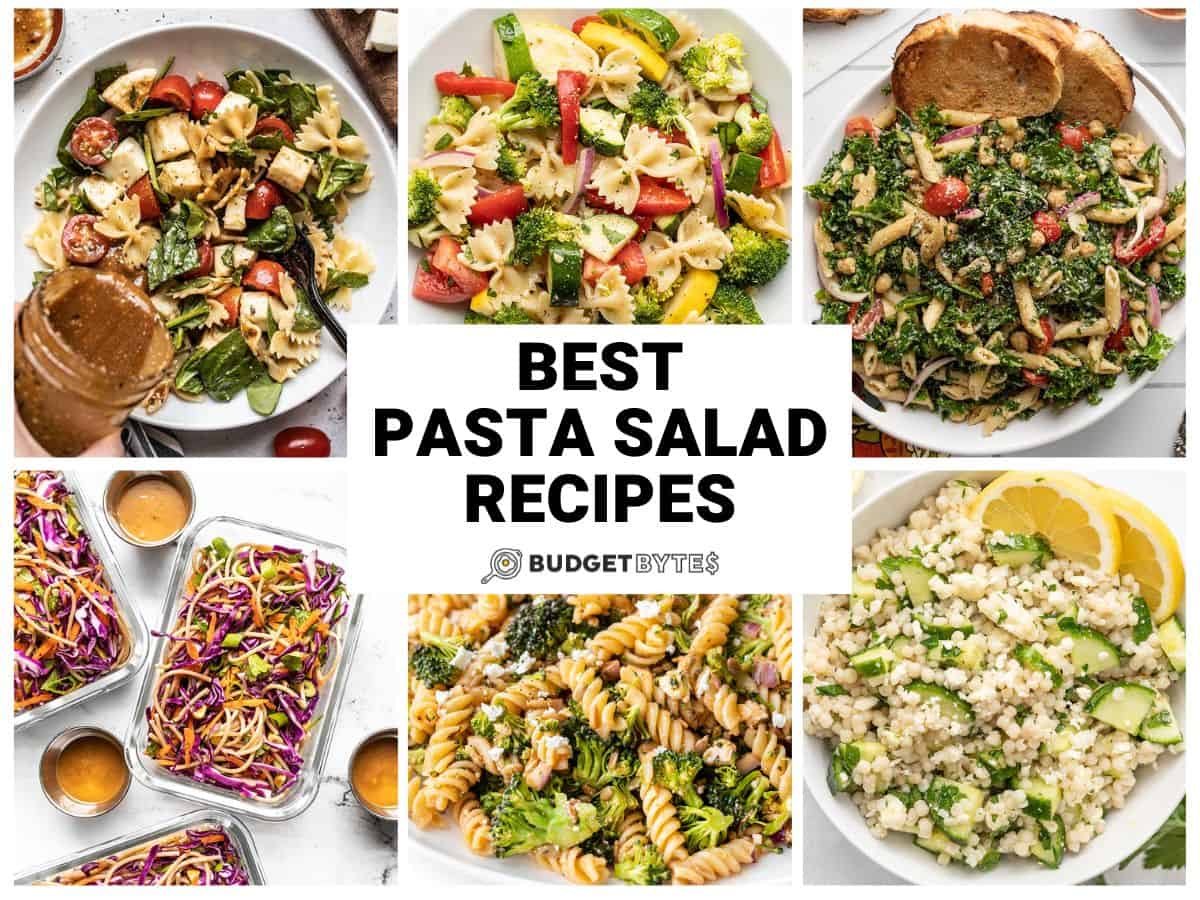 Here we've gathered 15 of our Best Pasta Salad recipes for you to enjoy at your next family gathering or simply all by yourself – we're not judging you. 😉
This Summer Vegetable Pasta Salad is the perfect recipe to enjoy during the warm summer months. It includes lots of colorful veggies and a tangy homemade vinaigrette dressing!
Who knew it was this easy to make your own version of a Caprese salad with this Tomato Mozzarella Pasta Salad recipe! This pasta salad is super simple to make and easy to customize to make it your own.
Lemony Cucumber Couscous Salad is a simple, delicious summer salad made with just a few easy ingredients like fresh lemon and english cucumber and it stays good in the fridge for days!
This Tortellini Salad is one of our favorite new additions to our pasta salad line up! The vibrant and fresh flavors from the vegetables and Italian dressing match perfectly with the Tortellini pasta.
Fresh sweet corn on the cob is one of the best parts about summer. Take advantage of the season and make this Summer Sweet Corn Salad with a simple, and fresh lemon vinaigrette.
You can't have a potluck or a cookout without a big bowl of Macaroni Salad! This one is a classic summer pasta salad recipe.
This Cold Peanut Noodle Salad is finger-licking good thanks to the creamy and tangy peanut lime dressing that goes on top.
Calling all broccoli lovers! This easy and delicious Broccoli Pasta Salad features a homemade tomato vinaigrette dressing and lots of creamy feta cheese.
You can easily reuse your leftover pizza toppings by making this simple Pizza Pasta Salad. Mix and match with your favorite toppings to make it your own and top it off with a simple Italian dressing.
Turn your pasta salad into a full meal with this Greek Chicken Pasta Salad recipe. The chicken gets marinated in half of the tangy dressing giving it an extra boost of flavor!
This Big Kale Pasta Salad includes lots of fresh kale massaged with a homemade balsamic vinaigrette dressing, pasta, chickpeas and fresh vegetables to cover all the bases!
Got some leftover veggies in the fridge? Give this Sweep The Kitchen Pasta Salad a try! Use what you already have available and add a simple dressing or diced chicken if you want to make it a complete meal!
A little pasta, a lot of vegetables and maybe some beans make the best combos for pasta salads. This Italian Orzo Salad is no exception. It's perfect as a side dish and also great as a light meal.
Grilled vegetables have a ton of flavor making this Grilled Vegetable Pasta Salad even more delicious. Serve it with some balsamic vinaigrette and it makes the perfect side dish for BBQs and cookouts!
This simple Spinach and Orzo Salad packs in a lot of flavor from the sun dried tomatoes, creamy feta cheese and the homemade balsamic vinaigrette dressing. It works great as a light lunch or the perfect side to those summer BBQ cookouts!
The post Best Pasta Salad Recipes appeared first on Budget Bytes.