Novo Nordisk (NYSE: NVO), a leading global pharmaceutical company, is revolutionizing the field of diabetes care and making a significant impact on patients' lives. With its innovative treatments and commitment to improving health outcomes, Novo Nordisk has solidified its position as a key player in the healthcare industry. In this article, we delve into the Elliott Wave analysis of NVO, uncovering potential bullish patterns that could shape the company's future and captivate the attention of both long-term investors and short-term traders. We will explore the more aggressive bullish view for NVO, highlighting the compelling weekly bullish sequence. The rally from 2016 to 2022 is identified as wave (I), followed by a pullback in wave (II) that formed the connector. The stock has experienced a significant surge in recent months, reaching new all-time highs and signaling a robust bullish trend. This upward move is identified as wave I of (III), implying the potential formation of a nest pattern in the stock's price action. In our previous article published last month, we discussed the short-term trajectory of NVO and highlighted the anticipated support area between $158 and $149. Since then, NVO has shown upward movement and is expected to sustain its rally as part of the larger cycle that began in September 2022 at $95.1. The next phase of the uptrend is projected to target the equal legs area around $186.66, marking the completion of wave I, followed by a corrective wave II retracement against the $95.1 level. As long as this support holds, the stock is poised to resume its upward trajectory, with a long-term target near the 1.618 Fibonacci extension around $243 in the coming years.
NVO Weekly Chart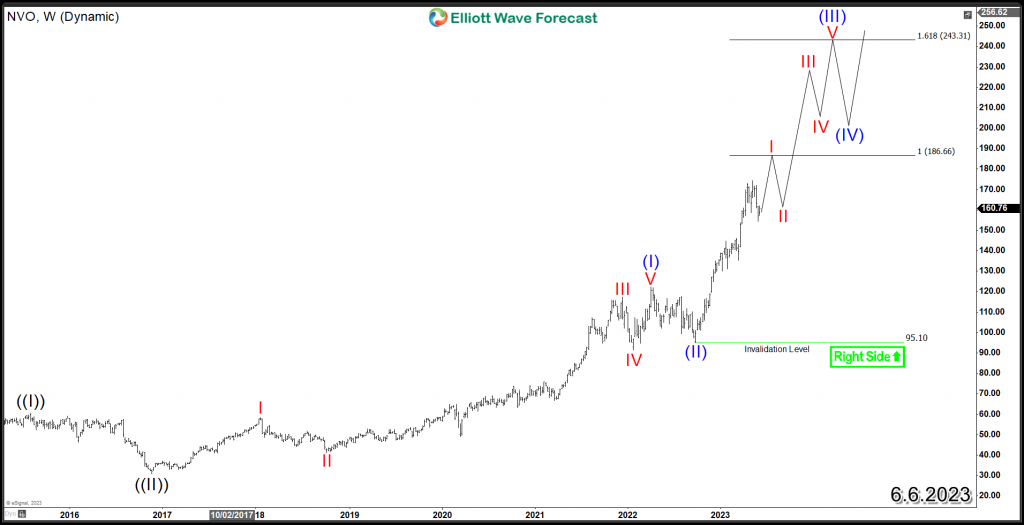 The following video provides a weekly overview of NVO, including its wave structure for the current rally and next correction. Additionally, it presents a mid-term overview and potential investment opportunity based on the stock's price action. Moreover, the video explains a stronger bullish scenario that could potentially lead to further extension to the upside. (Click Play to Open the Video)
---

The post Bullish Sequence will Fuel Novo Nordisk (NVO) to More Upside appeared first on Elliott Wave Forecast : Analysis and Trading Signals.