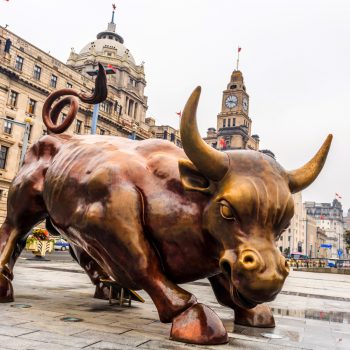 To read the financial media headlines right now, one would think the S&P must be down 20% year-to-date. Everything is cast in such a negative light that it's a wonder we aren't all living in underground bunkers subsisting on canned foods and skulking over a hoard of metallic junk.
We keep hearing from "The Street" about how a recession is just around the corner, or how geopolitical tension will inevitably suck us all into WWIII, or how the "inflation genie" is out of the bottle and will force the Fed down a path of endless hikes.
As a result, everyone is sitting on the sidelines or short as the market scales the proverbial wall of worry. The American Association of Individual Investors has given us more bears than bulls for 79 of the past 82 weeks (a record), we have near all-time record PUT ownership, and near all-time record short interest in equity index futures among smaller non-professional investors.
At the same time, according to the BofA Fund Manager Survey, big long-only/equity-only funds are sitting at 5.6% cash levels, which is much higher than average, suggesting huge reserves of capital still on the sidelines.
And yet, all the while, the market continues to creep higher. Eventually, that type of situation tends, historically, to evolve toward breakouts as people fold their bearish hands and start to "FOMO" into the market.
In fact, we are already starting to see some evidence of that activity in the form of big runs in speculative stocks. With that in mind, we take a look below at some of the more interesting stories that fit that description.
C3.ai Inc (NYSE: AI) has been a momentum trader's darling stock all year, blasting off from around the $10/share level on Jan 1 to as high as $45/share earlier this week. It has been a poster boy for the AI "mini bubble" driving the action in the tech sector since early May.
However, what goes up must come down. Traders looking to get on board the AI Express may have a fresh chance as the stock took a beating after hours yesterday on underwhelming forecasts from the company on coming sales.
C3.ai Inc (NYSE: AI) now says that sales will increase 11% to 20% to a midpoint of $307.5 million in the fiscal year ending April 2024. According to Bloomberg, analysts, on average, estimated $317 million, according to data compiled by Bloomberg. The company projected an adjusted loss of $50 million to $75 million in the fiscal year, which is in line with estimates.
When your shares quadruple in just a few months, people need to see nothing but stunning forecasts ahead or there could be nothing but air underneath. However, traders will no doubt be focused on the stock as shares see extra two-way volatility in the days ahead.
The context for this announcement is a bit of a bid, with shares acting well over the past five days, up about 58% in that timeframe. Shares of the stock have powered higher over the past month, rallying roughly 136% in that time on strong overall action.
C3.ai Inc (NYSE: AI) managed to rope in revenues totaling $66.7M in overall sales during the company's most recently reported quarterly financial data — a figure that represents a rate of top line growth of -4.4%, as compared to year-ago data in comparable terms. In addition, the company has a strong balance sheet, with cash levels exceeding current liabilities ($772.4M against $123.6M).
Plandai Biotechnology Inc. (OTC US:PLPL) is a much more speculative name. But it has one thing over AI right now: PLPL shares are up as much as 150% in the past couple weeks and the stock appears to be holding those gains with an eye on a potential fresh breakout if it manages to push above $0.001/share.
As with all of these recent momentum stars, there's a good story to dig into. In PLPL's case, that story is a reverse merger acquisition deal that has recently taken the ticker from shell status to now representing a cutting-edge cleaning tech solutions company called ByoPlanet.
In fact, ByoPlanet (PLPL) just put out a fresh update late yesterday evening showing the results of a formal valuation report from a third-party firm, and the numbers are staggering when you consider this is a stock with a current market cap of just under $7 million.
Utilizing the Discounted Cash Flow Method (DCF), a base case scenario for total enterprise value was estimated at $270M. Using the market approach, a base case scenario resulted in a high value of $267M and a low value estimate of $222M. The base case scenario of the point estimate of enterprise value was determined to be approximately $250M.
How staggering are these numbers? Consider this: even if you play "extreme skeptic" and cut 90% off of even the low value case number, you would still be looking at a stock set to triple in share price to keep pace.
Commenting on the third-party report, Rick O'Shea, Founder of ByoPlanet and now CEO of Plandai, expressed his satisfaction with the results. "We're delighted with the results. It helps support our belief in the value of our IP and the unrivaled performance of our cleaning technology. We believe that our revolutionary cleaning technology has disrupted the market, delivering unmatched results in various sectors, including animal health, hospitality, and food processing, with excellent prospects for growth. The Company's dedication to sustainability and efficiency has garnered ByoPlanet a strong reputation and loyal customer base. We believe that merging ByoPlanet's valuable assets into PLPL will help enhance the Company's market cap and improve shareholder value."
This news follows recent updates that include partnerships with Merck's Animal Health division and the United States Equestrian Federation (USEF).
Plandai Biotechnology Inc. (OTC US:PLPL) CEO O'Shea further commented: "The Company is nearing the end of its fiscal year on June 30th, after which our independent PCAOB audit firm will conduct a full audit including the valuation of ByoPlanet's assets, which we anticipate will be consistent with the third-party firm's calculations and estimates. We are committed to performing and meeting our goals and milestones and exceeding estimates, and we will update valuation disclosures to the market promptly and in a compliant fashion."
Lightwave Logic Inc (NASDAQ: LWLG) shares have been exploding higher over the past two weeks, powering as much as 100% higher from a base of $4/share earlier this month. The story here is all about next-gen data communications infrastructure.
LWLG is developing a platform leveraging its proprietary engineered electro-optic (EO) polymers to transmit data at higher speeds with less power. The company's high-activity and high-stability organic polymers allow Lightwave Logic to create next-generation photonic EO devices, which convert data from electrical signals into optical signals, for applications in data communications and telecommunications markets.
Lightwave Logic Inc (NASDAQ: LWLG) recently announced the issuance of a U.S. patent for an advanced chemical structural design that enhances the overall performance of non-linear organic optical chromophores using a novel thiophene bridge.
The patent – entitled "Nonlinear Optical Chromophores, Nonlinear Optical Materials Containing the Same, and Uses Thereof in Optical Devices" (Patent No. US 11,661,428) – details an innovative organic chromophore design using a novel 'thiophene bridge' to significantly improve material performance in a production environment. This is accomplished by designing thiophene-containing bridging groups that are positioned between the electron-donating and electron-accepting ends of the chromophore. These designs provide nonlinear optical chromophores with significantly improved optical properties and improved stability.
Dr. Michael Lebby, Chairman and Chief Executive Officer of Lightwave Logic, commented: "I am pleased to announce the issuance of this exciting new patent, based on a novel thiophene bridge design, which we expect will help us progress our commercial discussions with other potential customers. The fortification of our patent portfolio, with innovative new patents such as this, will be critical as we progress our commercialization journey – all with the goal of creating sustainable, long-term value for our shareholders."
The context for this announcement is a bit of a bid, with shares acting well over the past five days, up about 42% in that timeframe. Shares of the stock have powered higher over the past month, rallying roughly 75% in that time on strong overall action.
Lightwave Logic Inc (NASDAQ: LWLG) had no reported sales in its last quarterly financial data. In addition, the company has a strong balance sheet, with cash levels exceeding current liabilities ($26.2M against $830K).
Other recent Breakout Movers include Equitrans Midstream Corp (NYSE: ETRN), Bit Digital Inc (NASDAQ: BTBT), Upstart Holdings Inc (NASDAQ: UPST), Kopin Corporation (NASDAQ: KOPN), and VERSES AI Inc (OTCMKTS: VRSSF).
For consideration of being featured on WallstreetPR, contact: Editor@Wallstreetpr.com
Please make sure to read and completely understand our disclaimer at https://www.wallstreetpr.com/disclaimer. FOR EDUCATIONAL AND INFORMATION PURPOSES ONLY; NOT INVESTMENT ADVICE. Any content posted on our website is for educational and informational purposes only and should NOT be construed as a securities-related offer or solicitation, or be relied upon as personalized investment advice. WallStreetPR strongly recommends you consult a licensed or registered professional before making any investment decision. Neither WallStreetPR.com nor any of its owners or employees is registered as a securities broker-dealer, broker, investment advisor (IA), or IA representative with the U.S. Securities and Exchange Commission, any state securities regulatory authority, or any self-regulatory organization. WallStreetPR often gets compensated for advertisement services that are disclosed on our disclaimer located at WallStreetPR.com/Disclaimer.
The post Small Stocks Making Big Breakout Moves (ETRN, AI, PLPL, LWLG, BTBT, UPST, KOPN, VRSSF) appeared first on Wall Street PR.