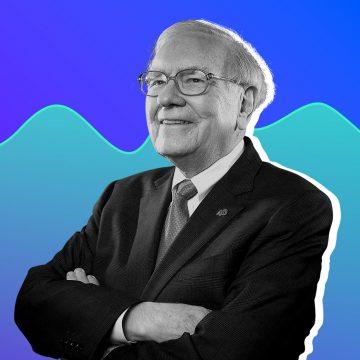 Berkshire Hathaway (NYSE: BRK.B) bought shares of Occidental Petroleum Corporation (NYSE: OXY) again in the first quarter of 2023. Recall that Warren Buffett's fund has been investing in this company for the fifth consecutive quarter. Following the deal, Occidental Petroleum Corporation is the sixth largest company by investment volume in the fund's portfolio. In addition, Berkshire Hathaway acquired shares of Chevron Corporation (NYSE: CVX), which is also involved in the oil and gas sector.
Today, we will explain why the Oracle of Omaha is investing in these companies at a time when green energy is gaining popularity and attracting more and more investments, while the oil and gas sector is receiving much less. We will look at the energy sector and analyse how demand for conventional energy sources has declined, given that more environmentally friendly and efficient alternatives exist.
The most popular energy sources
According to BP Statistical Review of World Energy and Our World in Data, global energy consumption increased by 15.3% from 2010 to 2021 inclusive, up from 152.96 to 176.43 TWh (terawatt per hour).
Energy consumption in 2010
Oil – 31.3%, 47.89 TWh
Coal – 27.4%, 41.99 TWh
Gas – 20.65%, 31.58 TWh
Firewood – 7.62%, 11.66 TWh
Water power – 6.2%, 9.518 TWh
Nuclear energy – 4.82%, 7.37 TWh
Renewable energy – 1.9%, 2.92 TWh
Energy consumption in 2021
Oil – 29%, 51.17 TWh
Coal – 25.2%, 44.47 TWh
Gas – 22.88%, 40.37 TWh
Firewood – 6.29%, 11.11 TWh
Water power – 6.33%, 11.18 TWh
Renewable energy – 6.28%, 11.01 TWh
Nuclear energy – 3.98%, 7.03 TWh
Trends in global coal demand
Of the energy sources listed above, coal is one of the oldest and least environmentally friendly. In addition, more efficient alternatives have emerged with time. Given this, it can be assumed that demand for coal should have decreased. But according to the International Energy Agency (IEA), global coal consumption is increasing. It was 70,160 PJ (Petajoule) in 1978 and rose to 157,164 PJ by 2020.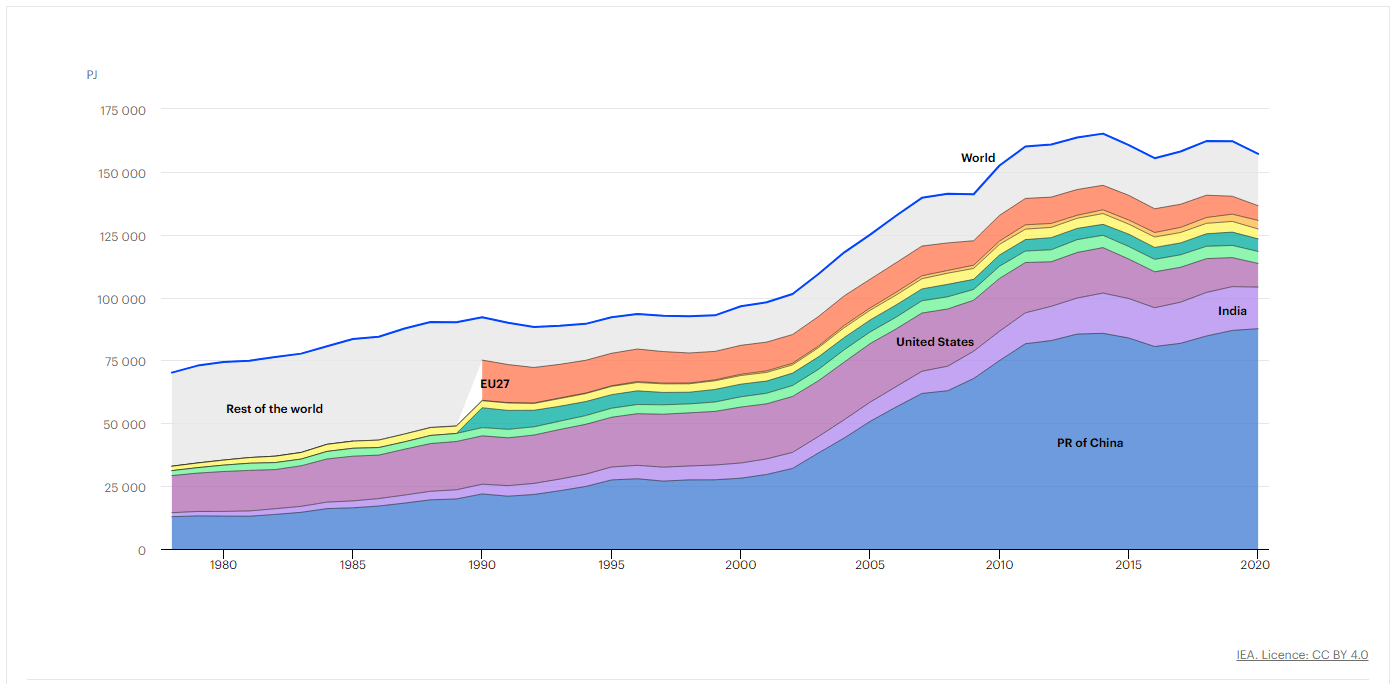 Note that coal consumption in China has increased markedly since 2002. At the same time, coal production in the country has risen rapidly, up from 1.04 billion to 3.69 billion tonnes over the last 30 years. In addition, the development of new coal mines continues in the country.
Why is the demand for coal growing?
Hydrocarbons and nuclear energy, which are more environmentally friendly, did not eliminate the use of coal but added to the list of energy sources. This was probably due to the growth of world GDP and the population of the planet. These factors boosted the global demand for energy.
According to World Bank national accounts data and OECD National Accounts data files, from 1960 to 2021 inclusive, global GDP has grown from 10.9 trillion to 86.8 trillion USD.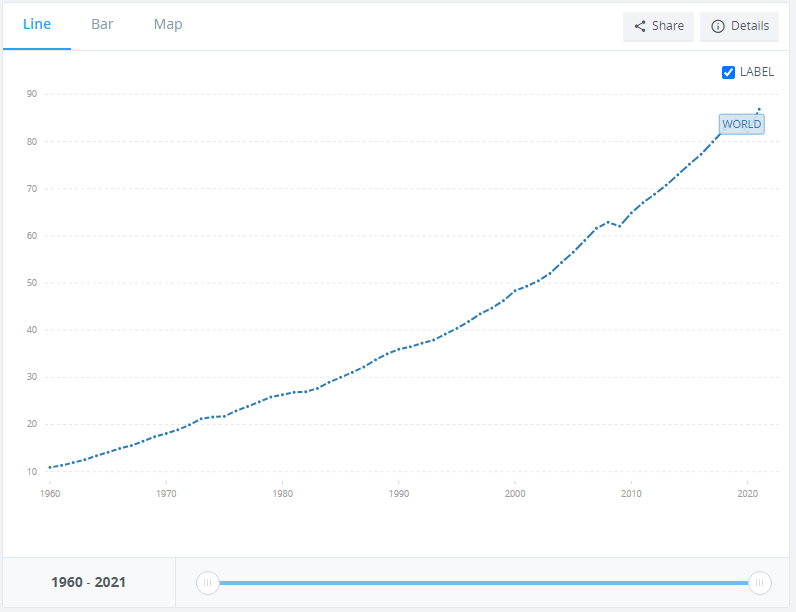 If global GDP continues to grow, renewable energy sources are not likely to replace today's main sources but will supplement them.
Investments in the oil industry
If global GDP continues to rise, there will be a need to keep oil production at current levels in the future. This will help avoid a shortage of oil as energy consumption rises.
To maintain production capacity, it is necessary to invest in the development of new fields to avoid depletion of current reserves and keep up with demand. But amid the trend for renewable energy sources, funding for new oil developments has declined over the past few years.
According to OPEC Secretary General Haitham Al Ghais, the oil and gas sector requires investments of 500 billion USD a year, while the incoming amount is much less. Based on the IEA data, the amount invested in the oil and gas sector is at the level of 366 billion USD per year, which is 24% less than the 2018 amount.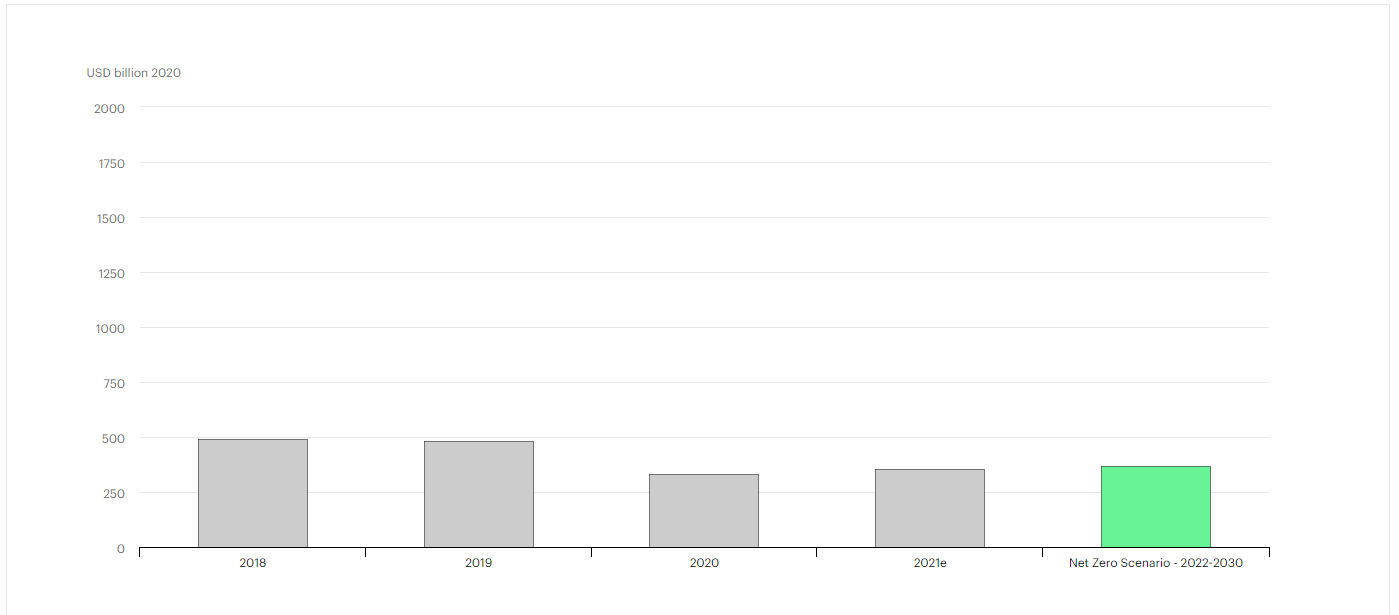 The situation with drilling rigs also confirms the fact that investment in the oil and gas sector is declining. For example, the number of rigs in the US has dropped 37% since 2018.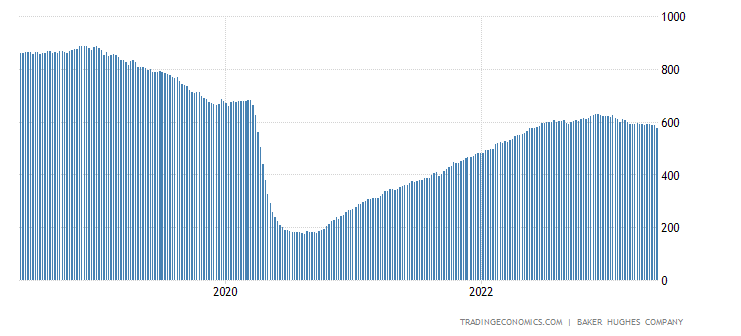 What can reduce the demand for hydrocarbons?
Renewable energy has a serious drawback: it is unstable and depends on the environment. While innovative technologies are being developed to minimise the impact of these factors, they make power production more expensive. Nuclear fusion energy could become an alternative in the future. Its main advantages are:
High energy efficiency. The energy released during nuclear fusion is the densest form of energy available. Furthermore, the nuclear fusion reaction has a much higher energy potential than burning coal, oil, or gas, and also more than the atomic nuclear fission
Environmental friendliness. Energy production does not involve greenhouse gas emissions into the atmosphere
However, the use of nuclear fusion as a commercial energy source is still a challenge for humanity: it is expensive, requires the development of innovative technologies, and is not yet scalable. Scientists and engineers do not know exactly how much time it will take to implement this project.
Summary
Berkshire Hathaway first bought Occidental Petroleum Corporation stock in 2019 and added Chevron Corporation shares to the portfolio in 2020. A decline in oil production investments was already noticeable in 2019, with the trend continuing over the following years. Since then, Occidental Petroleum Corporation shares rose 24% and Chevron Corporation stock gained 97%.
However, the fund is not locking in profits but continues to buy the shares of these companies. It can be assumed that Warren Buffett is betting on further growth in the value of these stocks, which is likely to happen if oil prices remain stable or rise. This scenario is possible due to the continuing growth of global GDP and lower investment in the oil industry.
Invest in American stocks with RoboForex on favorable terms! Real shares can be traded on the R StocksTrader platform from $ 0.0045 per share, with a minimum trading fee of $ 0.5. You can also try your trading skills in the R StocksTrader platform on a demo account, just register on RoboForex and open a trading account.
The post Why Buffett Keeps Buying Oil and Gas Stocks appeared first at R Blog – RoboForex.