Hey there, college savers! We've got your back with an awesome article on how to keep those green bills in your pocket while still having a blast on campus. Get ready for money-saving secrets, budgeting tricks, and insider advice that'll make you the king or queen of frugality.
Let's make every penny count!
How to Save Money on College Expenses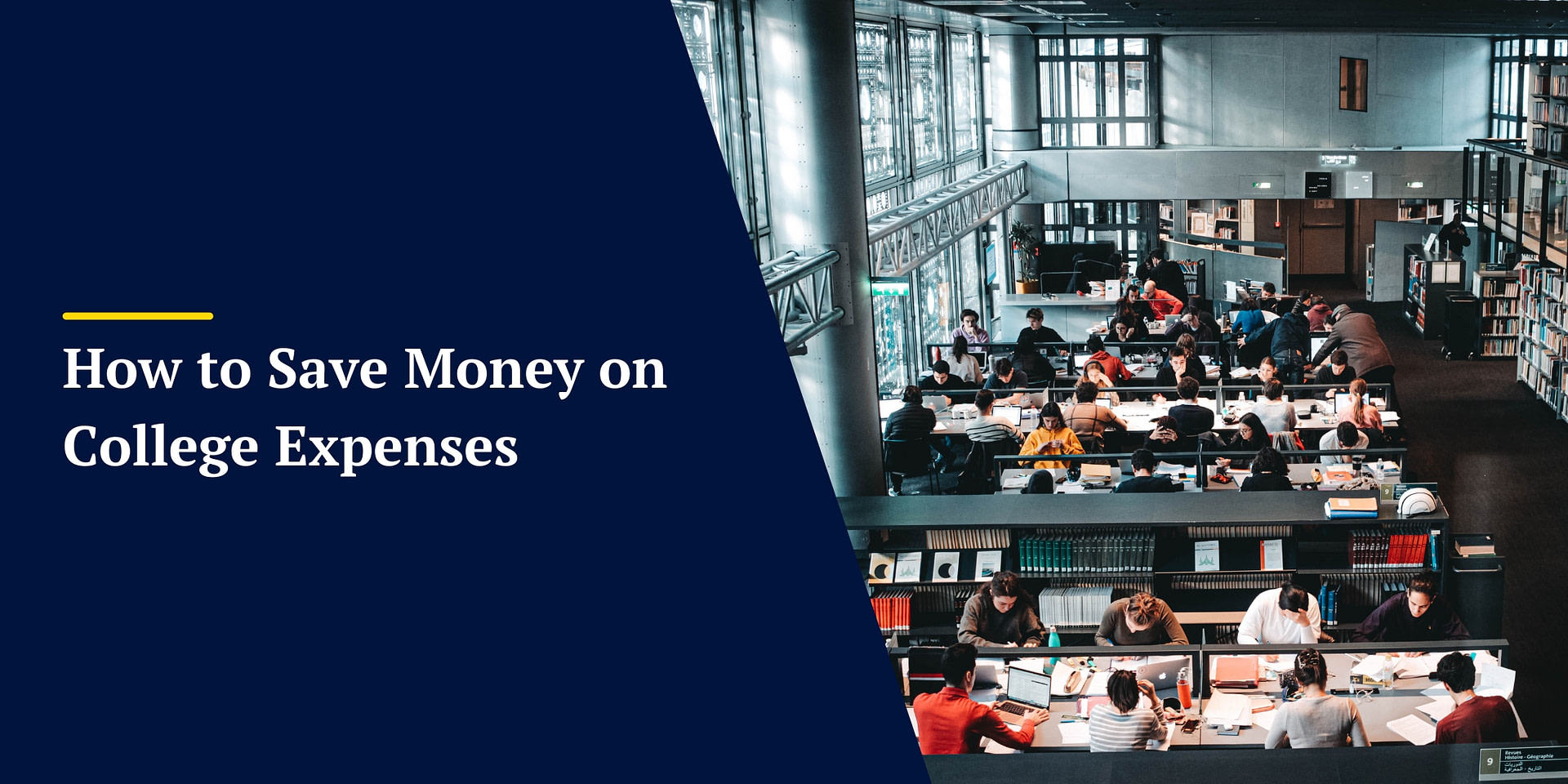 On average, spending four years in college will set you back $102,828, and that's for a public, in-state institution if you decide to live on the campus the entire time[1]. If you want to attend an out-of-state or private college, it will cost you significantly more.
Saving as much as you can on college expenses is critical.
1. Plan Ahead
If possible, you should start preparing for college long before it's time for you to attend it. Attending Advanced Placement (AP) classes in high school can help you earn valuable college credits. That could save you thousands on tuition. You should ensure that the colleges you're interested in accept the AP classes you want to attend in high school.
2. Take as Many Credits as Possible
The best way to save on college expenses is by spending as little time in college as possible. Ideally, you'll want to finish your diploma within four years. Every extra year will be a blow to your budget.
Finishing college on time means taking as many credits as possible and focusing on the classes relevant to your degree.
3. Make the Library Your Second Home
Your college library should be your second home if you want to save on expenses. That's primarily because it will give you free access to some of the textbooks you'll need and because you won't have to invest much in tech.
Many classes will require you to download specific tools and programs, which could often end up costing a lot. Some college libraries will have most of the software you'll need. All you need to do is take advantage of it.
To get the most out of the library, you'll want to familiarize yourself with your course requirements ahead of time. That way, you can take out books before all the other students get all the available copies.
4. Be Careful With Loans
At the moment, federal student loans equal $1.6 trillion[2]! You have to be careful with your student loans. While they're necessary for many young adults who want to pursue higher education, they can be debilitating to your future financial stability.
Research your future degree and calculate how much you could earn within the first year of graduating. Then, try to scale your borrowing to your expected earnings. Ideally, your total debt burden should not exceed your expected first-year salary.
Consider attending a lower-priced school or starting with two years at a community college to reduce your borrowing.
5. Fill Out the FAFSA
The Free Application for Federal Student Aid, or FAFSA for short, is the gateway to federal programs that help support over 10 million students in the US annually[3]. It is the first step toward applying for financial aid through grants, work-study programs, and subsidized loans.
Many schools, state programs, and private scholarship programs also use the FAFSA to help evaluate candidates.
Many students, including many who are eligible for aid, do not submit the FAFSA, or submit it only in their first year of study. That's a mistake. Even if you don't think you are eligible for aid, you could be wrong. The FAFSA is absolutely free, and there's no reason not to submit one.
Most students make the mistake of applying for FAFSA (and other grants and scholarships) only before their first year, thinking that if they don't get a grant in year one, they do so throughout their college career.
However, you can get grants every year, so you should apply every year.
6. Use Your School's Resources
Most colleges and universities have financial aid offices staffed with professionals who know the ins and outs of hundreds of aid programs. They are there to help you, but many students don't use that help. Don't make that mistake.
7. Save on Textbooks Whenever You Can
An in-state undergraduate student will pay an average of $1,226 for their textbooks and necessary supplies for just a single year of college[4]. So if you want to cut your college expenses, you'll need to save on textbooks whenever possible.
Check your college library to see what it offers, rent textbooks from other students, buy used books or see whether you can share textbooks (and their related expenses) with roommates who attend the same classes.
Of course, you should also try and sell any books you've bought after you're done using them.
---
How to Save Money on Utilities and Housing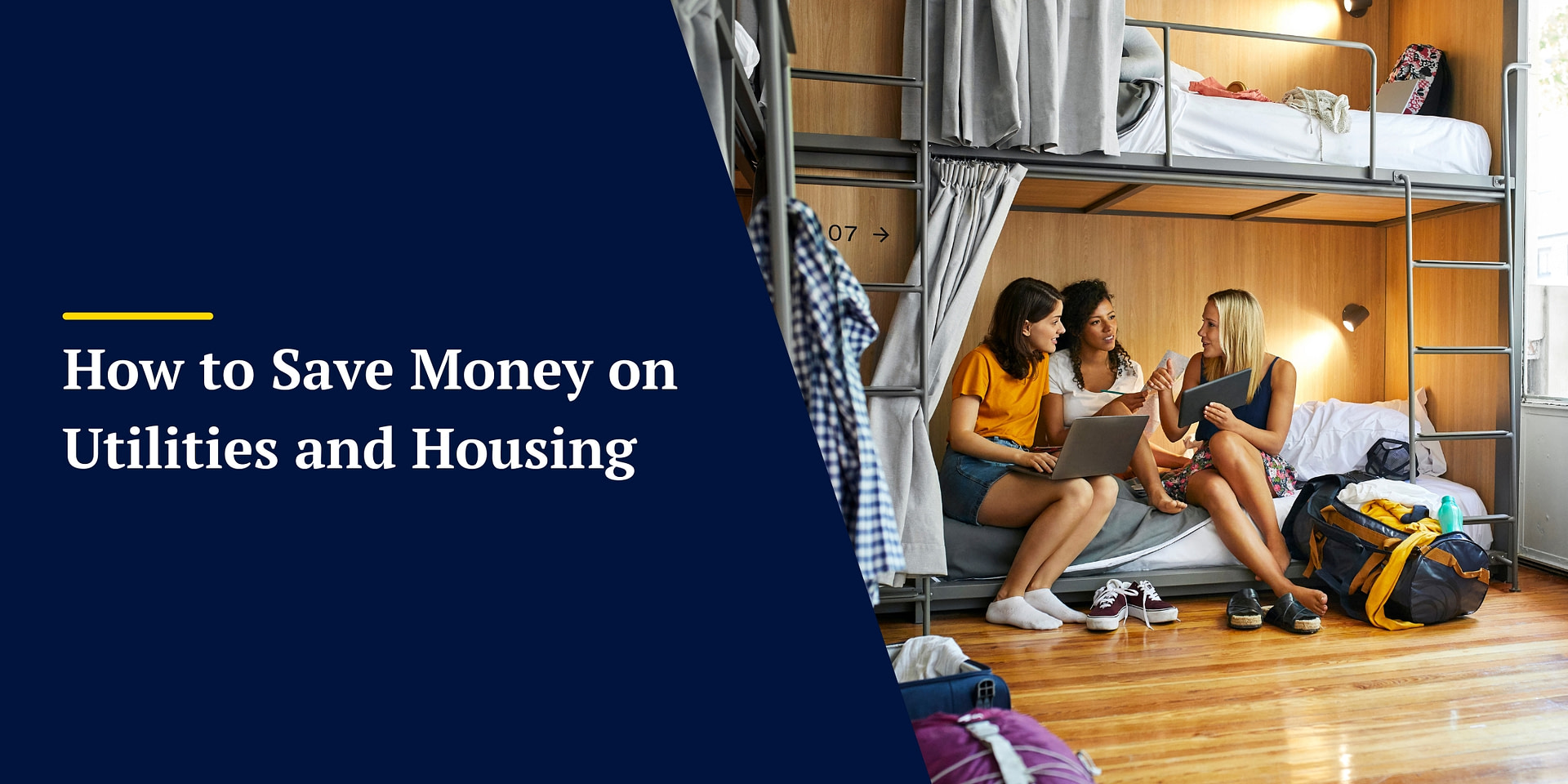 Housing and utilities are significant components of the cost of education. Here's how you can trim those costs.
8. Choose Your Housing Wisely
Ideally, you'll want to live as close to your campus as possible if you can't live in a dorm to save time and money on commuting. However, housing in the vicinity of campuses is often significantly more expensive.
Consider your monthly rent and the expected commuting expenses to ensure you get the best price and the most convenience. If you get cheaper rent at a place further away, you might spend more on commuting, thus nulling your savings on housing.
9. Live With Roommates
It goes without question that living with roommates is usually the best way to save on housing and utilities. You'll be able to get a nicer, better place while still paying less than you would for a single-bedroom apartment.
As a general rule of thumb, however, you'll want to vet your potential roommates well beforehand. if at all possible. You don't want roommate disagreements to come between you, your mental health, and your college experience.
10. Live at Home
Many young people see living away from home as a core part of the college experience. There's a reason for that, but if there is a college near your home, spending even a couple of years there before a transfer can dramatically reduce your college costs.
11. Negotiate With Your Phone Carrier
If you've been with the same phone carrier for a while, it might be time to start negotiating better terms and conditions with them. Alternatively, it could be time to start shopping around for another carrier.
Do some research to find out how to reduce your phone bills, ask whether anyone's offering student discounts, or try to stay on your family's plan longer.
12. Don't Lose Your Security Deposit
Depending on your landlord, you might be required to spend quite a bit on your security deposit. Some landlords will charge one full month's length, while others will charge three times as much! Regardless of the amount, it's in your best interest not to lose your security deposit.
First, you'll want to inspect the entire apartment when moving in, record any damage you find, and take pictures of every nook and cranny. That way, you'll have plenty of evidence to dispute your landlord if they decide to withhold your security deposit.
The second thing you'll need to do is clean and maintain the apartment as best you can for the duration of your stay. If the apartment is in pristine condition when you leave, you'll ensure you get your full security deposit back when you move out.
---
How to Save Money on Food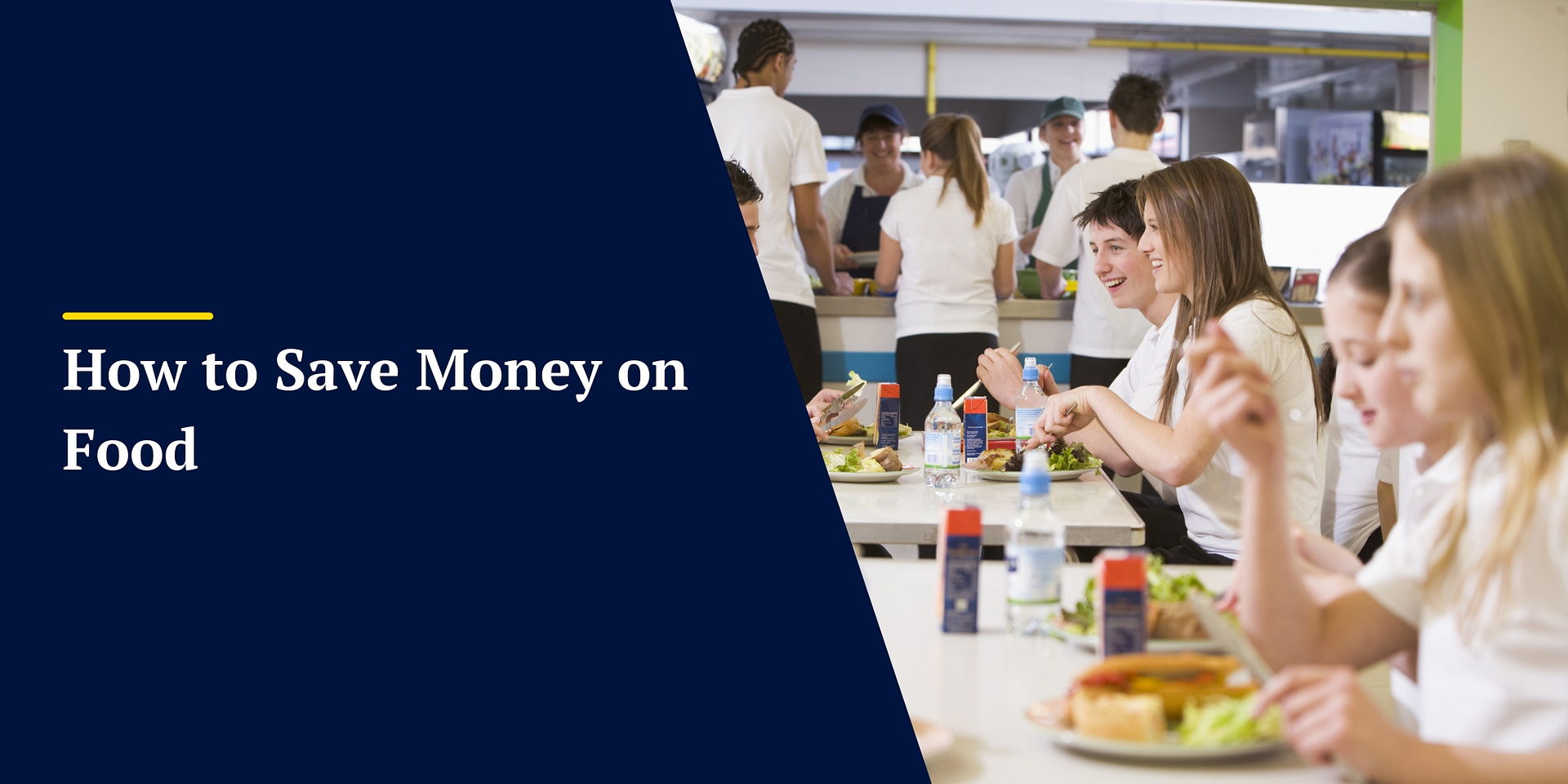 After textbooks, housing, and utilities, food is likely your most significant monthly expense. To ensure you don't become a "starving student", you'll need to learn how to budget your groceries and feed yourself adequately.
13. Use Your College Meal Plan
Most colleges will have different meal plans with varying meal quantities, and most will require first-year students to join them. So, since you'll already have to purchase the meal plan, it's in your best interest to use it.
Commonly, meal plans will include breakfast, lunch, dinner, and snacks, and you'll want to take advantage of them all.
Even if you're not on the meal plan, dining at your college cafeteria might be the most economical option, as meals tend to be fairly priced there.
14. Shop With a Plan
How many times have you gone to the grocery store for one specific item, only to return home with a bunch of useless snacks and condiments that you inevitably throw away? It's a colossal waste of money that does you no good.
It's in your best interest to always shop for groceries with a plan. Develop a meal plan for the week, check your pantry to see which items you'll need for the week, create a list, and only buy items from the list!
15. Buy in Bulk When It Makes Sense
It often seems to make sense to buy your groceries in bulk as you'll generally pay less for more goods. However, that depends entirely on whether you can eat the food in its entirety before its expiration date.
For instance, buying in bulk would make sense if you eat a lot of cereal. However, if you don't enjoy it all that much, buying in bulk will eventually result in wasted food and money.
Nutrition matters. A good diet will improve your health, performance, and happiness. If you have limited funds, spend them where they count. Quality food doesn't have to be expensive!
16. Know Where and When to Shop
You can cut your grocery expenses by buying generic instead of name-brand items. However, even generic items will have different price tags at different stores and at different times. So, you'll always want to compare the prices before making a purchase.
Furthermore, you'll want to analyze the sales cycles at your local grocery stores to increase your savings. Most stores will offer discounts after major holidays, and most will have lower prices at the beginning of the month.
If you need to make a larger purchase, it's worth knowing when the best days to shop for deals are.
---
How to Save Money When Going Out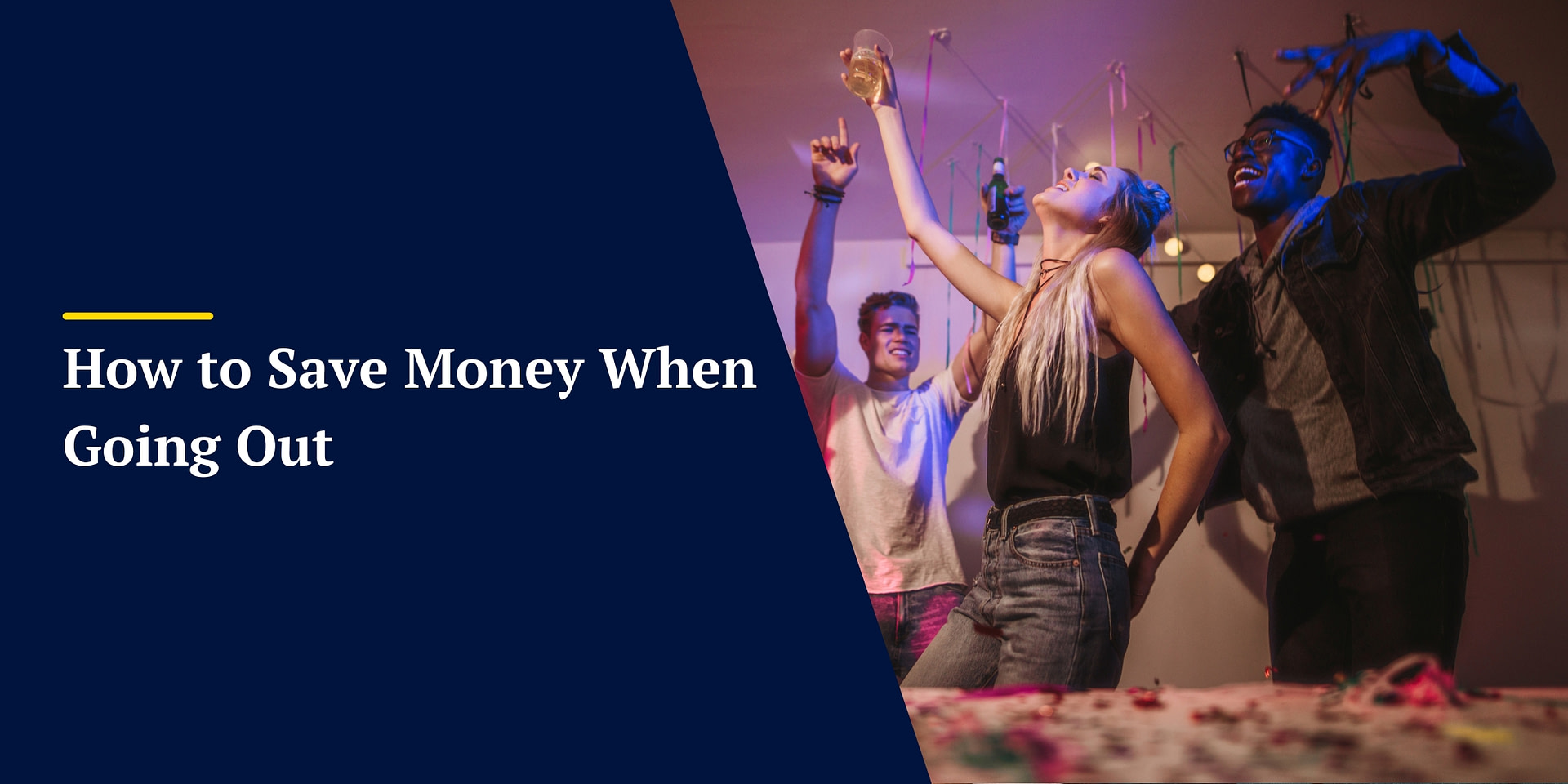 Though you'll want to focus on your studies and complete your degree fast to reduce your expenses, you'll still want to enjoy your college experience. That means going out, socializing, and spending time with your fellow students.
You can't really put a price tag on quality time, but you can certainly stick to your budget.
17. Go to Free Campus Events
Virtually every day of the week, your campus will likely have a fun, free event with plenty of food and drinks to attract more attendees. So, take advantage of it!
You can usually find a free (or at least reasonably priced) concert, music event, or sports event. Even some lectures might prove to be entertaining. So ask around, check out the flyers around your campus, and see what events might appeal to you and your friends.
18. Always Check for Student Discounts
Student discounts are one of the best ways to save some money while in college. Never want to leave your home without your student ID! Many venues, restaurants, clubs, and more will offer special pricing for students.
Whether you want to enjoy some live music, visit a museum, or go to the cinema, check for any special pricing for students and save some cash.
19. Go to House Parties
House parties are one of the best parts of the college experience and are typically free! So instead of going out to restaurants, clubs, bars, and more, see whether there are any house parties you could attend during your free time.
They might even help you save on food and drinks, as you'll usually be able to find some free snacks and get a complimentary beverage.
---
How to Save Money on Entertainment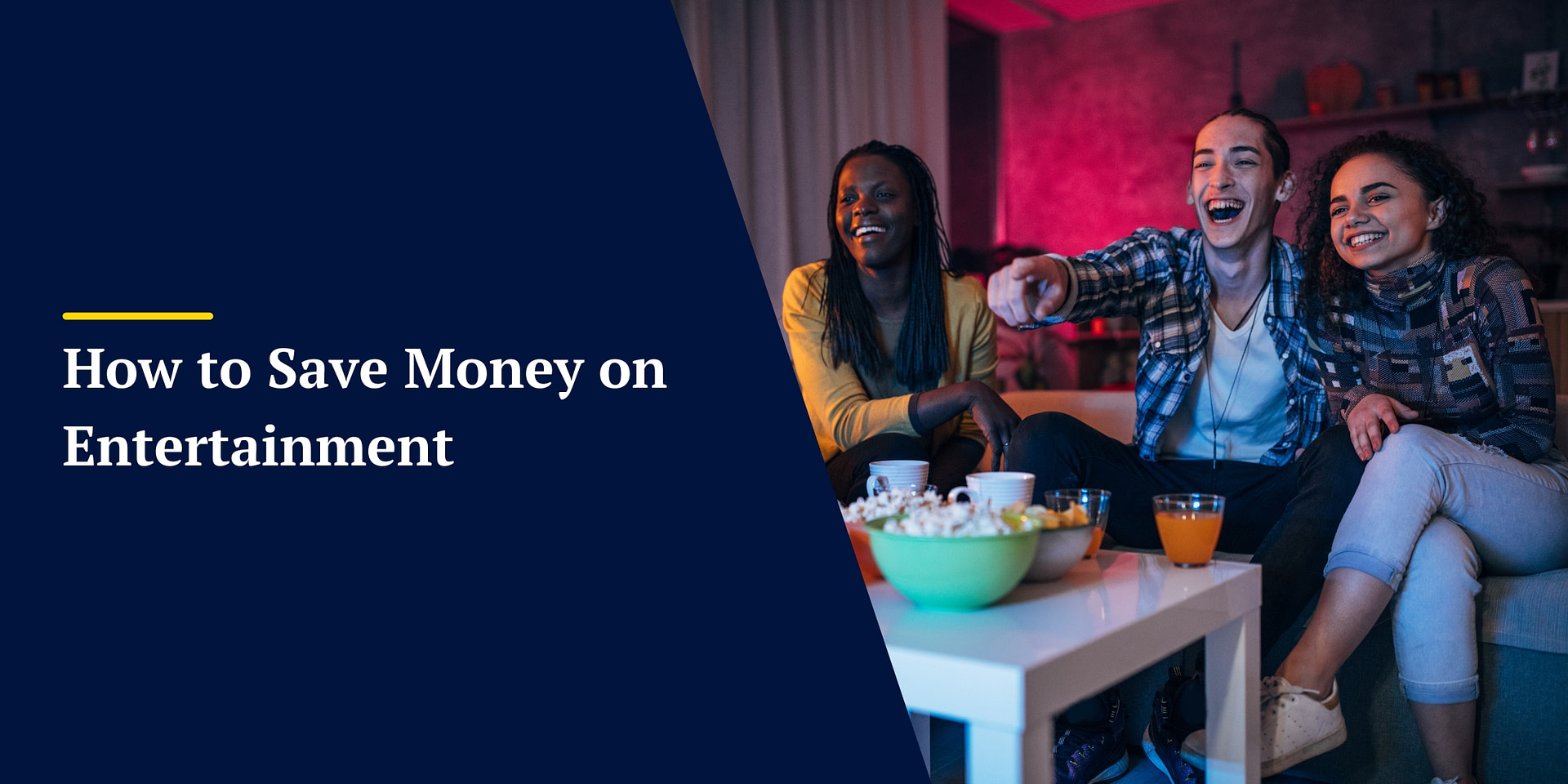 College can be pretty stressful, and you'll want to have some entertainment that can help you relax. You'll also want to ensure that your entertainment doesn't have a massive impact on your budget.
20. Share Your Streaming Expenses
Even a single subscription to a streaming service can slowly eat away at your budget. You should consider sharing your streaming expenses to ensure that that doesn't happen. Cover the costs of Netflix while your roommate covers the costs of HBO. Share your accounts with trusted friends and family members, and have them share their accounts with you.
21. Use Campus Amenities
Many college campuses offer many amenities that few students ever take full advantage of. However, they're the best way that you can save on entertainment.
Go to your campus gym instead of paying for a full gym membership at a private facility. Make use of the campus's rec room, go to the swimming pool on campus, and explore everything that your college has to offer.
22. Join Clubs
Joining clubs can be a great way to meet new people, make connections, and spend some quality time while you're in college. However, depending on the club, it could also take up much of your time.
Research the available clubs on the campus, learn what activities they often partake in, and join those clubs that suit you, your interest, and your hobbies the most.
---
How to Save Money on Transportation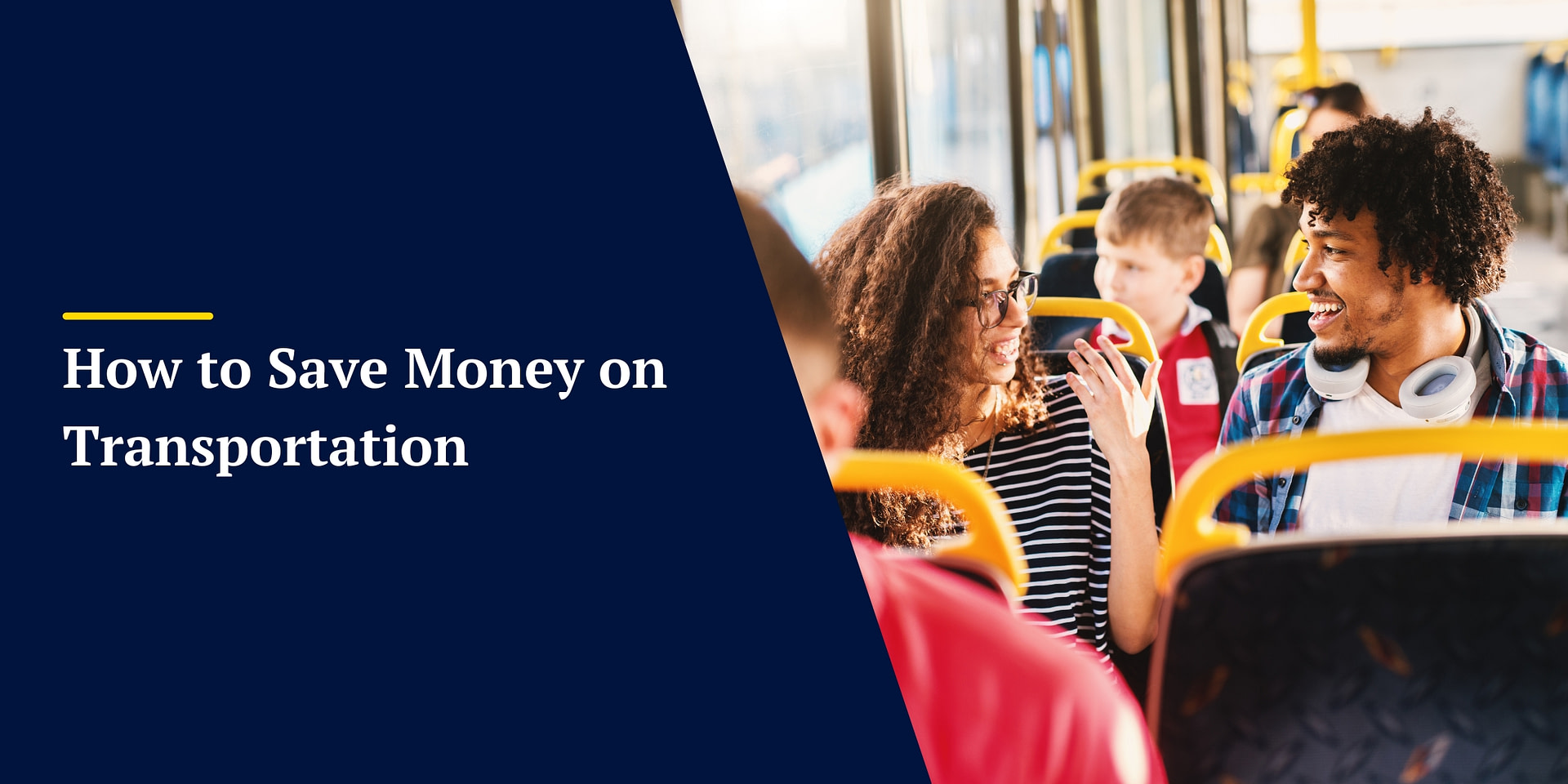 Finally, transportation is one of your key expenses while in college, and you'll want to find ways to save on it. Here's how.
23. Don't Use a Car
If possible, refrain from taking a car with you when you go to college. It will usually cause more issues than it's worth. You'll have to invest in its maintenance, cover gas costs, pay insurance, and more. If your "check engine" light comes on, you'll likely be in for a world of trouble and expense.
Instead, get a bike, walk, use public transportation, and significantly reduce your monthly expenses.
24. Park Further Away
If you have no other option but to take your car with you when you go to college, learn where to park. Research the campus and its surroundings and find out where you can get free parking.
In some instances, free parking will be a bit further away than you'd like, but taking advantage of it will be well worth it.
25. RideShare When You Can
Whether you want to go to a restaurant a bit further away, travel somewhere for spring break, or visit your hometown, you'll either want to use public transportation (if available) or ride share with others.
While it can sometimes be annoying, ride-sharing will significantly reduce your transportation expenses and help you save quite a bit in the long run.
---
Final Thoughts
It's never easy saving money in college, but it's possible with some hard work and creative thinking. While many of the tips above can help you save some, it's in your best interest to use as many as possible – and find some others on your own – for the best results!
The post How to Save Money in College: 25 Ways to Stretch Your Budget appeared first on FinMasters.