With Singapore's tourism industry rebounding mightily from coronavirus restrictions, Marina Bay Sands could eventually post $500 million in earnings before interest, taxes, depreciation, and amortization (EBITDA) in a single quarter.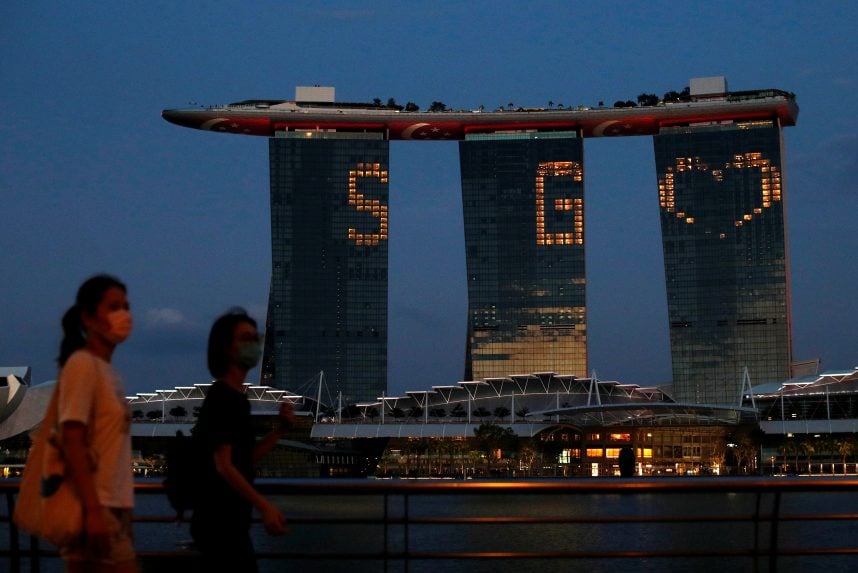 Speaking Wednesday at the Bernstein 39th Annual Strategic Decisions Conference in New York, Las Vegas Sands (NYSE: LVS) Chairman and CEO Rob Goldstein said Singapore EBITDA levels have rebounded to pre-pandemic levels and that he's optimistic Marina Bay Sands will eventually post at least one quarter in which it generates $500 million in EBITDA.
I believe [Marina Bay Sands] has the ability to get to a US$2 billion annualized EBITDA," he said at the conference. "How do we get there? We get there with more Chinese visitation and by better, improved product, both in the lodging and the gaming."
Marina Bay Sands and Genting Singapore's Resorts World Sentosa comprise the integrated resort duopoly in the city-state. Currently, MBS is Sands' lone venue outside of Macau.
Marina Bay Sands Has More Catalysts
In the first quarter, Sands' Singapore venue delivered EBITDA of $394 million, more than tripling on a year-over-year basis. That figure also represented 93% of pre-coronavirus levels.
Impressive points to be sure, but the venue has other catalysts that could make Goldstein's goal of $500 million EBITDA quarters a reality. For example, Sands is currently spending $1 billion sprucing up Marina Bay Sands, meaning some room supply is off the market. Additionally, Goldstein noted high-end Chinese bettors haven't returned to the property en masse as of yet.
"We haven't seen the return of the super high-end mainland Chinese customer into Singapore," he said at the Bernstein conference.
Marina Bay Sands is an essential part of Singapore's business and leisure travel industries and Sands benefits from its presence there. Last year, the city ranked ninth in the world in terms of tourism spending, according to the World Travel and Tourism Council (WTTC).
Sands Seeking $5 Billion in Annual EBITDA
Goldstein stated his desire for Sands to return to generating $5 billion in annual EBITDA, which would likely place the company first among US-based casino operators.
Getting there will require the assistance of the operator's five Macau venues. Data confirm that's a possibility. Macau casinos won $1.93 billion in May, representing the best month for the industry in the special administrative region (SAR) since January 2020.
To date, Macau's resurgence has been fueled by premium mass and VIP bettors, and a client base that isn't geographically diverse, indicating that as more mass-market players and visitors from other regions return, there's potential upside for the six concessionaires.
"Because of our scale in Macau — we have the largest capacity in gaming and lodging — for our business to get back to US$3 billion-plus [annual EBITDA], we need base mass to recover as well, because the margins are fat in that segment," noted Goldstein at the conference.
The Sands chief executive also pointed out that the operator isn't being pinched by a tight labor pool in Macau and that its five venues there should be operating at full capacity later this summer.
The post Marina Bay Sands Could Notch $500M EBITDA Quarter appeared first on Casino.org.